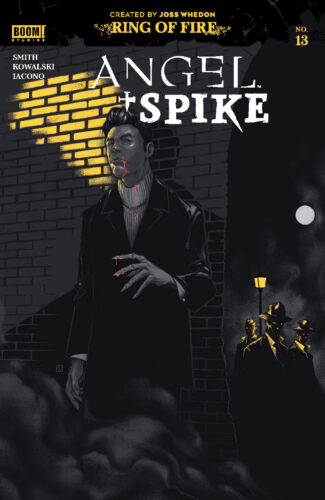 We get a story from the past in this issue of Angel & Spike, with a Hollywood mystery and some lingering questions of what implications this case might have for the present-day. An interesting trip in time.
Note: This recap may contain spoilers!
We set the stage for this issue, placing us in 1962 Hollywood. Angel is investigating the murder of actress Jean Mitchell. The two of them were friends, with Jean knowing his secret of being a vampire. Jean's got secrets of her own. She sold her soul to a demon, seemingly in exchange for a successful career, but there is more to this than meets the eye.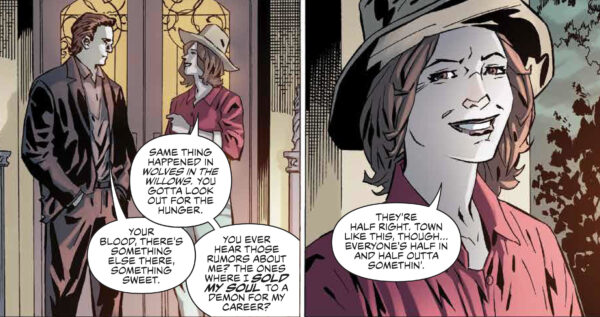 Angel received a note under his door to alert him about Jean's murder and he's determined to solve the case, including what the vial of smoke at her murder scene means. He heads out to Carnie's Row for further investigation, busting into the demon Carnax's office. He deals with souls and Angel thinks maybe someone working with him called in Jean's soul deal too early. While it's true that Carnax holds the contract on Jean's soul, he has nothing to do with her murder. Jean's soul is still out there wandering and unaccounted for, with Carnax remaining unpaid. For now, he's got control of Penny's soul, Jean's daughter, instead.
As a lead, Carnax says Angel should look up an old demon named Keteb. The old one has been dealing with a drug mixed with human souls, vampire blood, and traditional stimulants. Also, it's revealed that Jean's ghost is hanging out at Angel's hotel room, which serves as increased motivation for him. One of Jean's passing comments about ships makes Angel recall someone working down at the docks who could possibly help them out.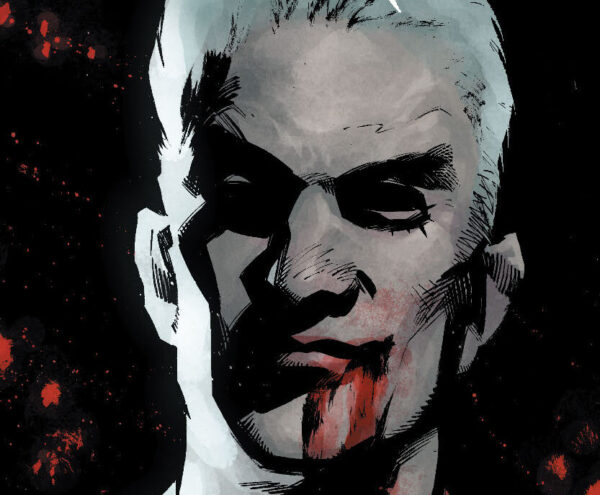 Of course, it being the Angel & Spike comic, the connection is indeed Spike. The blond-haired vampire has a great banter with Jean's ghost, which I loved. And Spike can help them find Keteb, so they head out to that location to discover something much more sinister going on. Yes, Keteb is there, but so is Jean's first husband, Clive. He's on a mission to rid the world of debauchery with his blessed dagger. On his list is Keteb, but also Jean. Well, one mystery solved.
We learn that Jean sold her soul to be rid of cancer and then she wanted more out of life, but Clive doesn't want to hear it. He keeps saying she's always been a sinner and the Lord delivered him the dagger to help rid the world of sin. The weapon is Sumerian, built to kill and deliver divine justice, but Clive refuses to say who gave it to him. However, he does reveal that he's responsible for their daughter, Penny's, murder. After that, and much more taunting, it's only expected that Jean would have to exert justice on her own.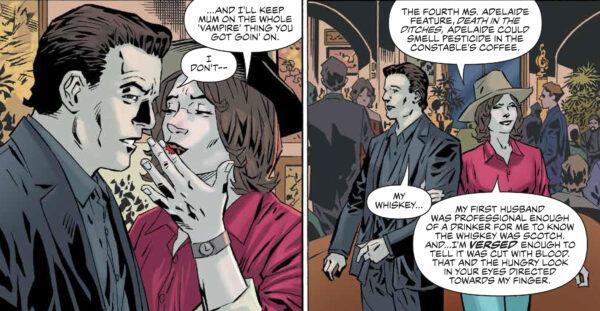 Jean stabs Clive and kills him. Now that his soul is free, he could seemingly complete his mission a bit more easily, but that's not to be his fate. Instead, Angel and Spike utilize his soul, as well as Angel's blood, in an amped up version of the drug. Angel uses that to trade for Penny's soul. A tempting offer and one that Carnax readily accepts.
We are left with a happy ending, but still a mystery. Jean takes Penny's soul and will go somewhere to find peace. However, she says she never sent the note that put Angel on this case in the first place. Jean suggests maybe it was her agent, Benny, trying to help solve her murder. In actuality, it was Spike who pushed Angel into the case so he could retrieve the dagger. What does Spike want with the dagger? What is the story behind it? Maybe we'll find out. For now, it was a nice mystery and a fun escape from present-day pressures.
Rating: 4 / 5 Stars