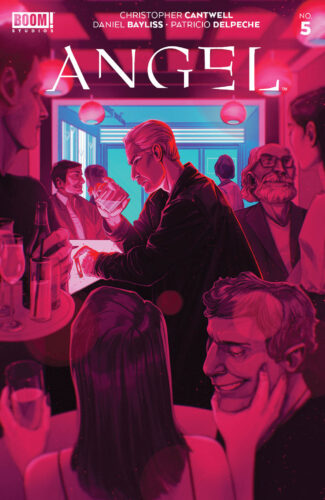 Spike attempts to once again prove himself a champion for good, but his reputation tarnishes the trust from others. It seems like, whatever world we are in, the presumptions of others will cause issues.
Note: This recap may contain spoilers!
As the issue kicks off, Angel and the team are facing off against Holtz. He is a vampire hunter who has tracked Angelus to this dimension. Despite Angel trying to explain how things are different in this world, Holtz would rather fight first and listen much later. And this does not sit well with Spike, who is short on patience anyway.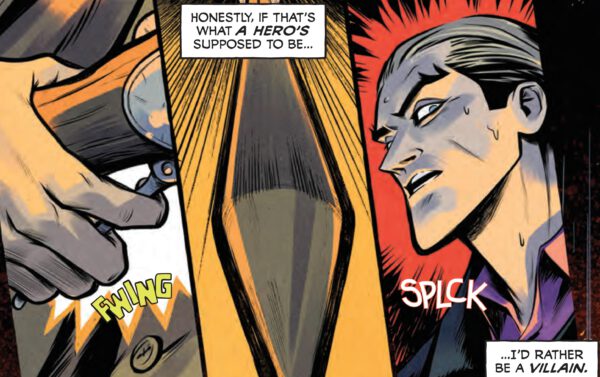 The fight that occurs could perhaps have been avoided, as well as the arrow to the eye that Wesley suffers, but what's done is done. While Holtz is captured, Fred blames Spike for what happened to Wesley. Of course this isn't unexpected, since Fred has made it clear that she doesn't trust Spike. No matter what Spike does, it seems like he will never win her favor. And he's had enough. As he walks away from the tense situation, he begins to question himself. Perhaps he was better as a villain than a hero after all.
But despite his self-doubt, he does make one final attempt to help Wesley. He heads to a bar and meets up with Dru with an exchange in mind. He will provide her Holtz's head if she helps him find a doctor she knows, one that can reverse Wesley's fate. And they do go meet up with him. Dr. Carl Daedelus, renowned expert in reanimation. This is resurrection rather than reanimation, which is more difficult, but Spike is not one to take no for an answer.

After a fight with Dr. Daedelus' bodyguard, there is a potential option. He can take a bit of Spike's soul and use it for a transplant to Wesley. Just enough to jumpstart the regrowth of Wesley's soul. Dr. Daedelus has ulterior motives to help, but Spike is oblivious to that just yet. Instead, he heads back with the soul in a vial to help Wesley. Well, his intention was good, but Fred's distrust of vampires and Spike's motives is just one more negative strike on the situation.
Angel's having his own problems. After the initial fight, Angel visits Holtz in lock-up. While the vampire seems self-assured that his soul is the secret weapon that will allow him to defeat Angelus, Holtz has seen it all before. Many souled versions of Angel have fallen at Angelus' hands, so why should this time be any different? And not only does the vampire hunter not believe in him, Cordelia isn't committed to the fight. The show is her priority, not being a supernatural hero.

As we end the issue, questions and uncertainty remain. Holtz escaped the lock-up and Angel is thinking some time away from everyone would be the best course of action to protect his friends. He's been offered the lead in a film to play Van Helsing. Four months in Romania is a perfect way to distance himself from all the bad that has transpired. But is it really the best decision? We'll have to wait and see how it plays out.
Rating: 3 / 5 Stars