For this Adaptation Analysis we go back to Broadway — more specifically, Broadway and 41st Street: the address of the Nederlander Theatre, the former site of the rock-opera musical RENT, originally written and composed by Jonathan Larson (1960-1996).  This musical ran from the 1993 to 1996 off-Broadway productions at the New York Theatre Workshop, directed by Michael Greif, all the way to the productions on Broadway itself, which started in 1996 and ran through September 7th, 2008 when the show closed down for good.  For this Adaptation Analysis I'll break down the background for, and the similarities and differences between, the Broadway productions originally directed by Grief and the 2005 Chris Columbus feature-length film adaptation.  But before we dissect the two versions, let's look back to what this modern day musical sensation was based on:  Giacomo Puccini's opera La Boheme.
La Boheme by Puccini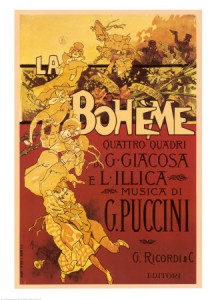 Puccini's four-act opera centers around the 1830s love story between Rodolfo, a poet, and Mimi, a seamstress with what appears to tuberculosis, and how it affects his friends, Marcello, a painter; Colline, a philosopher; Schaunard, a musician; and Musetta, Marcello's ex-girlfriend singer who has at the present time hooked up with Alcindoro, an elder Councillor — all the while avoiding their landlord Benoit.  Puccini's treatment of the classic love story is fairly straight-forward and simplistic: guy and girl meet, fall in love, break up, make up, break up again, and reconcile one final time before girl dies from a horrible disease, all the while exploring what it meant to be a bohemian in 19th Century France.
This opera inspired Jonathan Larson to write a modernization of it.  What came out in the end was the rock-opera that rocked the whole world, RENT!
RENT: Stage Musical by Larson, originally directed by Greif
This two-act musical draws on two things: 1) The aforementioned opera and 2) Jonathan Larson's own experiences living in 1980s New York, more specifically Manhattan's East Village.
In this rock opera, the story centers on Mark, a filmmaker and also the play's narrator, and his friends: Roger, an HIV+ rocker; Mimi, an HIV+ exotic dancer and Roger's love interest; Tom Collins, a gay HIV+ cyberpunk teacher anarchist; Angel, a bisexual HIV+ cross-dressing street performer; Maureen, Mark's ex-girlfriend-turned-lesbian performance artist; Joanne, Maureen's uptight lawyer girlfriend; and Benjamin "Benny" Coffin III, their ex-roommate-turned-landlord former friend, as they try to live in the age that frowns upon human relationships due to the AIDS epidemic.
In this modernization there are still elements of the classic opera — Mimi's name for instance — but some of the elements have been modernized and/or improved upon. (WARNING: Spoilers ahead!)  For example, in the opera Mimi dies at the end, while in the musical Mimi comes close to death but lives to spend the rest of her life with Roger; in the opera, the love triangle is between Marcello, Musetta, and Alcindoro, while in the musical, there are many triangles: Roger-Mimi-Benny, Mark-Maureen-Joanne, and Collins-Angel-Mimi.  Another connection between the opera and this musical is that throughout the musical the rocker, Roger, strums some of the notes from the opera's "Musetta's Waltz" while trying to write one glorious song before he dies.  In this musical there is also an interesting view of what it means to be marginalized in a society that seeks normality and convention, as expressed in the numbers "Life Support" and "Will I?" In short, this modernization of the classic opera is as good and as captivating as the original opera was.
So RENT was about to open up off-Broadway. The cast was gathered, the stage direction was set and engines were all revved up to go.  Rock and roll!  But the night before the first full-on performance, tragedy struck.  Jonathan Larson, the brilliant young mind that grew up with Broadway around him, died of an aortic aneurysm in his apartment.  Due to the nature of songs "One Song Glory," "Seasons of Love A & B," "I'll Cover You (Reprise)," and "Finale B," some people believe that Jonathan wrote the play as  his own epitaph.
After a whole string of popularity, which started with a positive review in the New York Times, winning Tony Awards, a Pulitzer Prize, Drama Desks Awards, and an international campaign, it seemed that all roads were leading to a major motion picture event.  However, this road would be a rocky one as many notable directors wanted to adapt this musical, notably Steven Spielberg and Spike Lee. Finally in 2003, Sony Pictures Studios announced that RENT the movie would be helmed by Harry Potter 1 & 2 director Chris Columbus.
And so, in 2005 came…
RENT: Film Musical by Larson, directed by Columbus
In the film version of the stage musical, directed by Columbus, the majority of the of the main original cast reunite to reprise their roles; Adam Pascal as Roger Davis, Anthony Rapp as Mark Cohen, Jesse L. Martin as Tom Collins, Wilson Jermaine Heredia as Angel Dumott Schunard, Idina Menzel as Maureen Johnson, and Taye Diggs as Benjamin "Benny" Coffin III.  They are joined by Tracie Thoms, who replaces Fredi Walker from the stage, as Joanne Jefferson, and Rosario Dawson, who replaces Daphne Rubin-Vega from the stage, as Mimi Marquez.
The plot of the movie remains quite faithful to its original material except for the fact that it spans a few days and year, and a few instances in between. First off the movie starts off with the number "Seasons of Love A," while in the musical this number opens up Act Two.  In the movie the number "You'll See" happens right after the title song with Benny, Mark, and Roger; while in the musical this number also includes Collins and Angel as well.  In the movie the numbers "Halloween" and "Goodbye Love" are either completely omitted from the final cut or are cut-down for some reason or another (FYI: These two numbers are available in their entirety on the "Deleted Scenes" section on Disc 2 of the Two-Disc Special Edition DVD.)  Another dramatic difference between the musical and the movie is the fact that some lines are said instead of being sung.  For example, all the "Tune Ups" and the "in-between" numbers are treated as pieces of dialogue instead of proper musical numbers. Another minor change is that some lyrics in the numbers "Today 4 U" and "Out Tonight" are changed to go along with the movie's re-worked story
Speaking of cut stuff, there are many characters who appear in the movie that are only talked about or are heard through the characters' answering machines in the musical version.  For example, we don't know what Roger's ex-girlfriend April looks like, as she has died sometime before the time the show takes place, yet in the movie we see flashbacks where April (Mackenzie Firgens) and Roger hook up, shown during the number "One Song Glory." Also the character of Alexi Darling, the head of a tabloid-like show called Buzzline is heard in the show, yet in the movie she gets a full supporting part, played by comedian Sarah Silverman. One thing that follows the musical to the letter is that the character of Benny's wife Allison Grey, jokingly nicknamed "Muffy" by Mark and Roger, is never seen in the movie, just talked about, like in the musical.
Another minor dramatic change is the characters' clothing, due to the fact that the movie has a bigger budget for the wardrobe department.
Although this movie is was critically hailed by hard-core RENT-heads (RENT fans), it opened up to mixed reviews.
RENT: post-90s, pre-movie, and post-movie days
But after a successful run on the big screen, the stage show kept on going through many performances with many different changes of the cast.  Some notable replacements for Mark throughout the show's run include Joey Fatone of *NSYNC, Neil Patrick Harris of Doogie Howser fame, Drew Lachey of 98 Degrees, and Adam Kantor.  Some notable Rogers include Sebastian Arcelus of voice-over fame and Will Chase.  Some notable Angels include Jai Rodriguez of Queer Eye for the Straight Guy fame, Wilson Cruz of My So-Called Life, and Justin Johnston.  Some notable Mimis include Melanie Brown a.k.a. Scary Spice of the Spice Girls, Tamyra Gray of  American Idol fame, and Renee Goldsberry.  Some notable Collins include Anwar Robinson of American Idol and Michael McElroy.  Some notable Maureens include Denise Van Outen of West End London fame, Jessie Wallace, and Eden Espinosa.  Some notable Joannes include Natalie Venetia Belcon of Avenue Q fame and Merle Dandrige of Half Life 2 fame.  Also a notable Benny has been Rodney Hicks who was part of the original cast in the 90s.
Although this musical has been a mainstay of Broadway for a long time, like the old adage says: "Nothing lasts forever."  So in the Spring of 2008, RENT was scheduled to be closed on June 1st later that year.  Due to massive response from theatre-goers, the show got a four month and six day extension.  The show finally closed down for good on September 7th, 2008.  But this is not the end of the show.  That final performance and an earlier performance were filmed and after a limited 2008 theatrical run, RENT: Filmed Live on Broadway was released on DVD on February 3rd, 2009 and a 2009 National Tour is currently underway, starring original Broadway cast members Adam Pascal and Anthony Rapp as Roger and Mark, respectively.
Throughout the decades the opera La Boheme has become the most audience-friendly opera in the world.  But that wasn't enough for Broadway and Jonathan Larson, no. Instead of re-hashing the past, he re-vamped it and gave it an alternative rock twist and it became RENT.  After a seven year run, it became a major motion picture event directed by Chris Columbus, and after a total twelve year run, it closed down.  But it will always live on the hearts and minds of those whose lives were touched by it.  So, like the musical says:  "No day but today…"