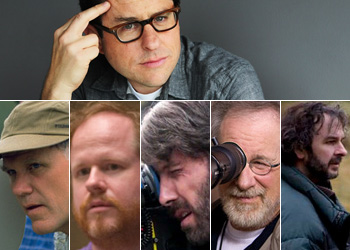 When I heard that JJ Abrams, after reviving Star Trek and making himself the new Gene Roddenberry, accepted stewardship of Star Wars, I thought one thing: there has got to be an antitrust violation in here somewhere. That's too much power in the hands of one mind. Where is Teddy Roosevelt when you need him?
Don't worry, we don't need to reanimate Teddy Roosevelt, because Lamar Furbanks is here. We all know the most likely scenario, if Abrams can't take it all on himself (and we know he'll try), is some combination of Damon Lindelof, Roberto Orci, and/or Alex Kurtzman. But let's ignore that likelihood and speculate on some exciting alternatives that don't involve Abrams's minions.
Joe Johnston
Johnston, like Abrams, is one of those Star Wars guys. Unlike Abrams, who is a Star Wars guy in the sense that he grew up loving Star Wars, Johnston is a Star Wars guy in the sense that he actually worked in the films (he did special effects or some junk). Wikipedia also claims he wrote a Return of the Jedi tie-in novel.
So Johnston would run the risk of repeating one of the two mistakes Abrams made: making Trek look too much like Star Wars (especially the fight scenes). On the other hand, Johnston did the 1990s Rocketeer movie. He also did the recent Captain America film. This guy understands how to inspire an audience with the selfless bravery of his films' heroes. And that's what Star Trek is all about: selfless heroism. It's also about the inherent good of humanity's commitment to better itself (the absence of which was the other Abrams mistake) and sex with hot aliens. But the selfless heroism thing goes a long way in the Trek universe.
Joss Whedon
JJ Abrams is one of the creative genius young turks with a huge following because of his TV work who is now doing amazing things in cinema. Joss Whedon is the other one. Let's see them battle it out with the two granddaddies of science fiction franchises. Plus, there's the thing they did at the end of Wrath of Khan. Remember that? It's got Whedon's name all over it.
Ben Affleck
Are you crazy, Lamar? This is the guy who did Gigli! Okay, I admit that's true. But lately Affleck's been doing some great stuff. Argo was pretty good, and The Town wasn't too shabby either. Plus, he's got a history with Star Trek. He's been trying to get in on that action for a while, trying to be the new Kirk and trying to get a cameo in the last Star Trek: TNG movie and whatnot. Plus there's a rumor that he was the runner-up choice for Star Wars if Abrams hadn't taken it, opening up a great chance for a grudge match.
Steven Spielberg
Isn't Spielberg one of Abrams's heroes? I might be making that up in my head, but it would be a great addition to the story: Abrams goes to Star Wars, while Spielberg (who you'll recall worked with Lucas on the Indiana Jones franchise) goes to Trek. Who needs Lincoln when you've got Kirk, anyway?
Peter Jackson
The dude brought Tolkien to the movies, and it didn't suck. That pretty much says it all, but I'm going to say more anyway: if anyone understands how to tap into that certain something that makes the source material special, and present that certain something on the big screen in a way that fascinates the newbie while exciting the true fan, it's Peter Jackson. Even though Abrams did a great job with the Star Trek reboot, he committed the two serious mistakes I mentioned above in the Joe Johnston section. Peter Jackson can undo those mistakes while still maintaining the adventure and excitement that Abrams breathed into the Franchise. Plus, New Zealand would make for a great alien planet.