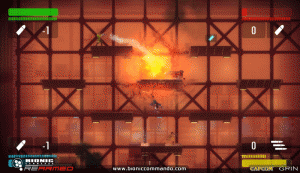 The new featured game on the XBox Live Arcade this week will be Bionic Commando Rearmed, the highly anticipated remake of the classic Bionic Commando action game. It hits the marketplace on Wednesday for 800 MS Points ($10) and features new graphics and weapons, as well as added multiplayer modes and more. It's worth noting that this is the one that looks really cool and not the seemingly lackluster new 3D Bionic Commando sequel that was shown at this year's E3.
Also up for download this week on the Arcade is Fable 2 Pub Games, the set of gambling mini games that will earn you money to spend in Fable 2 once it's released. If you've preordered Fable 2, you should be getting a code that will let you download this game for free. If not, Pub Games will set you back 800 MS Points ($10). I've been lazy about getting my preorder for Fable 2 in, despite it being the single game I'm most looking forward to, but you can bet I'll have it on order prior to Pub Games' drop.
Jason is the founder and managing editor of Fandomania. He is severely into toy collecting, plays a worryingly large amount of games, watches way too many movies and TV shows, and reads more than his fair share of books and comics. He also likes guacamole.