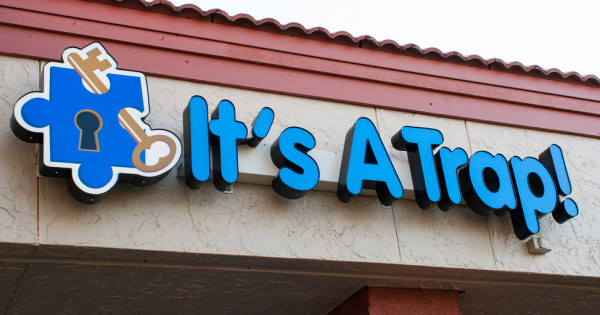 "You are standing in an open field west of a white house, with a boarded front door. There is a small mailbox here."
If those words spark instant nostalgia for you, if you've ever gone toe-to-toe with the dread pirate LeChuck, or if you're well-versed in the royal lineage of Daventry, chances are good that you're going to love It's a Trap!, a brand new puzzle experience near Orlando, Florida. You don't absolutely have to have a deep history in adventure video gaming in order to enjoy this uniquely fun attraction, but it definitely won't hurt if you do!
It's a Trap! is part of a burgeoning genre of live action games that trap participants in a locked room and then present them with hidden clues, puzzles, and activities that they must uncover, solve, and enact in order to escape. There are several prominent varieties of locked room games, some of them demanding brutally difficult cerebral gymnastics and others going easier on the players and laying out a simple breadcrumb of clues. It's a Trap! falls somewhere in the middle of those extremes and emphasizes its story and atmosphere to create a truly immersive and memorable adventure.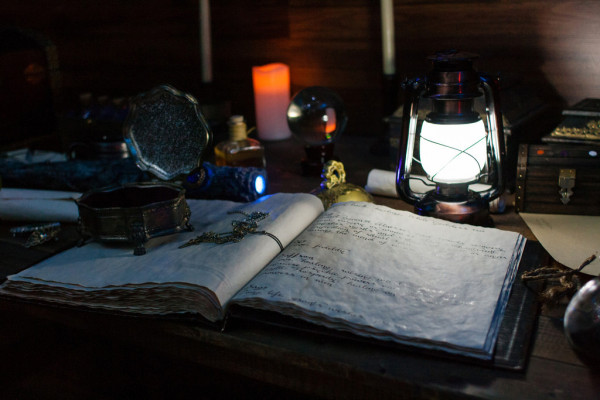 Nestled in a storefront in the Winter Park district of Orlando, right down the road from several of the area's colleges, It's a Trap! invites partakers into one of a series of different puzzle adventures, some offering fantasy themes and the others science fiction. We had a chance to play through one of the hour-long fantasy stories this past weekend, and it was an experience every puzzle lover should have. The specific game we played was called "Magic Mirror" and had us taking on the roles of knights in a kingdom that had outlawed magic. The king sent us to apprehend a rogue wizard, and his nefarious sorceries bound us once we'd entered his magical home. He would be returning in 60 minutes, so we had to work quickly to get out of our mystical jam.
Describing any of the specifics of the "Magic Mirror" puzzles or story surrounding them would fall into spoiler territory and would be a disservice to anyone who hasn't already played the game. A huge part of the fun was exploring the unknown and trying to figure out the pieces to a mystery in a real life environment, as opposed to from behind the safety of a computer keyboard or a video game console. If you go into a room escape game like this one with an attitude of surrendering yourself to the experience, it'll be very easy to immerse yourself in the theme and action. The folks behind It's a Trap! do a marvelous job of making that immersion easy with gorgeously detailed set design, atmospheric lighting, and appropriately timed music and sound effects.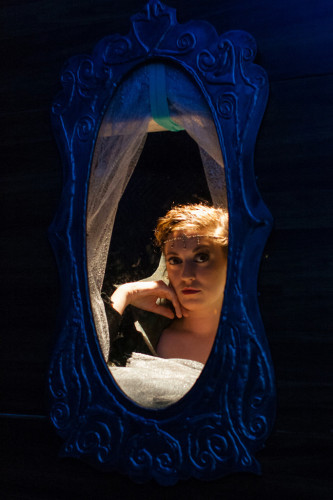 Our constant companion throughout our game was the eponymous magic mirror, installed in one of the wizard's walls and played by Kaitlin, one of It's a Trap!'s actors. She observed our puzzle solving efforts (or attempts thereof) and provided frequent commentary, sometimes mocking our failures but more frequently subtly guiding us in the right direction. Her quick responses to the confusing mental entanglements into which we worked ourselves helped to move the game along so that we made good progress but did not give away any answers outright or lead us so far along the path that we didn't feel like we were figuring things out for ourselves.
In the end, we did manage to break the entrapment spell within our allotted hour, and we made our way heroically out of the wizard's abode, ready and eager to venture back into one of It's a Trap!'s other games as soon as possible. If you're into adventure gaming, puzzles, or clever fun in general and find yourself in the Central Florida area, you owe it to yourself to check this place out.
It's a Trap! sells tickets in advance for $23 each (or $20 with a student, military, or theme park employee ID), and they also offer special group pricing if you want to go puzzling with a bunch of friends. You can get all the details and order your tickets on their website at ItsATrapGame.com, and you can see more info on their official Facebook.
Photos by Celeste Monsour
Jason is the founder and managing editor of Fandomania. He is severely into toy collecting, plays a worryingly large amount of games, watches way too many movies and TV shows, and reads more than his fair share of books and comics. He also likes guacamole.