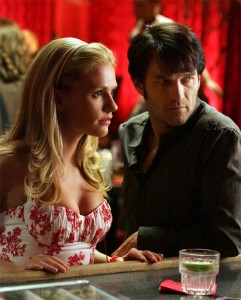 HBO has announced that their new vampire drama True Blood, which premiered on September 7, already has the go ahead for a second season. The show stars Anna Paquin as Sookie Stackhouse, the protagonist in a series of novels by creator Charlaine Harris. The pilot episode of the series gained an audience of four million viewers, and the second episode grew the audience by twenty-four percent, nearly unheard of in today's television market.
True Blood airs on HBO on Sundays at 9pm.
Jason is the founder and managing editor of Fandomania. He is severely into toy collecting, plays a worryingly large amount of games, watches way too many movies and TV shows, and reads more than his fair share of books and comics. He also likes guacamole.