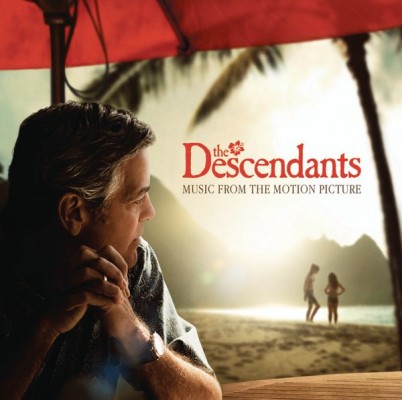 Soundtrack: The Descendants
Artist: Various
Label: Sony Classical
Release Date: November 21, 2011
Alexander Payne's new film, The Descendants, tells the tale of a Hawaiian land owner (George Clooney) who must deal with his daughters and some big secrets that are unearthed in the aftermath of a boating accident that leaves his wife in a coma. To accompany the film, the music department has put together a great collection of Hawaiian music that captures both a relaxed island feel and the subdued emotional nature of the movie's subject matter. Some of the greats of Hawaiian music, including Gabby Pahinui, Ray Kane, and Lena Machado, are represented in this excellent soundtrack. Don't expect slide guitars and ukuleles accompanying hula dancers, though — this music is much better than that.
With only one exception, the master musicians on this album are known for a different aspect of Hawaiian music— slack-key guitar. The name describes the instrument's tuning, in which some strings are loosened so that the open strings form a chord, but it encompasses a whole style of playing that involves finger picking and various other techniques. The resulting songs are gentle, relaxed, and mellow, and they evoke a Hawaiian feel just as much as the stereotypical steel guitar, if not more authentically so. If you must hear steel guitar and cheesy lyrics to feel that you've had the Hawaiian experience, however, you can get your fix with "Mom" (track 17), sung by "Hawaii's Songbird" Lena Machado, who was popular in the 1930s and 40s. This is also the one track with lyrics in English — the rest of the songs alternate between Hawaiian lyrics and instrumental pieces.
Whether or not you are an aficionado of Hawaiian music, I highly recommend this soundtrack. It is perfect for those times when you need something to help you relax and escape stress. I also appreciate its authenticity — kudos to the music department for putting so much thought into the choice of songs. This is a real slice of Hawaii that makes for an enjoyable hour of listening.
Track Listing:
"Ka Makani Ka'illi Aloha" – Gabby Pahinui (2:52)
"Kalena Kai" – George Winston, Keola Beamer (4:24)
"Hi'ilawe" – Gabby Pahinui (4:09)
"Ulili E" – Dennis Kamakahi (4:18)
"Ka Loke" – Makaha Sons, Dennis Pavao (3:18)
"Auwe" – Ray Kane (2:16)
"Leahi" – Gabby Pahinui (3:53)
"Hawaiian Skies" – Jeff Peterson (2:21)
"He'eia" – Gabby Pahinui, Sons of Hawaii (2:44)
"'Imi Au La 'Oe" – Keola Beamer (3:11)
"Kaua'i Beauty" – Gabby Pahinui (3:26)
"Hi'ilawe" – Sonny Chillingworth (6:12)
"Wai O Ke Aniani" – Gabby Pahinui (2:53)
"Paka Ua" – Daniel Ho, Ozzie Kotani (3:50)
"Hapuna Sunset" – Charles Michael Brotman (3:51)
"Deep in an Ancient Hawaiian Forest" – Makana (5:13)
"Mom" – Lena Machado (2:53)
"Ka Mele Oku'u Puuwai" – Sol Hoopii's Novelty Trio (3:16)
Rating: 4 / 5 Stars

Ann Wells is an elementary music teacher by day and a nerd all the time. Her fandoms include Star Wars (the original three, thank-you-very-much), Doctor Who (10 is her doctor), and great authors like J.R.R. Tolkien, Isaac Asimov, and Neil Gaiman, among others. She can usually be found with her nose in a book, playing an instrument, singing show tunes, being crafty with yarn, or doing the bidding of her cat.