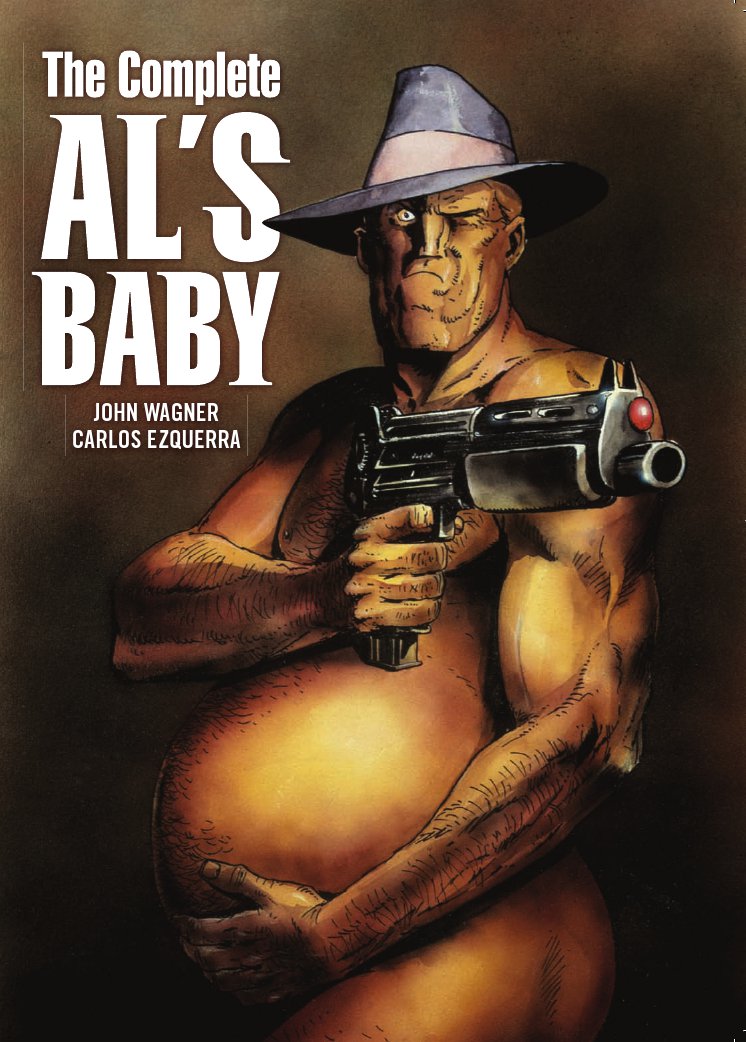 Issue: The Complete Al's Baby
Release Date: 2010
Writer: John Wagner
Artist: Carlos Ezquerra
Publisher: REBELLION / 2000 AD
Al Bestardi is a Chi-town gangster in 2014. He's tough as nails, a real heavy-hitter, and he's also… pregnant? Yep, that's right, Al's going to have a baby! That's the premise of Al's Baby, a three book arc from writer John Wagner and artist Carlos Ezquerra that originally appeared in Judge Dredd Megazine / 2000 AD and has been gathered together in a complete collection. I'll admit that I'm a huge fan of male pregnancy (MPREG), so when I heard about this comic I knew I had to read it. What surprised me prior to reading, though, is the fact that every review I had seen from fanboys was glowing. I had to find out more!
This is a huge series, over 200 pages, so you're in for a long, satisfying read. It's split into three comic arcs, detailing Al's first pregnancy, subsequent upbringing of Al Jr., and finally Al's second pregnancy. The writing is engaging, the artwork is phenomenal, and you can't help but fall in love with Al's story. This poor man's life is filled with so many problems that you're wondering how it can possibly get worse, and then it does. The way Al gets on the maternity road in the first place is because of his father-in-law. Don Sarcoma is the head of the Chicago mob and he wants a grandson to carry on his legacy. Since Al's married to Sarcoma's daughter, Velma, it seems like the obvious solution would be to get Velma pregnant. Well, if it were that easy we wouldn't have a book. Velma's focused on her emerging career of being a singer/actress. The fact that she's absolutely horrible won't deter her and the fact that Velma's not willing to carry a baby isn't going to deter them either. There is technology available to make a man pregnant, perfected by doctors in Flordia. There's already been a successful case and Al's going to be the second. Mobsters and maternity was never so fun.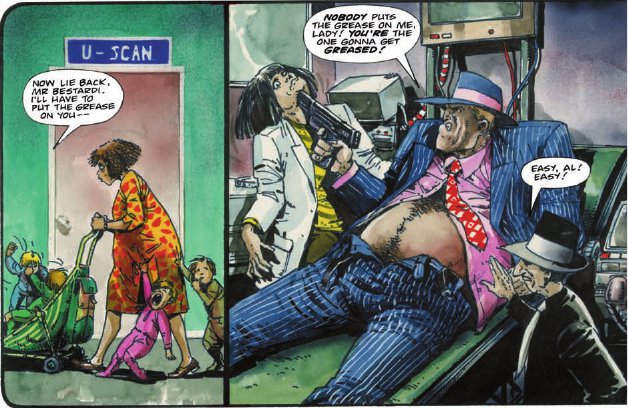 The secondary characters in this story are just as fun as Al and his situation. Sal, who seems to be Al's second-in-command, is determined to make sure Al's pregnancy is healthy. No smoking, no drinking, and no dangerous situations. Well, two out of three isn't bad. After all, Al's still got jobs to do. The Don isn't satisfied to let his best hitter just sit around while pregnant. No, Al's got to deal with warring mobsters and a father-in-law that seems to want to kill him, even though Al's bending over backwards to please him. The most pressing matter going on during this time is dealing with mobster Mutt McClusky. He originally put a hit on Al, which almost made him lose the baby, so Al goes into overload in order to get his revenge. In a payback situation that has to be read to be believed, Mutt is out for the count temporarily and doesn't become an issue again until Al's set to deliver.
The second arc deals with Al Jr. at one year old. He's truly his father's son, showing the inclination to be a great mobster already. Yes, the baby even makes his first hit and many more during the story. He has to tag along with his father and Sal when Al is tasked to take out the heads of five mobster families. Along with this dangerous assignment is Al's ongoing desire to be next in line to head up the Sarcoma gang. The Don is more than happy to skip right over Al and bring in a temporary leader until Al Jr. is old enough to take on the role. His choice is his nephew, Tony, who is college-educated, but not street smarts. Or, maybe he's so incompetent that he's got fool's luck. Every job Al sends him on, determined to get Tony killed, ends up with Tony being the victor. Al just can't catch a break! Added to that, Mutt McClusky from the first arc is back again and set for revenge. There's some nice back and forth between him and Al, as well as Al Jr. and Mutt, which is just another example of how messed up their lives are. With a nice twist to the end of the story, Al might be at the mercy of his father-in-law, but he's determined in his work.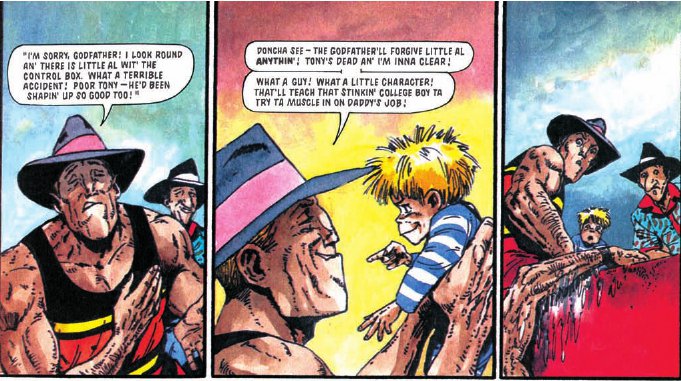 Al's story ends its three-story arc with a second pregnancy in 2017. The Don wants another grandchild, just in case Al Jr. might meet a bad fate before he can take over his rightful place as the head of the family. Guess who has to do the deed? Of course it's Al! Velma's got an emerging career now and Al's still got the parts to make him pregnant. Except, this time he's not able to continue roaming the streets of Chi-town. Those mobs that he disrupted when he killed their leaders? Yeah, they're wanting some payback and Al's become Public Enemy #1. The Don sends Al and Sal up to a cabin for nine months, to hide out and keep him safe. To keep his cover, because a pregnant mobster would stick out like a sore thumb, Al has to dress as a woman and take on the name Alma while in public. His cross-dressing also catches the eye of their neighbor, Dagwood, who is determined to make the lovely Alma his bride. The man doesn't take no for an answer, despite Al's desire to kill him and his explanation that Al's actually a man. With a dangerous escape from town, during which Al goes into labor, it's a race to get the gang to the hospital and the baby out. We get treated to another twist, but in the end Al is the ultimate victor. He's got kids to carry on his name, he's got respect from his gang, and he's one mean mother.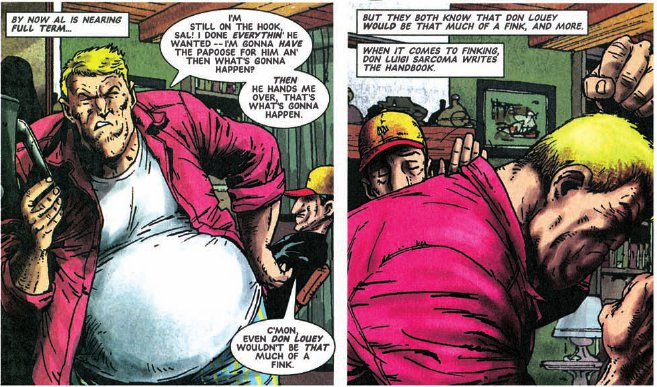 The dialogue between all the characters in this comic are a great throwback to the old mobster movies. Al's a manly man who is having to deal with family drama, mobster hits, and the weird changes that his body's going through. If you're a fan of MPREG, or even if you're not, there's sure to be something to appeal to you in this collection. Wagner's writing is witty, Ezquerra's art is sharp, and the universe they've created is one that I'll definitely want to revisit time and time again. This one's going in my permanent collection.
Rating: 5 / 5 Stars

In her youth, Kimberly could be found in the library, devouring books that covered everything from WWII History to Dr. McCoy's latest adventures aboard the Enterprise, with some X-Men thrown in for good measure. Saturdays were often reserved for PBS re-runs of Doctor Who and Red Dwarf. More recently, she's been riding along with the Winchester brothers, and she hopes the Impala doesn't run out of gas for a long time.