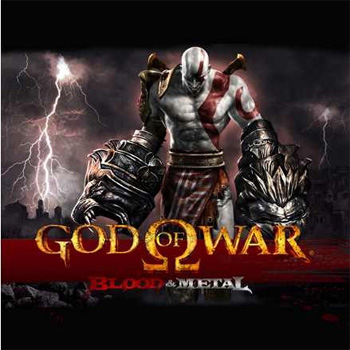 Soundtrack: God of War: Blood & Metal
Featuring: Various Artists
Label: Roadrunner Records
Release Date: March 1, 2010
The soundtrack for the upcoming God of War III Playstation video game was released on March 2, 2010. The EP, titled God of War: Blood & Metal, includes six tracks from artists like Killswitch Engage, Trivium and Opeth.
The track listing for the God of War: Blood & Metal EP is as follows:
Killswitch Engage – "My Obsession" (3:44)
Trivium – "Shattering The Skies Above" (4:42)
Dream Theater – "Raw Dog" (7:34)
Taking Dawn – "This Is Madness" (4:16)
Opeth – "The Throat Of Winter" (5:46)
Mutiny Within – "The End" (3:18)
The tracks on the EP, most of which were written specifically for the God of War III video game (release date set for March 16, 2010), are highly representative of Sony Computer Entertainment's God of War series, opening with the metalcore sounds of Killswitch Engage and followed by Trivium's thrash metal track "Shattering The Skies Above," the progressive metal/heavy metal technique of Dream Theater, Taking Dawn's heavy metal/glam metal contribution "This Is Madness," a somewhat slower track from progressive death metal band Opeth and appropriately closing up with "The End" by metalcore group Mutiny Within.
The fast-paced, intense atmosphere created by the bands that contributed to the God of War: Blood & Metal EP is an integral part of the God of War III gaming experience, as Game Director Stig Asmussen recently remarked. "Music has always been an important part of video games and can help bring titles to life," he said. "Our goal is to make God of War III a special release in all areas and this just another way to offer fans and newcomers a worthwhile experience."
Although I haven't played God of War III, the soundtrack pulled together for the game is sure to please fans of any of the previous God of War releases and metal fans alike. I highly recommend that you pick up a copy of this EP — it's well worth both your time and money.
For more information on the Blood & Metal soundtrack, visit the following EP web page. For more information on any of the artists that contributed to this soundtrack, visit the artists' official web sites: Killswitch Engage, Trivium, Dream Theater, Taking Dawn, Opeth, and Mutiny Within.
Rating: 4 / 5 Stars

Paige rejoins Fandomania after taking a two-year hiatus to get her Master's degree in Media, Culture and Communication from NYU.