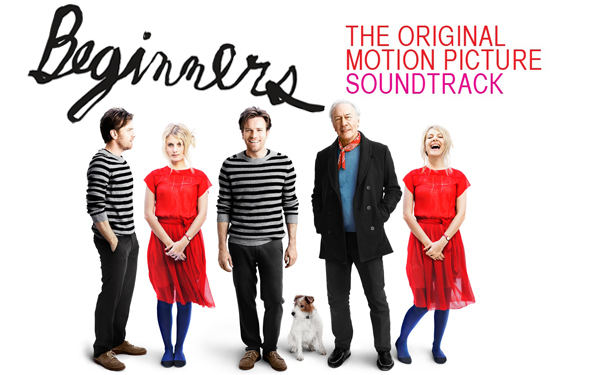 Soundtrack: Beginners (Original Motion Picture Soundtrack)
Artists: Jelly Roll Morton, Mamie Smith, Josephine Morton, Various
Label: Relativity Music Group
Release Date: May 31, 2011
The drama-comedy Beginners hits theatres on June 3rd. The film explores the transformative nature of love as Oliver (Ewan McGregor) comes to terms with the two big announcements his father (Christopher Plummer) makes: at the age of 75 he is dying from cancer and has decided to finally come out of the closet. The lessons Oliver learns through this journey of acceptance will help him in his own life as he navigates a relationship with his new love, Anna (Mélanie Laurent). The story is based on writer/director Mike Mills's own life with his father and the journey they made together.
However, audiences can get a taste of the film beforehand as the official soundtrack went live on May 31st. With a collection of artists from the golden age of music, there is sure to be a song that appeals to everyone in the audience. If you're a Jazz fan, this is a must-have. Well-known artists of yesteryear such as Josephine Morton, Jelly Roll Morton, and Mamie Smith have all got songs included on this album. The memories that these artists elicit puts you in the mood to go down to a speak-easy and have a round with your friends. And the instrumentals created by David Palmer, Roger Neill, and Brian Reitzell fits right in with the tone set by the previous artists. The audience is transported back in time, reliving the memories of Oliver's father as we learn more about who he was and who he has become. The music alone has got me excited about the movie and the storyline it will inspire. Go check it out yourself. I can promise that you won't be disappointed.
Track Listing:
"Stardust" (Hoagy Camichael)
"Everything's Made For Love" (Gene Austin)
"Bach Suite" (David Palmer, Roger Neill, Brian Reitzell)
"1955" (David Palmer, Roger Neill, Brian Reitzell)
"Sweet Jazz Music" (Jelly Roll Morton)
"That Da Da Strain" (Mamie Smith)
"Mamanita" (Jelly Roll Morton)
"Moon Waltz" (David Palmer, Roger Neill, Brian Reitzell)
"Veronica's Blues" (David Palmer, Roger Neill, Brian Reitzell)
"Breezin' Along with the Breeze" (Josephine Baker)
"Beginners Theme Suite" (David Palmer, Roger Neill, Brian Reitzell)
"Buddy Bertrand's Blues "(Jelly Roll Morton)
Rating: 4 / 5 Stars

In her youth, Kimberly could be found in the library, devouring books that covered everything from WWII History to Dr. McCoy's latest adventures aboard the Enterprise, with some X-Men thrown in for good measure. Saturdays were often reserved for PBS re-runs of Doctor Who and Red Dwarf. More recently, she's been riding along with the Winchester brothers, and she hopes the Impala doesn't run out of gas for a long time.