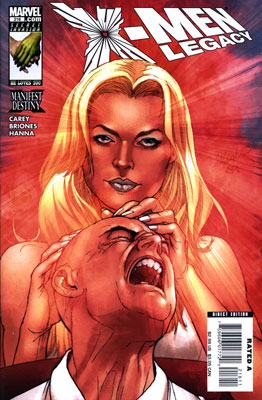 X-Men Legacy #216
Writer: Mike Carey
Pencils: Phil Briones
Inks: Scott Hanna
The newest issue of X-Men Legacy hits stores this Wednesday, and here's an advance review (with spoilers) of what happens when Emma Frost takes a stroll through Professor X's cranium
Summary:
At the end of the last issue, Professor X's attempt to confront Cyclops in the woods failed as Xavier found his own mind under siege from Emma Frost. This issue picks up with Emma beginning her mental invasion and proceeds through a memory lane of all the times Xavier has used his powers to manipulate, lie to, and warp his X-Men. The "clips show" goes back as far as the Beast's initial encounter with the X-Men and goes all the way up through the Professor's manipulation of Cyclops to make him forget about his brother Gabriel (who later would become the mutant villain Vulcan).

How It Ends:
By the time Emma is finished with Xavier, he's a writhing, blubbering mess. He admits his wrongdoings and offers an apology to Cyclops. After a brief hesitation, Scott shakes his hand. Xavier then presumably leaves the X-Men in Cyclops' hands and head off on his road trip again.
Thoughts:
Ever since the end of X-Men: Deadly Genesis, Xavier has been a pariah among the X-Men. He's been a very different character in the Marvel Universe since he regained the use of his legs (thanks to Scarlet Witch in House of M) and the revelation that he hid the existence of a third Summers brother by changing the X-Men's memories without their consent. Who used to be a wise and respected mentor became a crackpot outcast who seemed to deserve every bit of scorn he was getting from all corners of the Marvel U. Bishop put the cherry on top when he accidentally shot Xavier in the head at the end of Messiah CompleX, giving him severe brain damage and a touch of amnesia.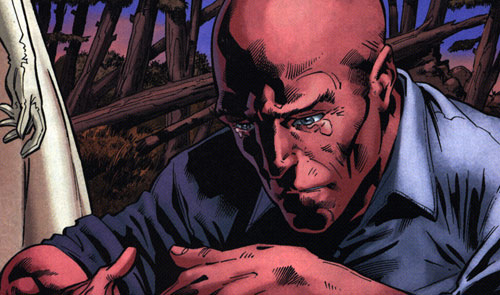 X-Men Legacy has followed Professor X's on-the-road adventures as he's tried to regain his memories and his sense of self. I've been suspecting that the series would lead to some sort of redemption for the character and might even put him back in charge of the X-Men in a more responsible and self aware role. This issue had me believing that was about to happen, as Xavier confronted his brain-zapping of pretty much all his friends and trusted acquaintances. In the end, though, he gets off once again with a slap on the wrist (or across the face, as the case may be) and goes on his merry way with Cyclops and Emma still at the head of the team.
That's probably for the best, but Cyclops has been decidedly dark himself after Cable left with the last mutant baby at the end of Messiah CompleX. He's assembled X-Force as a black ops, secret sect of the X-Men, he's sanctioned murders, and he's gone so bad that the Young X-Men were able to believe that he would have them go execute the former New Mutants when the robotic Donald Pierce was impersonating Scott.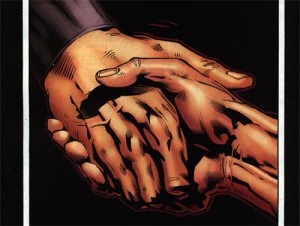 Despite Xavier's tumultuous journey at the hands (or mind) of Emma, I doubt there will be much fallout from this issue. Xavier and Cyclops shook hands, and that pretty much was the end of it. Nothing status quo shaking, and nothing entirely remarkable. I have to admit that I took some perverse pleasure in seeing Xavier browbeaten to the point of wallowing on the ground in tears, though.
Jason is the founder and managing editor of Fandomania. He is severely into toy collecting, plays a worryingly large amount of games, watches way too many movies and TV shows, and reads more than his fair share of books and comics. He also likes guacamole.