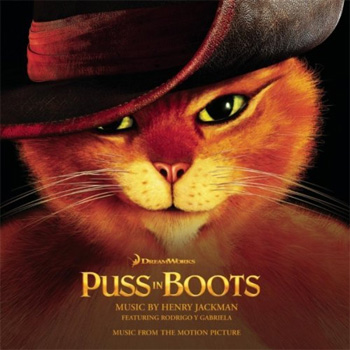 Soundtrack: Puss In Boots
Composer: Henry Jackman ft. Rodrigo Y Gabriela
Label: Sony Masterworks
Release Date: November 15, 2011
I was excited to review the Puss In Boots movie soundtrack. I thought I would hear cute ditties, clever ripostes, and all those songs that are targeted at children and could be annoying, but somehow are so charming that us adults can love them too.
Instead, I got Flamenco power riffs and symphonic epics. Turn this album loose in the nursery, and your baby will turn into a rampart-swinging, one-eyebrow-raising, rose-in-the-teeth-biting adventurer.
That means two things: 1) I know what to play in the nursery if I ever have babies and 2) this is great music. If you want a guitar driven flamenco style, you've got "Chasing Tail" and "Diablo Rojo". If you want to fill your head with images of Spanish caballeros taunting raging bulls, you've got the "Puss Suite". And if you want cute little ditties that give you warm fuzzies, then… well… you don't have much.
But the album art includes a cute and fuzzy picture of Puss in Boots. So that's going on too.
Track Listing:
"A Bad Kitty" (2:04)
"One Leche" (2:01)
"Jack And Jill" (0:22)
"Holy Frijoles" (1:14)
"Chasing Tail" (1:09)
Rodrigo Y Gabriela – "Diablo Rojo" (4:53)
"Humpty Dumpty & Kitty Softpaws" (2:42)
"The Orphanage" (4:29)
"Honor And Justice" (1:44)
"The Fateful Night" (2:35)
"The Wagon Chase" (2:58)
"Team Effort" (0:57)
"Planting The Beans" (2:09)
"The Magic Beanstalk" (1:17)
"Castle In The Clouds" (1:57)
"Golden Goose Of Legend" (6:38)
Rodrigo Y Gabriela – "Hanuman" (3:39)
"Confronting The Past" (1:37)
"I Was Always There" (4:06)
"Kitty-Cat Break-Out" (1:35)
"The Great Terror" (7:56)
"Farewell To San Ricardo" (1:32)
"The Puss Suite" (3:09)
"The Giant's Castle" (3:08)
Rating: 4 / 5 Stars
Raised in the Montana Rocky Mountains by buffalo farming philosophy professors, Lamar Furbanks embraces the geek's golden rule: have a good time all the time. Armed with dual degrees in liberal studies and general studies, Furbanks hopes to melt your brain like a Pan Galactic Gargle Blaster. So throw out that Earl Grey and feast your brain cells, because geeks can live on Fandom alone.