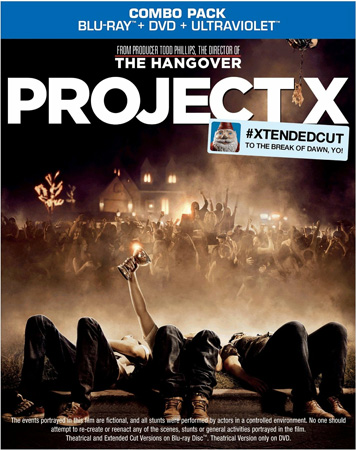 Once upon a time, Todd Phillips, the director of The Hangover, decided to produce a movie about a high school party. Wait, no, that's not exactly correct. Let's start over. One day a bunch of movie folks told Todd Phillips a bunch of crazy stories from their high school days, and he decided those stories needed to be slammed together into a frighteningly apocalyptic representation of youth gone wild. As it turns out, that is a more or less accurate account of the origin of Project X, the 2012 heir apparent to the crude teen comedy genre.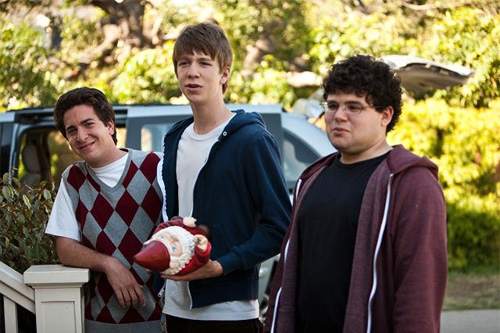 Project X follows the exploits of a trio of high school lesser-thans in Pasadena as they plan and then execute a birthday bash. The birthday boy is Thomas (Thomas Mann), a well intentioned guy who catches his share of bullying but otherwise slides comfortably under the radar at school. His friends are Queens transplant Costa (Oliver Cooper) and J.B. (Jonathan Daniel Brown), the real masterminds behind the soiree. Costa and J.B. see Thomas's birthday as the perfect opportunity to host a party so ridiculously huge that there will be no way the three of them can avoid being popular. Costa brings AV-student Dax (Dax Flame) on board to video the whole spectacle for proof and posterity. On the periphery of their small circle of friends is the sole female in the group, Kirby (Kirby Bliss Blanton), less losery than the guys and potentially crushing on young Thomas.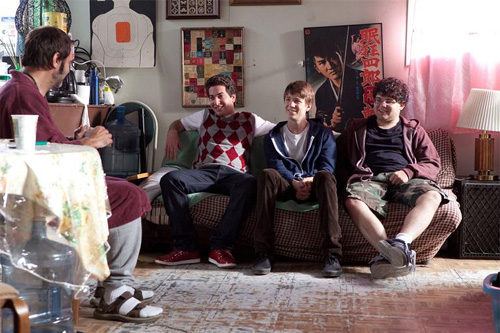 From the very beginning, it's clear that Project X is a different animal than your typical teen party movie. For one, by virtue of the mostly invisible character of Dax acting as the cameraman, the film has a found footage quality that is rarely seen in comedies. All the camera work is handheld, and there are many convenient situations and contrivances that put Dax in just the right places to get full coverage of the high schoolers' antics. The camera does occasionally switch hands, and there's some footage edited in that does not come from Dax's handheld, but we mostly see the events through the weird AV kid's eyes. The found footage style is most common in horror movies, and that association lends a strange tonal darkness to Project X from the first shots through the last. For a good portion of the movie, you'll expect for something terrifyingly Blair Witchy to befall our protagonists at any given moment. Crazily dark stuff does eventually happen, but by that time the rest of the movie has ramped so far into absurd shenanigans that it almost feels like par for the course.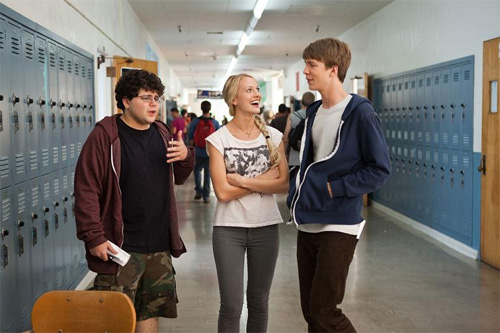 The movie starts at a pretty pedestrian point, with these unpopular kids plotting to throw a bash and elevate their collective social status. It doesn't take long for their plans to begin escalating both in scope and in pure insanity, and the movie escalates right along with them. They go from figuring out how to get alcohol at the party to having a run-in with a gun-toting drug dealer to admitting way too many potentially violent strangers into the party in a rapid progression that lends a frantic and worrying edge. Combined with the found footage stuff, this continual heightening of tension makes Project X a comedy that actually is structurally very much like a horror film. It's a weird directional choice, and it does evoke dread and laughs at the same time. That might not be the real goal of the film, so it seems to succeed at landing in a cringe inducing and darkly funny place that is rarely seen, for better or for worse.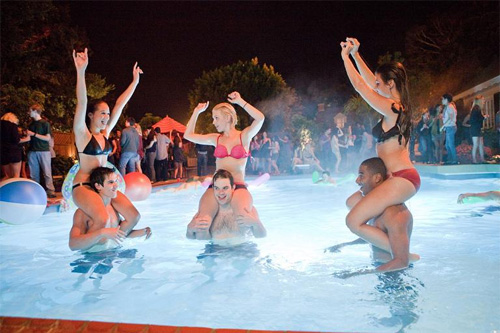 Project X hits all the requisite bullet points of teenage debauchery and, indeed, of debauchery in general. There's drinking, there's drugs, there's nudity, there's violence, and there's a general anarchic spirit throughout. Party flicks usually trot out a lot of these elements, but it's all handled here in a more extreme and unsettling way. There's usually a redeeming moment in the typical teenage party film where the kids throwing the party learn something important about themselves or where they realize their partying has consequences, and they come up with some way to make everything okay again. That's not the sort of movie Project X is. Once the insanity kicks in and the train jumps the tracks, never expect for it to be righted and arrive at the station on time. Most of the characters are completely self involved and have no redeeming or likable qualities. Costa, ostensibly Thomas's best friend and the architect of the party, just might be one of the most dislikable "good guy" characters ever trotted onto the screen in a movie like this. Thomas and Kirby really are the only characters who have any sort of relatability, and even Thomas is questionable through most of the movie.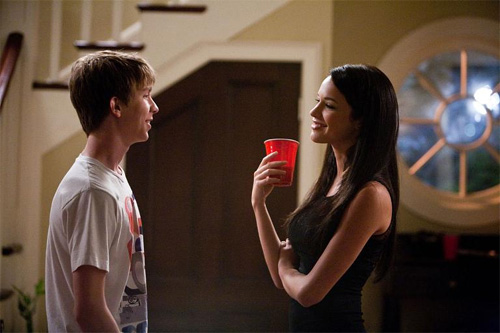 Project X released on DVD and Blu-ray on June 19, and we were sent the combo pack that also includes access to the Ultraviolet streaming version of the film. The Blu-ray release includes an extended cut (Twitter-style hashtagged on the box as "#xtendedcut") that adds more partying into the movie, and it also includes a few special features that total to around fifteen minutes of featurettes overall:
Tallying Up the Damages – A look at the damage cost of the party in the aftermath
Project X: Declassified – Behind the scenes
Pasadena Three – Character profiles of the main party planners
Project X is not quite like any other movie I've seen. Sometimes it aims in the direction of Animal House, sometimes towards The Hangover, and occasionally towards Cloverfield. It's a weird mixture of elements and styles that results in something quite intense and bizarre. There's nothing redeeming about the movie, and anyone with even a little bit of OCD will be left in shambles by the end of the party's mayhem. Perhaps the most incredible aspect of the movie is that most of the guys' plans work out perfectly to their intended results, and then we see the ramifications of those results pile up disastrously. It's worth checking out if you want a terrifying snapshot of today's rebellious youth amped into the stratosphere.
Jason is the founder and managing editor of Fandomania. He is severely into toy collecting, plays a worryingly large amount of games, watches way too many movies and TV shows, and reads more than his fair share of books and comics. He also likes guacamole.