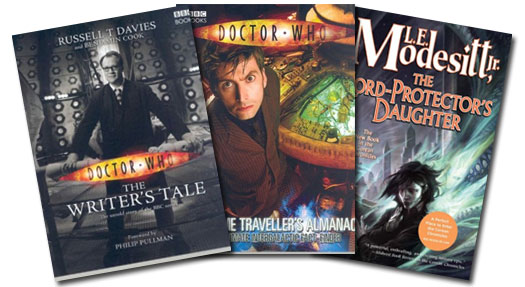 Kelly's taken time out of her NaNoWriMo quest to assemble a list of the new sci-fi and fantasy book releases for the beginning of November. Check them out!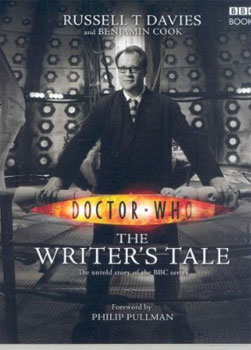 The Writer's Tale comes out on November 13th.  A fascinating look at the creative life of the hit BBC series, Doctor Who: The Writer's Tale is executive producer Russell T. Davies' personal tour of the Doctor's universe. A unique collection of correspondence between Russell and writer Benjamin Cook, the book explores in detail Russell's work on Doctor Who Series 4, revealing how he plans the series and works with the show's writers. Fully illustrated with script pages, personal notes, and never-before-seen photos and artwork, The Writer's Tale is a love letter to television, and a fitting tribute to one of the most popular family dramas of all time.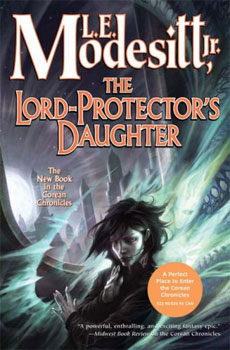 The Lord-Protector's Daughter will be released November 11th.  Mykella, the eldest daughter of the Lord-Protector of Lanachrona, discovers that someone is diverting significant sums of money from her father's treasury. One of the ancient soarers appears to Mykella, telling her that she must go to the antique stone Table in the cellars of the Palace and find her Talent in order to save her land and her world. From there, matters become more perilous. There are attempts to remove Mykella and her sisters from Tempre by marrying them off to lords in neighboring lands, and fatal and near fatal accidents occur to members of her family and trusted retainers. While Mykella develops a solid idea of who stands behind it all, every attempted solution is used to discredit her. How can she save their father and land?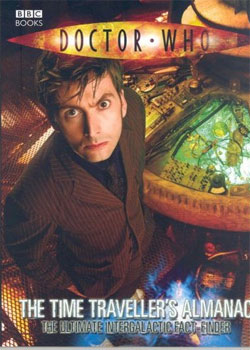 The Time Traveller's Almanac will be released November 13th.  Who are the eminent artists of the 16th, 19th, or 21st centuries? What are the mysteries of Carrionite Science? Where do the Daleks come from? Answers to all of these questions and more are found in The Time Traveller's Almanac, the ultimate intergalactic fact-finder. The Almanac draws on resources far and wide, from the beginning of time to the end of the universe, to provide information on key historical events and great lives, important issues in science, technology and the arts, and the stories that have defined each era. Fully illustrated with photos and artwork, The Time Traveller's Almanac provides an essential biography of the Doctor Who universe.
Books released November 1st:
4) Alien Race: Visual Development of an Intergalactic Adventure
illustrated by Peter Chan, Justin Pichetrungsi and  Thomas Tenery
5) Doctor Who Short Trips: The Ghost of Christmas
by Cavan Scott and Mark Wright
6) The Circle of Fate
by Raja Mohanty, Sirish Rao and Radhashyam Raut
Books released November 4th:
7) Swallowing Darkness
by Laurell K. Hamilton
8) Claws that Catch
by John Ringo and Travis S Taylor
9) Heir to Sevenwaters
by Juliet Marillier
10) Fortune and Fate
by Sharon Shinn
11) Strength and Honor: A Novel of The U.S.S. Merrimack
by R.M. Meluch
12) The Devil's Eye: An Alex Benedict Novel
by Jack McDevitt
13) The Sword Never Sleeps: The Knights of Myth Drannor, Book III
by Ed Greenwood
14) Search for the Star Stones
by Andre Norton
15) Saint Antony's Fire
by Steve White
16) The Golden Tower: Book Two of the Warriors of Estavia
by Fiona Patton
Books released November 7th:
17) Becoming Batman: The Possibility of a Superhero
by E. Paul Zehr
18) The Gabble – and Other Stories
by Neal Asher
Books released November 11th:
19) Dragonheart: Anne McCaffrey's Dragonriders of Pern
by Todd McCaffrey
20) Ender in Exile
by Orson Scott Card
21) The Gods Return: The Third Volume of the Crown of the Isles
by David Drake
22) Odd Girl Out
by Timothy Zahn
23) Thirteen Orphans
by Jane Lindskold
24) Fools' Experiments
by Edward M. Lerner
25) Watermind by M.M. Buckner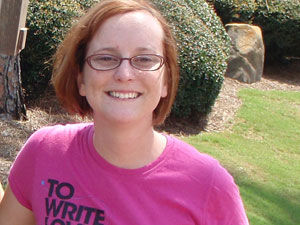 Kelly Cipera has been a bookworm from a very early age, discovering the fantasy genre in the 7th grade by reading The Smallest Dragonboy by Anne McCaffrey during an English class. After that it was too late; science fiction and fantasy became insatiable habits helped along by her father. Married to a rocket scientist, she now lives in Virginia and continues to read voraciously.
Andre Norton
,
Benjamin Cook
,
Cavan Scott
,
David Drake
,
E. Paul Zehr
,
Ed Greenwood
,
Edward M. Lerner
,
Fiona Patton
,
Jack McDevitt
,
Jane Lindskold
,
Juliet Marillier
,
L.E. Modesitt
,
Laurell K. Hamilton
,
M.M. Buckner
,
Mark Wright
,
Neal Asher
,
Orson Scott Card
,
R.M. Meluch
,
Radhashyam Raut
,
Raja Mohanty
,
Russell T. Davies
,
Sharon Shinn
,
Sirish Rao
,
Steve Tribe
,
Steve White
,
Timothy Zahn
,
Todd McCaffrey
,
Travis S Taylor