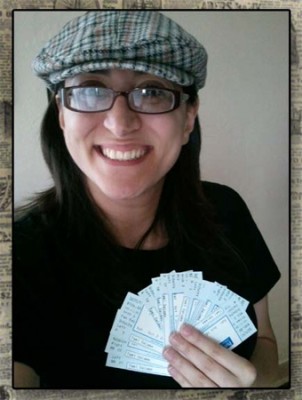 Extra! Extra! Read all about it! Disney's '90s cult musical Newsies became a stage musical last year and now it's hitting Broadway in just two short weeks. Newsies superfan (or "fansie") Saint Tami caught the show at the Paper Mill Playhouse thirteen times and has started a new blog about her experience as well as upcoming coverage of the Broadway run.
The site, called Carrying the Blogger (a reference to the musical number "Carrying the Banner"), details some of the changes made in transition from screen to stage, a primer on what to expect if you see the show on Broadway, a recap of the official Newsies Fan Day (which included a reunion of many of the original movie's cast members), an introduction to the show's star, an impressive list of links to videos of and about the production, and more. There will soon be a video blog, as Tami will be in New York for some of the previews next month. If you're a Newsies fan and wish you could be there to see the show, you'll definitely want to check out this blog for all the latest!

Celeste Monsour is Fandomania's Creative Editor and former co-host of the Fandomania Podcast. Among their many interests are photography, '80s/'90s nostalgia, social justice, time travel, and adorable animals.