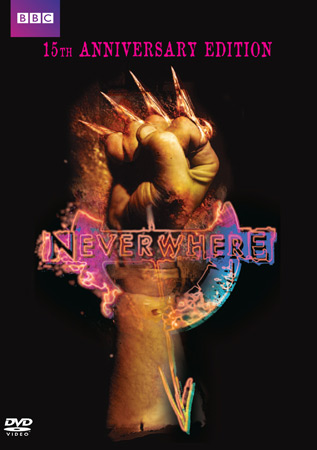 Over the years, it has become increasingly apparent to me that my arsenal of geekery has been woefully understocked in the area of Neil Gaiman. Somehow I've managed never to read more than one or two issues of Sandman, and the bulk of my impression of the writer has come from the two TV episodes he wrote for Doctor Who (2011's "The Doctor's Wife") and Babylon 5 (1998's "Day of the Dead"). I did, however, read his brilliantly hilarious collaboration with Terry Pratchett, Good Omens, as well as a singularly original fantasy novel called Neverwhere. Given my lack of other exposure to Gaiman, it's probably reasonable that I didn't know at that time that the novel Neverwhere is a companion piece to Gaiman's first foray into TV, a Neverwhere miniseries he wrote for BBC. Now that both the novel and the TV show are celebrating a significant birthday, BBC has issued a brand new edition of the series with the Neverwhere 15th Anniversary Edition DVD.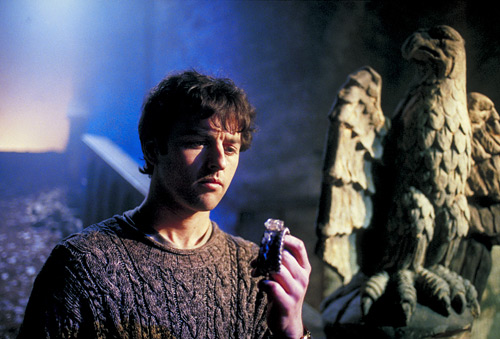 Produced alongside British writer and comedian Lenny Henry, Neverwhere is Neil Gaiman's otherworld story about an ordinary person plucked from his mundane existence to discover a fantastic reality hidden from most humans. The story opens with Richard Mayhew (Gary Bakewell) encountering a young and bloodied girl named Door (Laura Fraser), who is on the run from mysterious assassins. Richard gives her aid and soon becomes entangled in the strange circumstances of her life and finds himself trapped in her world. Rather than transporting the protagonist to Narnia or some other mythical locale, the secret world here is London Below, a mystical sub-city beneath the bustle of our more familiar London Above.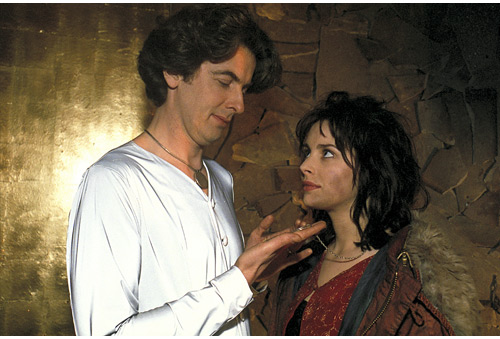 London Below is especially fascinating, as it is something like a parallel reality layered on top of the real world's London. Magic and fantasy abound in a skewed urban setting that translates real locations into their mystical counterparts. The Angel district of the Islington borough, for example, becomes a real angel in London Below. The deeper Richard falls into London Below, the more he disappears from London Above until he loses his entire previous identity, home, and career, indeed becoming invisible to the denizens of the normal world. Joined by the warrior Hunter and the cavalier Marquis de Carabas, Door seeks answers to the mystery surrounding her parents' deaths while Richard tries to make his way back into London Above and his old life.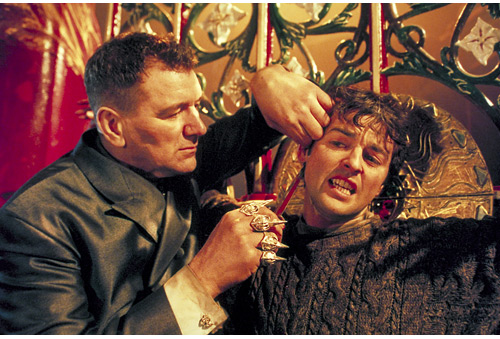 The story of the TV show and the novel are very similar, as they were created and released around the same time. Certain details changed in the production of the TV series due to the realities of show business, such as that the Floating Market in the novel is at Harrods department store but moves to a power station in the BBC series. Aside from bits and pieces like that, the two tellings of Neverwhere match up well and act as great counterparts to each other. The novel delves deeper into some areas of the narrative, while the TV show obviously is more visually illustrative of the odd world living beneath London.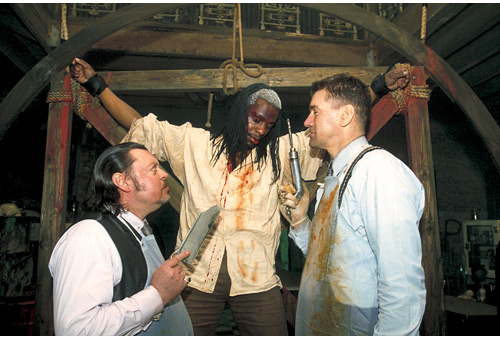 The new DVD release collects the entire BBC series from 1996, along with a bunch of additional material. Neverwhere did have a previous DVD release, and the extras from that set are included:
Interview with Neil Gaiman
Neil Gaiman Audio Commentary
Photo Gallery
Character Descriptions
In addition to the older extras, the new anniversary edition presents several new features as well:
Neverwhere Map Insert
Introduction to the 15th Anniversary Edition
New Audio Commentary with Neil Gaiman, Lenny Henry, and Clive Brill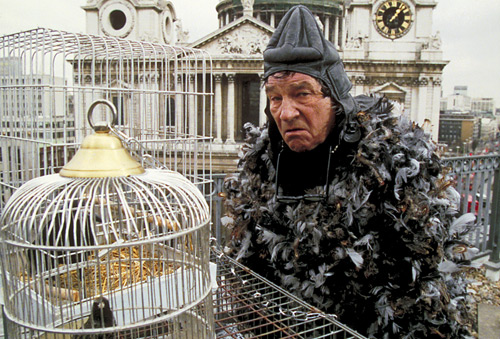 The show holds up well after a decade and a half and still tells a spellbinding story of fantasy, identity, and reality. Newcomers will find a lot to love and to think about after their first encounter with these six half-hour episodes. Longtime fans will enjoy the new audio commentary, as well as a new and slimmer packaging for the entire series. The Neverwhere 15th Anniversary Edition DVD released on November 15, 2011, and is available in stores now.
Jason is the founder and managing editor of Fandomania. He is severely into toy collecting, plays a worryingly large amount of games, watches way too many movies and TV shows, and reads more than his fair share of books and comics. He also likes guacamole.