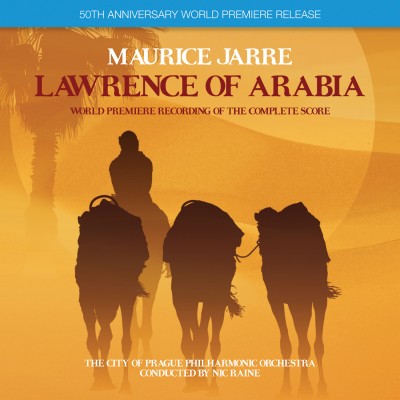 Soundtrack: Lawrence of Arabia
Composer: Maurice Jarre
Label: Silva Screen Records
Release Date: August 14, 2012
Lawrence of Arabia is one of the great big-screen epics in the history of film-making, bringing the desolation and unending sand of the Arabian desert to life in all its wide-screen glory. Directed by David Lean, it marked the first major role for Peter O'Toole and featured a multitude of other well-known names, including Alec Guinness, Omar Sharif, and Anthony Quinn. The movie is just as well known for its famous main musical theme, which matches the visuals perfectly — it is big, loud, and sweeping, with an underlying bass line reminiscent of the rolling gaits of a caravan's worth of camels trekking single-file across the empty expanse. It is a theme that is immediately familiar to many, even fifty years on from the movie's release.
Responsible for this epic awesomeness is composer Maurice Jarre (1924-2009). Although he composed more than 150 film scores in his long career, Lawrence of Arabia is the one that made him famous and won him his first Oscar for original score. He won two more Oscars for the scores of Doctor Zhivago and A Passage to India, and his music can also be heard in such well-known films as Ghost, Witness, Fatal Attraction, and Dead Poets Society. In honor of Lawrence of Arabia's 50th anniversary, Silva Screen Records has just released a new recording of Jarre's famous soundtrack, which was originally performed by the London Philharmonic under the baton of the composer. The music on this album, performed by Nic Raine and the City of Prague Philharmonic Orchestra, is just as epic and sweeping as the original.
Lawrence of Arabia tells the tale of T.E. Lawrence, a British intelligence officer that became famous for helping to organize nomadic Arabian tribes in a guerrilla war against the Ottoman Turks during World War I. The soundtrack reflects this by constantly using variations of the famous desert theme described above along with a second theme that is more lively and brings to mind a more Western and militaristic style of music. As a result of using both themes over and over again, changing aspects such as tempo and instrumentation to match the mood of on-screen events, the soundtrack becomes a cohesive, whole piece of music even when listen to by itself, apart from the film. Jarre also made use of instruments like the tambourine to heighten the Middle Eastern feel of the music at certain points.
Whether or not you are a fan of the movie, or even if you've never seen it at all, I highly recommend taking a listen to this album. It is a great example of a well-put-together soundtrack that makes sense with or without the visuals.
Track Listing:
"Overture" (4:23)
"Main Titles" (1:56)
"First Entrance to the Desert" (4:25)
"Night and Stars/Lawrence and Tafas" (5:43)
"Lawrence Rides Alone/Exodus" (3:13)
"We Need a Miracle" (2:40)
"In Whose Name Do You Ride?/That is the Desert" (The Camels Will Die)" (5:10)
"Mirage/The Sun's Anvil" (5:19)
"Gasim Lost in the Desert" (3:29)
"Lawrence Rescues Gasim/Lawrence Returns with Gasim/The Riding" (6:37)
"Arrival at Auda's Camp" (2:00)
"Bedouin Feast/On to Akaba/Attack on Akaba/Lawrence at the Sea Shore" (6:37)
"Sinai Desert/After Quicksands/Hutments/Suez Canal" (6:16)
"A Brilliant Bit of Soldering (The Voice of the Guns)" (2:05)
"Bugle Call/Lawrence on the Terrace/Intermission" (1:34)
"Adulation/The Horse Stampede/Faraj Killed" (3:43)
"Ali Rescues Lawrence/Allenby's Flattery" (3:11)
"Assembled Army/Lawrence and His Bodyguard/Arab Theme" (3:06)
"Military March" (1:18)
"The End/Play-off Music" (4:01)
Rating: 4 / 5 Stars

Ann Wells is an elementary music teacher by day and a nerd all the time. Her fandoms include Star Wars (the original three, thank-you-very-much), Doctor Who (10 is her doctor), and great authors like J.R.R. Tolkien, Isaac Asimov, and Neil Gaiman, among others. She can usually be found with her nose in a book, playing an instrument, singing show tunes, being crafty with yarn, or doing the bidding of her cat.