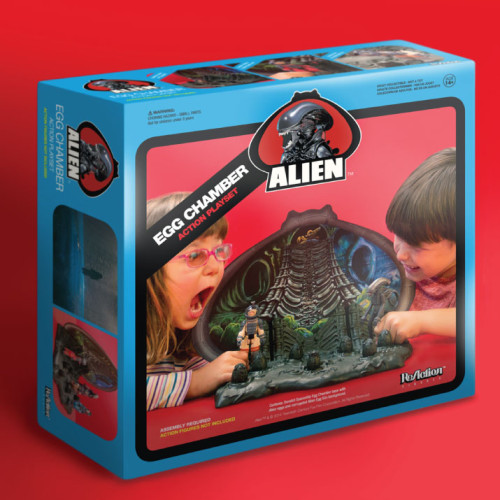 Funko has been generating a lot of excitement in toy collecting through their various awesome figure series, from the cute POP! Vinyl series to their new and highly detailed Legacy action figures. One of their surprise releases over the past few months is the ReAction figure line, a collection of action figures designed in a retro style reminiscent of the old Kenner action figures from the '70s and '80s. Even the packaging is Kenner-inspired, and these things have been gaining in popularity as they've torpedoes more and more collectors' nostalgic hearts. The newest reveal in the ReAction line is not just a figure but a full playset, and it's announced jointly with Super7 as an exclusive for this year's San Diego Comic Con. Here's the official info about their new Alien Egg Chamber:
The highly anticipated playset that will pull on nostalgic heartstrings of 70's youth will be exclusively released at this year's San Diego Comic Con. Now you can relive the excitement of the Nostromo Crew's journey into the Derelict Alien Spaceship! Venture with Kane deep into the mysterious Egg Chamber ReAction Playset and pose your sturdy ReAction Figures on the detailed, egg-covered base. Inspired by the playsets of the 1970's and packaged in an era appropriate photo box, the playset provides the perfect backdrop for all of your ReAction Adventures. The playset comes complete with classically styled action base made from durable hand-cast resin and corrugated cardboard, full-color Alien Egg Silo backdrop that slides into the base for display. ReAction Figures sold separately. Limit to one per person for the entirety of the show. Limited run of 250/numbered.
Jason is the founder and managing editor of Fandomania. He is severely into toy collecting, plays a worryingly large amount of games, watches way too many movies and TV shows, and reads more than his fair share of books and comics. He also likes guacamole.