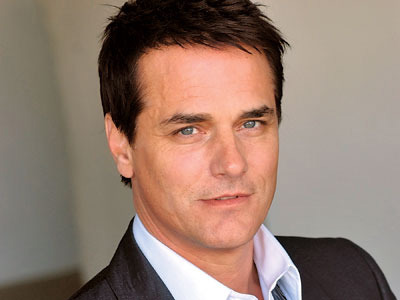 This kicks off the Fan Music summer series! Every Wednesday in June, July, and August I'll be covering fandom-related music with a monthly theme. June's theme is Actors Who Sing. There are a ton that could fall into this category, but I've chosen five to focus on more in-depth.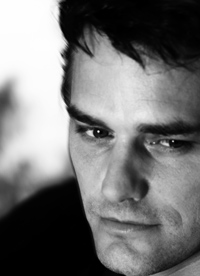 In the honored place of first review is Paul Gross, since he's the reason I started being drawn to actors who sing in the first place. Most will probably recognize Gross from his 1994-1999 series Due South, but did you also know he's also a (self-proclaimed) Canadian rock star? Well, he did release two CDs with fellow actor David Keeley, so the title could apply.
In 1997 came Two Houses. Paul Gross has a softer voice that carries with it an emotion of both weariness and devotion. He wants to make you love him and you can't help but do it. Many of the songs on the CD speak of a gentle, everlasting love. An exception to this theme is "Papa's Front Porch," which instead speaks of love gone wrong, and in the end violent, told from the point of view of the abuser. "Ride Forever" is a declaration of perseverance as the years weigh down on us, making us believe that no matter what we'll be able to keep going. "Voodoo" is probably my favorite from the entire CD because it combines uncontrollable love and a beat that sounds half like a prayer and half like an attempt to run. And the title track "Two Houses" sounds like a drunken declaration made after a night gone wrong. You know eventually everyone will sober up and happiness will return.
Gross likes to use his own music in his acting projects. From this CD alone, he's featured three songs over the years: "Ride Forever" was featured in the 1996 Due South Episode "All the Queen's Horses," "Kiss You Till You Weep" was featured in Gross's 2002 movie Men With Brooms, and "After the War" was featured in Gross's 2008 movie Passchendaele. I would say that these three, with the added coupling to visual representations, are sure to stick in your mind.
Two Houses (with David Keeley) (1997)
Ride Forever
Voodoo
Desert and Rain
Two Houses
Blind Man
Promise Us the Night
Man on a Bicycle
Angels
Papa's Front Porch
After the War
Kiss You Till You Weep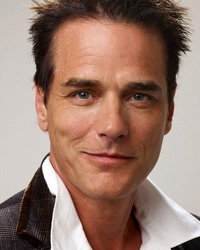 2001 saw the release of the second Gross/Keeley collaboration Love and Carnage. This feels more like a CD where the songwriters are secure in their own talents and are doing what they want to do, rather than what someone else is forcing them to do. Love is once again the main theme, but with many such as "Holy Love" and the more whiskey-flavored "Clouds," it's more focused on the end rather than the beginning.
"Blame It All On Nashville" is peppy and fun, but also speaking to the bottom line that it's not our fault, it's someone else's. "Paris" is a conversational piece that talks of weariness, but the memory of better times that came before. "Other Side of Life" takes us past death, leaving behind all our earthly ties, while "Family Matters" focuses on the issues that came before.
There seems to be a lot of religious overtones to this CD as well. "Jerusalem" starts as a holy induction and quickly turns to a highway piece, which fits the beat that's been established with the CD, while "If Heaven Had A Backdoor" asserts that he knows he's doomed, but he's going to enjoy the ride down. "Cherry Beach" even pulls in both religious imagery and a beat that almost substitutes for a prayer to tell its story.
My absolute favorite song of the entire CD would have to be "Give The Dog A Bone" because it's on the complete opposite side from any other song in the track listing. Overtly sexual, it tells the song of a drunken hook-up that seems like fun for everyone involved.
Love and Carnage (with David Keeley) (2001)
Cherry Beach
Give The Dog A Bone
No Business
If Heaven Had a Backdoor
Secret in Your Eyes
Family Matters
Other Side of Life
Jerusalem
Gone With The Wind
Crime of the Mind
Kickin' His Shadow
Paris
Blame It All On Nashville
Clouds
Holy Love
For even more fun, check out YouTube for music videos to a number of these songs or the extra singles "32 Down on the Robert Mackenzie" and "Santa Drives A Pick-Up". And then maybe you, too, will discover the origin of Paul Gross arms. \o/

In her youth, Kimberly could be found in the library, devouring books that covered everything from WWII History to Dr. McCoy's latest adventures aboard the Enterprise, with some X-Men thrown in for good measure. Saturdays were often reserved for PBS re-runs of Doctor Who and Red Dwarf. More recently, she's been riding along with the Winchester brothers, and she hopes the Impala doesn't run out of gas for a long time.