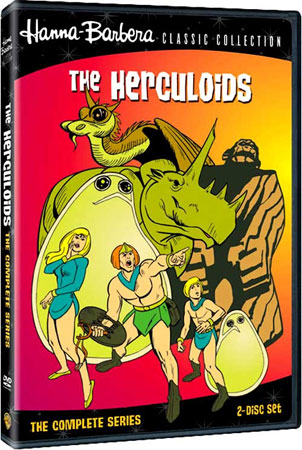 I grew up on a healthy diet of Hanna-Barbera cartoons, but somehow I never knew about The Herculoids until much later, when Toynami released a series of action figures based on the characters from the series. After seeing toys of some cave people, awesome dinosaurs, and a couple of blob-like dudes, I sort of dropped the cartoon off my radar again. I remained oblivious until the new The Herculoids: The Complete Series DVD showed up for review, and I decided it was just about time that I found out what this thing was all about.
As it turns out, The Herculoids is a show about a group of outer space Luddites fighting The Man. The titular group's leader is Zandor, an interstellar barbarian who has a storied past of adventure and who is capable with all manner of future tech but prefers taking the fight to his enemies with slingshots, spears, and other goodies salvaged from the Ewok arsenal. Mike Road, best known as the voice of Race Bannon in Jonny Quest, voices Zandor, while Virginia Gregg (uncredited for being the voice of Norman Bates' mom in Psycho) voices Zandor's wife, Tara. Their son Dorno completes their nuclear family, and they are joined by an assortment of non-humanoids. Mike Road lends his voice to Zok the space dragon, Igoo the ape made of rock, and Tundro the space triceratops… thing. Hanna-Barbera staple Don Messick, famous for his prolific voice work on tons of familiar characters including Scooby-Doo, voices Gloop and Gleep, a pair of sentient protoplasm creatures.
The sci fi adventure series takes place on the undeveloped planet Amzot, whose inhabitants strive to live peaceful lives free of pesky technology like cars, moving sidewalks, and killer robots. To that end, Zandor puts a beatdown on pretty much everyone who visits his corner of the galaxy. Most of the series' bad guys are invaders seeking to impose their machinery on Amzot, though quite a few of the visitors are longtime enemies of Zandor and seek revenge for previous defeats. For a guy who likes to sit at home with his rocks and sticks, Zandor certainly seems to have gotten around and caused some trouble for all these folks in the past.
The Herculoids debuted in 1967 and ran for one season of 18 episodes. Each episode is composed of two 11 minute segments, making that first season actually 36 segments long. All 18 episodes are collected in this new two DVD set from Warner's Hanna-Barbera Classic Collection. Calling the DVD "The Complete Series" is a bit of a misnomer, though, because The Herculoids returned for a new series of 11 episodes in the early eighties, and this set includes none of those later episodes. As with all the Warner Archive releases, the series is available exclusively through WBShop.com.