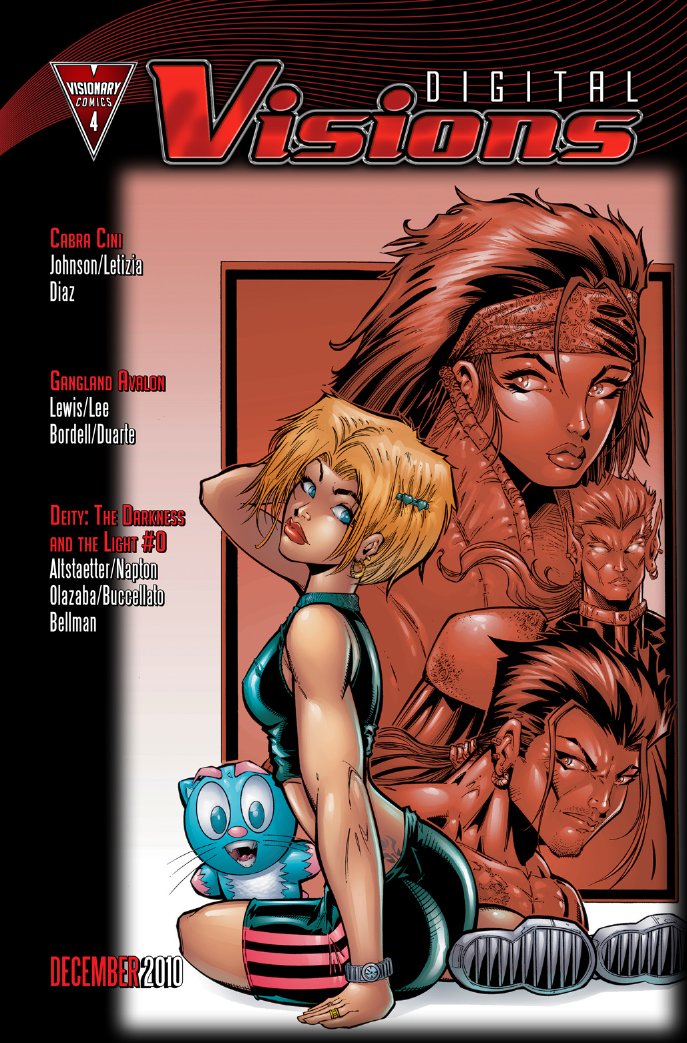 Issue: Digital Visions #4
Release Date: December 2010
Authors: Sam Johnson, A. David Lewis, Karl Altstaetter, Robert Napton
Artists: Bruno Letizia, Mike Bunt
Letters: Bruno Letizia, Jacob Bascle
Colors: Rodrigo Diaz, Gonzalo Duarte, Brian Buccellato, Derek Bellman
Pencils: Michael Angelo Lee, K. Altstaetter, Michael O'Hare
Inks: Chuck Bordell, Victor Olazaba, K. Altstaetter, Michael O'Hare
Publisher: Visionary Comics
This collection gathers together three short features from Visionary Comics: "Voodoo Trespass" from the Cabra Cini: Voodoo Junkie Hitwoman series, the short story "Gangland Avalon," and the digital debut of Deity: The Darkness and the Light. Going into this, I was unfamiliar with the Visionary line, but now I'm intrigued to learn more!
First up we get a story featuring the character of Cabra Cini. As an uninitiated reader, I appreciated that her back-story was given succinctly in the beginning so that readers could have a level playing field of knowledge. Seeing as she regularly travels to the realm known as "The Infinity," a place she knows drives people mad upon repeated visits, I'm not so sure that her assertion of being unaffected is actually true. She seems a bit unwell to me, but that is likely a helpful head-space for the actions she's forced to take again and again. The dark tones of the artwork certainly set the mood for this universe and leave me wanting to know a fuller example of Cabra's storyline. At the end of this short, I was left wondering how she does indeed take care of those she's after.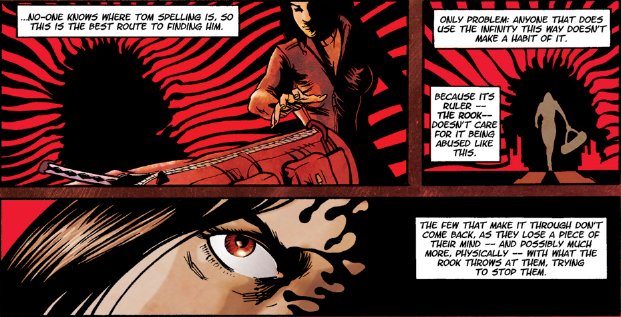 The next short in the collection was "Gangland Avalon," with quite a different tone than the previous story. This time it's magic and mobsters taking a turn. The premise sounds very intriguing because you are not only allowed the typical mobster genre of guns and vengeance, but also add a bit of other-worldliness to the mix. However, I had an extremely hard time following the storyline of this one and I put the blame on the lettering. It's much too thin, making it difficult to read. I understand why it was spaced that way, as there was just too much dialogue per scene to give it proper space without overshadowing the art, but still I feel like with a bit of editing and some better spacing the layout could have been improved dramatically.

Rounding out the comic was the debut of Deity: The Darkness and the Light brought to this format. The first frame shows how to properly accomplish a large amount of dialogue, as the words are many, but the artwork is sparse to accommodate. It also gives readers the back-story they'll need to venture into this universe. The use of flashbacks later was also very effective in delivering the needed information without feeling like an information dump. One improvement, on my part, would have been to show the empire component through Jamie's eyes rather than as a separate glance since I lost my interest and wished to return to her reality quicker. However, the entire teasing portion of Jamie's world makes the reader interested enough in her life that they'll want to go pick up more issues in her storyline. And, really, that was the desired effect all along.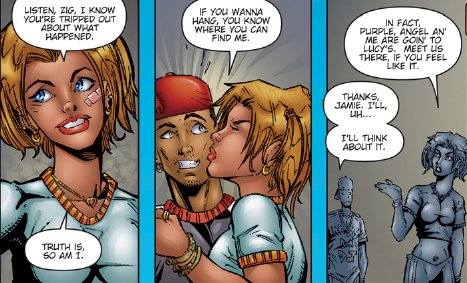 Overall, this collection was a nice teaser for Visionary comics and may well get new readers to seek out their works. It was certainly enough to gain my interest.
Digital Visions #4 is available for free download at Sam Johnson Comics.
Rating: 3 / 5 Stars

In her youth, Kimberly could be found in the library, devouring books that covered everything from WWII History to Dr. McCoy's latest adventures aboard the Enterprise, with some X-Men thrown in for good measure. Saturdays were often reserved for PBS re-runs of Doctor Who and Red Dwarf. More recently, she's been riding along with the Winchester brothers, and she hopes the Impala doesn't run out of gas for a long time.