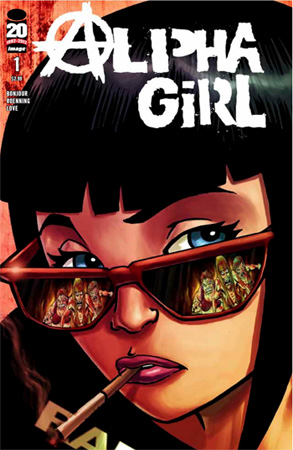 Issue: Alpha Girl #1
Writer: Jeff Roenning
Penciler: Robert Love
Inker: Dana Shukartsi
Colorist: Diego Simone
Letterer: Drew Gill
Created by: Jean-Paul Bonjour and Jeff Roenning
Publisher: Image Comics
Alpha Girl is about Judith Meyers and how she's survived the end of the world. Before going into detail about that, though, Judith introduces us to her younger self and her younger brother, Buddy. They live with their mother until she dies, wherein they are split up and put into the system. It doesn't take for either one. Once their fates are established, Judith continues to explain how a third rate cosmetics company, Moujou, ends the world.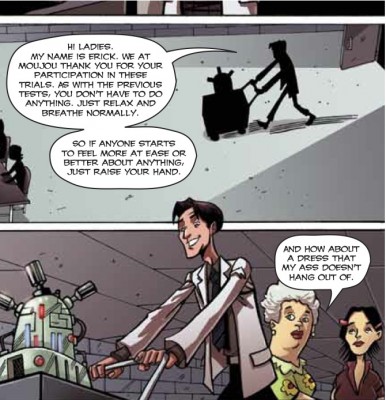 It seems two low-level and bitter scientists were forced to head up the Pheromone Development team. They test a new kind of pheromone on some women, who turn hostile and gain super strength and beat up a male janitor. The two scientists decide this is okay and a great way to make money. During a second testing, they lose control of the women, who now look like zombies, but move very fast. And that is how the world ends.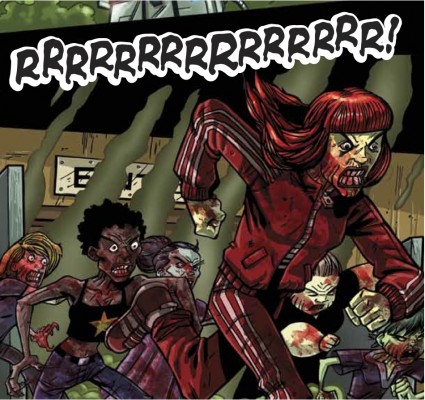 I really like the comic so far — it's funny and has a fascinating concept. The art style is unique and detailed. It gives the comic a certain feel and even adds to the humor. It is very adult comic though — swearing, nudity, and drug references in just the few first pages. It will be interesting to see where future issues go and how much detail they delve into.
From a young age, Nikki would read any book placed in front of her and has always had an interest in writing. She saw Sailor Moon, Red Dwarf, and Highlander (to name a few shows) on TV and they got her more interested in anime and sci-fi, which led to fantasy, her favorite genre. Right now Nikki is devouring anything Middle Earth related and has very much fallen in love with Tolkien's world. Nikki plays a lot of video games ranging from Final Fantasy to Mass Effect to Assassin's Creed III. Nikki has also written her first book! You can find it here if you're interested. She is currently planning another novel.