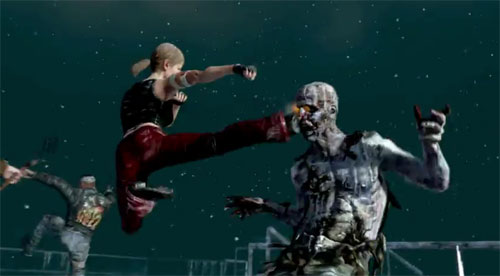 The newest expansion to Call of Duty: Black Ops is called Escalation and will be arriving for download first on Xbox Live on May 3, presumably with the PlayStation 3 release following once Sony's network is back online. There's been a lot of talk about the new multiplayer levels and additions to the standard military portion of the game, but the new zombie level is most definitely the star of this show. Call of Duty has been dabbling in the zombie playground for a while now, but Black Ops has cemented the franchise as a zombie crossover success. The new Call of the Dead add-on that comes with Escalation is proof positive of that.
Inspired by writer / director George A. Romero, who actually appears in the game as a zombie, Call of the Dead pits some of the most recognizable monster hunters, monsters, and all around badasses of pop culture against a horde of the undead on a frozen ship. Lending their voices and likenesses to the game are Danny Trejo, Sarah Michelle Gellar, Robert Englund, and Michael Rooker. Treyarch has released a new trailer that's full of zombie blasting fun, not to mention Gellar slaughtering some zombies while undeniably dressed as one particular vampire slayer. Check it out:
Jason is the founder and managing editor of Fandomania. He is severely into toy collecting, plays a worryingly large amount of games, watches way too many movies and TV shows, and reads more than his fair share of books and comics. He also likes guacamole.