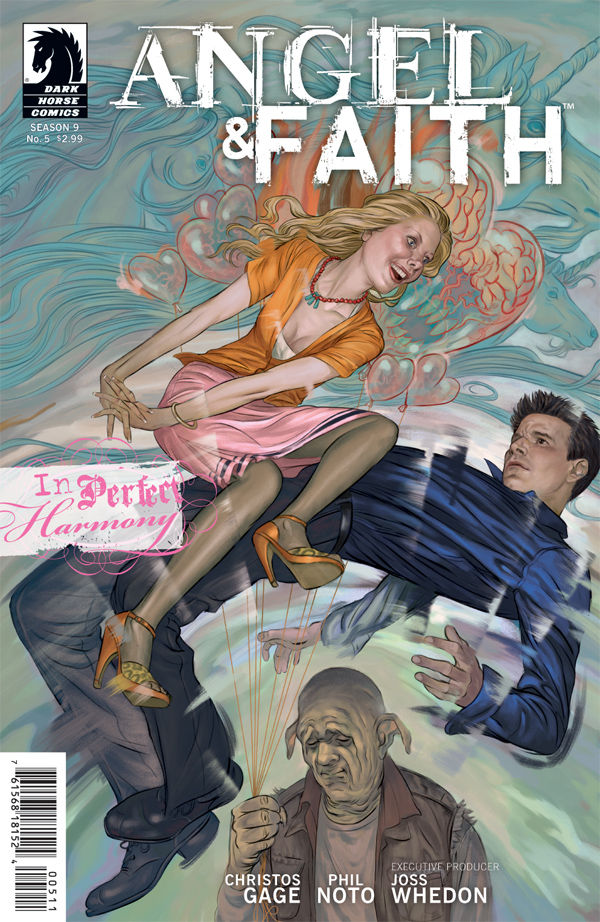 Issue: Angel and Faith #5
Release Date: December 2011
Writer: Christos Gage
Art: Phil Noto
Colors: Dan Jackson
Letters: Richard Starkings and COMICRAFT'S Jimmy Betancourt
Cover: Steve Morris
Alternate Cover: Rebekah Isaacs and Dan Jackson
Publisher: Dark Horse Comics
Angel and Faith have had to deal with a lot of problems as of late: Resurrecting Giles, dealing with the changing nature of supernatural creatures, waiting and watching to see if Angel will turn evil once again. However, even they can take time out to help their friends, right? Or, two beings that have latched onto Angel against his wishes. Clem and Harmony have come for a visit! Best Friends Forever!
I am always amused at Harmony's antics, but the way she came onto the scene this time might be my favorite. She's carrying around a sex tape of her and some guy she sired. Now, she's being blackmailed because of it. Seeing the leader of Reform Vampirism, whose lead platform is not to sire anymore, doing exactly that would look bad for her image. Poor Harmony, what's she to do? Well, go straight to her old boss of course.

And Clem is his usual sweet self, being Harmony's go-to guy, helping her with her appointments, her career, and even her dogs. People often underestimate Clem because of his looks and his demeanor, but he proves that looks can be deceiving. He can take out two bad guys without the use of hands. That takes some talent!
With great characters from the past, it should have been a fun romp. As much as I wanted to like this issue, I couldn't. I felt like the story dragged on without any direction. Yes, blackmail is wrong and Angel is trying to help, but in the end I found I just didn't care enough to get invested. That is, until the twist at the end. And it wasn't a vindictive "I'm doing this because I hate you" but the blackmail was happening for understandable reasons. I can't fault them for their actions.
This was a filler issue, but a sweet one with beloved characters from the past. I guess we need that once in a while, considering the heaviness of the Angel and Faith storyline.
Rating: 2 / 5 Stars