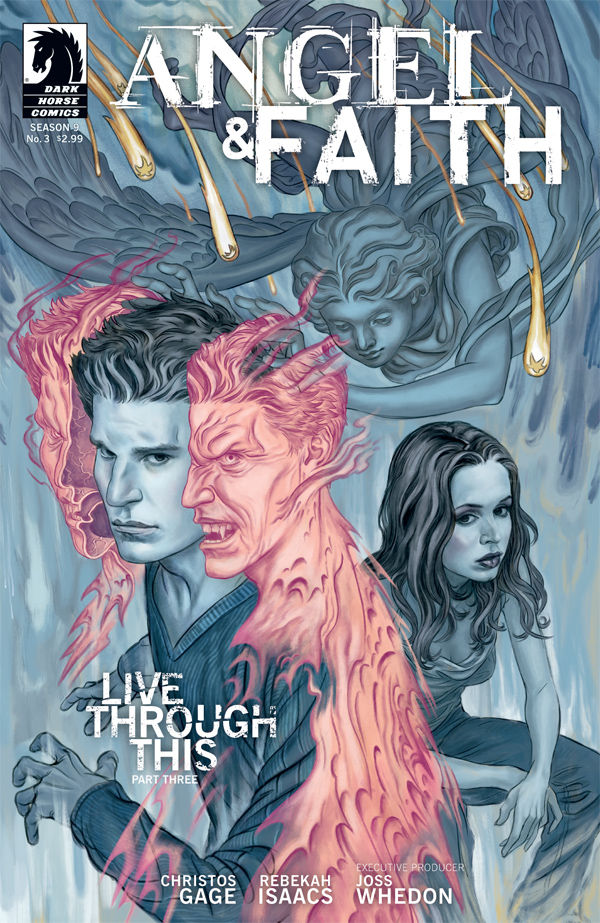 Issue: Angel and Faith #3
Release Date: October 2011
Writer: Christos Gage
Art: Rebekah Isaacs
Colors: Dan Jackson
Letters: Richard Starkings and COMICRAFT'S Jimmy Betancourt
Cover: Steve Morris
Alternate Cover: Rebekah Isaacs and Dan Jackson
Publisher: Dark Horse Comics
The mission to unearth the Mohra blood continues in this issue. Angel is more determined than ever to use the precious fluid to bring Giles back from the dead, thus correcting one grievous error he made. Even if everyone around him thinks it's a bad idea, he's deaf to their pleas and single-minded in his task.
Angel and Faith are out destroying Fraser's bar, looking for the location of the Mohra blood. Alas, their search is fruitless, but we got to have a few verbal sparring sessions in the meantime. Physical fight or not, it was a worthy show. And now that the proclamation has been made, Angel knows it's only a matter of time before Fraser slips up and reveals the location of their needed goods. The vampire can come up with brilliant plans, too, you know?
Meanwhile, Faith's questioning whether Angel isn't the least bit tempted to find and use the Mohra blood for himself. According to the Shanshu prophecy, he could become human and actually have a life that doesn't involve risking his neck every night to protect the innocent. And Faith's tempted to take the decision out of his hands and force humanity onto him, but would it be a good move? Neither path that Angel could walk seems like an easy one.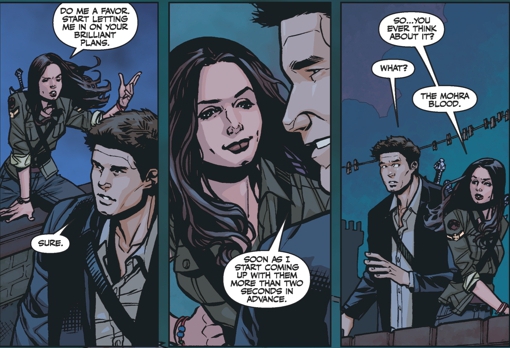 Angel and Faith seek out Fraser's clients, all who had paid or knew someone who paid to get the Mohra blood. Some turned out fine, others disappeared, and still others only got a partial recovery. However, none knew of his source, so the duo is no closer to finding a batch for themselves. Without the aid of Giles, they'll have to turn to one of his friends, Alasdair. He helps them with more information on the Mohra demon and thinks up possibilities on how Fraser's getting his supply. If he's got one, it's definitely captive and surviving on large quantities of salt. If they find somewhere that's been receiving high levels of salt deliveries, will they discover where the Mohra demon's being held?
While Faith's off taking care of a problem with her fellow Slayers, Alasdair comes to have a chat with her. He shares my concerns, and Faith's concerns, over Angel's plan to resurrect Giles. With many people screaming about how it's a bad plan, I wonder if Angel will take heed. My guess is no, but I can still voice my concerns repeatedly every time he brings it up. He is, instead, taking Faith undercover at one of Fraser's parties, trying to find some Mohra blood to satisfy his current needs. And, well, his plan didn't go exactly how it was supposed to. Yes, he found that Fraser was keeping a Mohra demon as a slave, to bleed off at will. And, yes, he did free the being and prepare to stand alongside him to battle their way out. But Angel didn't plan for the Mohra demon to choose to die an honorable death by his own hand rather than making a run for it. And then Pearl and Nash show up to join the ruckus. Sucks to be Angel, especially since Faith has finally seen the path she must take. Angel is a monster and always will be, so she must kill him before he destroys any more lives. Oh, Angel, you're in a heap of trouble now.
Rating: 4 / 5 Stars