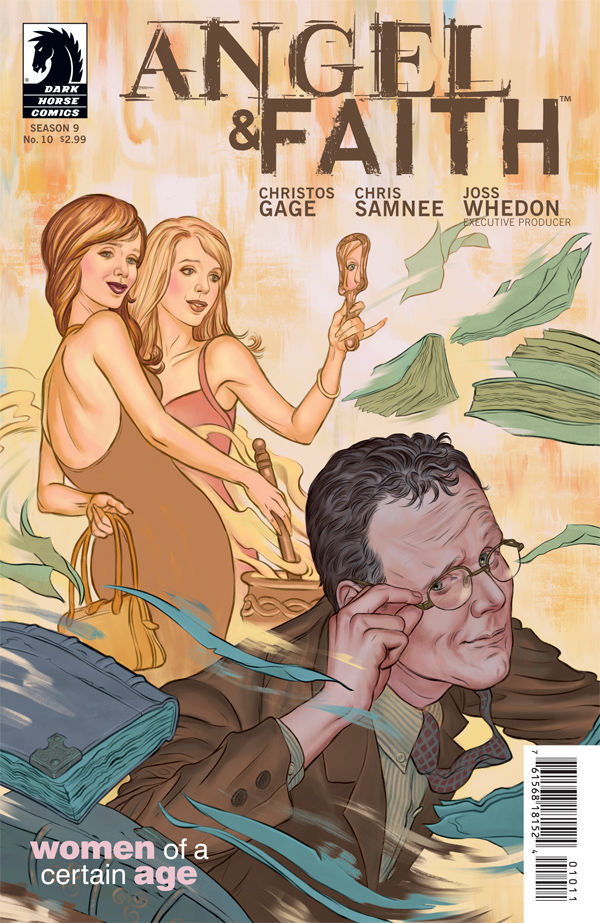 Issue: Angel and Faith #10
Release Date: May 2012
Writer: Christos Gage
Art: Chris Samnee
Colors: Jordie Bellaire
Letters: Richard Starkings and COMICRAFT'S Jimmy Betancourt
Cover: Steve Morris
Alternate Cover: Rebekah Isaacs and Dan Jackson
Publisher: Dark Horse Comics
Family drama continues this month in the Angel and Faith comic. We've already dealt with Angel's ties to Dru and Faith's problems with her father, but now it's a little Watcher drama that they've got to confront. The long-lost aunts of Giles have come calling and they're about to make Angel and Faith's lives a whole lot more complicated.
Angel and Faith come back to the house and discover someone inside. Two someones to be exact. Lavinia and Sophronia claim to be Giles's great-aunts. Considering how well they look, the duo is suspicious. Turns out there is some magical anti-aging action is going on. The aunts don't seem bothered by the fact that Angel accidentally killed their nephew. Instead, they're more focused on taking part in good wine and snarky comments.
But is seems the aunts didn't just drop by for a social visit. They need protection from a monster who is looking to take Lavinia. It seems that she sold her soul in exchange for beauty treatment. Yes, it's a silly thing, but she thought she found a loophole in the contract. Too bad circumstances changed and her magical safety net is no more. Angel and Faith, predictably, fight the monster and save Lavinia from her fate. It's a good thing, too, since she wasn't about to raise a finger to aid in the battle. But with one monster down, it's not the end of the fighting. The aunts made that sort of beauty deal quite a bit, so it looks like Angel and Faith will be kept quite busy.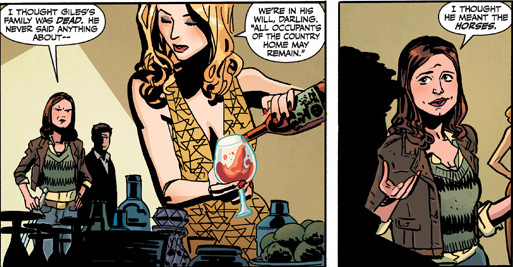 When the long line of monsters has finally been dealt with, Faith confronts the aunts for the real story. Giles had their picture, but never mentioned them, so there's got to be some kind of secret there. We get treated to a nice flashback to young Giles and his family life, dysfunctional as it was. And even back when he was just a boy, Giles showed initiative and the abilities that he would later hone to become a great Watcher. He used the Shard of Stronnos against a light demon, proving his worth and ceasing all ability to remain a child. He was immediately sent away to train as a Watcher after that. The Shard will be important years later as the aunts offer it to Angel. It holds Giles's innocence, lost that day when he went from being just a boy to being a Watcher-in-training. This might play a key part in Angel's plan to bring Giles back to life.
The aunts themselves are torn in their wishes. Lavinia gets Angel alone and says that she's all for his plan, to not let anyone deter him. Meanwhile, Sophronia talks to Faith and explains how she's not supportive of Angel's resurrection plan, so it's up to Faith to make sure he doesn't succeed. Both Angel and Faith are continuing on with their beliefs, but who will win when it's all said and done? Will Angel bring Giles back? Or will Faith make sure that doesn't happen? I fear that the answer lies somewhere in the middle. We may get Giles back, but it might not be the one we lost. And with the arrival of an unexpected guest, the plan might get even more complicated. We'll have to see how it plays out next month.
Rating: 3 / 5 Stars

In her youth, Kimberly could be found in the library, devouring books that covered everything from WWII History to Dr. McCoy's latest adventures aboard the Enterprise, with some X-Men thrown in for good measure. Saturdays were often reserved for PBS re-runs of Doctor Who and Red Dwarf. More recently, she's been riding along with the Winchester brothers, and she hopes the Impala doesn't run out of gas for a long time.