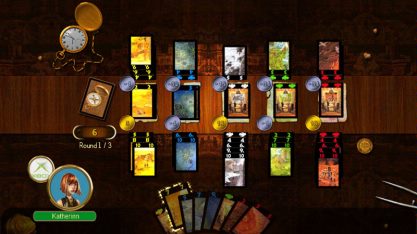 Sierra Online's Lost Cities hit the XBox Live Arcade today for 800 MS Points ($10). Is it worth the investment? Read on for my review!
Lost Cities is another adaptation of a popular Eurogame brought to the XBox Live Arcade, in the spirit of Catan and Carcassone. Unlike those two, however, Lost Cities is a card game with some clever scoring mechanics built in.
Here's how it works: You are an explorer, and there are five lost cities you're investigating. Each city is paired with a different color. You play cards from your hand onto a city to explore it, and your score changes for each of the five cities as you add cards to your stack. At the same time, your opponent is doing the same thing with her own stacks for each city. You can play regular numbered exploration cards that increase your score, or you can play investment cards that act as multipliers for the score for the current city. All the cards are color coded to go with a particular city. The game ends when the Draw pile runs out of cards, and the player with the highest score wins. There are some rules about how and when you can play specific cards, but that's pretty much the whole game in a nutshell.
Games like this one really require a tutorial to help break the learning curve, and Lost Cities provides a good one that illustrates all the game mechanics in a clear way. Once you go through the brief tutorial once, you'll be ready to jump in and play an actual game. There's a lot of math involved in the scoring (adding the exploration card values, multiplying by the investments, subtracting the initial cost, etc), but the game takes care of the calculations for you as you go, so that layer is pretty invisible. Lost Cities has three levels of difficulty for the single player game, and you also can go online to play 1 vs 1 or 2 vs 2 matches through XBox Live. There's no local multiplayer, due to the nature of the game and the need to keep your cards secret from your opponent.
My only complaint about the game is that it suffers from some tiny type. I've been playing it on a decently sized HDTV, and the letters are still small enough that I'm having to lean forward on occasion to read them. This is an annoyance, but it's a relatively minor quibble for a game that otherwise is a lot of fun and has a subtly engaging level of strategy.
Lost Cities will set you back 800 MS Points ($10), and for fans of Eurogames and / or card games like Uno, it's definitely worth the investment.