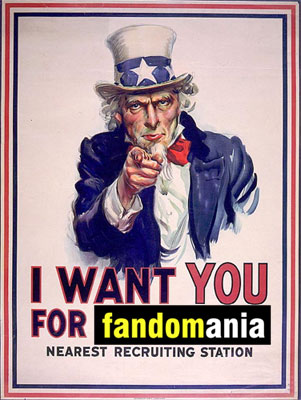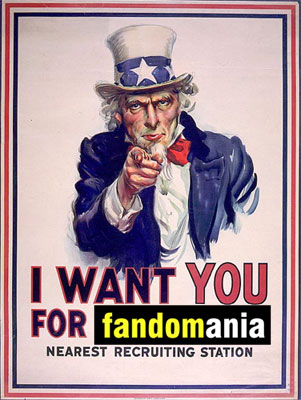 Ever wanted to see your name on Fandomania? Now is your chance! Fandomania is putting out a call for folks with a passion for fandom and writing to join our staff.
If you have the right skill set and a love for expressing yourself and for sharing your opinions about your fandoms with tens of thousands of people every month, Fandomania just might be the place for you. None of the staff positions have monetary compensation, but there are plenty of opportunities for perks, from free books, DVDs, and CDs to access to special events.
We currently are looking for creative and passionate folks to write about the following sorts of things:
Editorials – Have an angle or an opinion on something related to geeky entertainment or fandom? We want to hear about it!
Lists – We never get tired of creative and well constructed lists, either for use as a practical reference or just for fun.
News – If you're the sort of person who scours the Internet for the latest exciting entertainment news, we want you on board.
Soundtrack Reviews – You will be sent lots of movie and TV soundtracks to review, so you'll need an interest in and knowledge of scores and film music.
Comics Reviews – We are getting more review copies of comics each week than our staff can keep up with, so you'll be offered a whole bunch of new issues, usually before they're even released in stores.
TV Reviews – We need TV fans who can pick a favorite show and stick with it via current episode reviews or recaps throughout the season. You'll also be able to write editorials, lists, and features about the shows you're covering.
Movie Reviews – If you see a lot of movies new in theaters and like to discuss what you've seen, this position could be for you!
Game Reviews – Video and non-video gamers are in surprisingly short supply on our staff. We want some more folks to write about new and upcoming game releases!
If you'd like to contribute in these or other ways, please feel free to apply!
All staff members are required to submit at least one new post a month, but more than that is highly encouraged. You will receive staff-only e-mails from us with calls for specific articles and opportunities for additional coverage throughout each month.
If you are interested in applying, please send us a message via our Contact page. In your message, tell us about yourself, including what you could contribute to Fandomania. Also please send us links to samples of your writing that would be exemplary of what you would be writing for us.
Thanks!