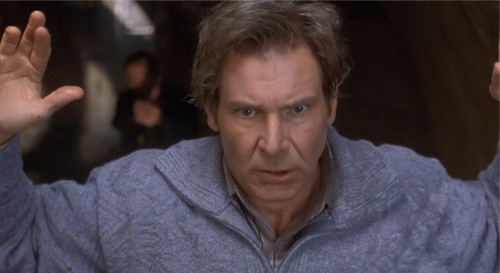 When I was younger, 20th anniversaries were reserved for things that were, you know, old. As time passes, the things that get recognition for two decades of existence have started feeling newer and newer, and that has brought me to the conclusion that I officially am old. The latest movie to hit the landmark is The Fugitive, the Harrison Ford and Tommy Lee Jones adaptation from 1993 of the classic TV show. To commemorate the anniversary, Warner Bros has announced a brand new Blu-ray release in special BD Elite Case packaging that will hit stores on September 3, carrying a SRP of $19.98.
In addition to the HD version of the film itself, The Fugitive 20th Anniversary Edition also will include these bonus features:
New Featurette The Fugitive: Thrill of the Chase featuring Andrew Davis, Harrison Ford, Tommy Lee Jones and more
Introduction by Andrew Davis and Harrison Ford
Commentary by Andrew Davis and Tommy Lee Jones
On the Run with the Fugitive Behind-the-Scenes Featurette
Derailed: Anatomy of a Train Wreck Behind-the-Scenes Featurette
"The Fugitive" [2000 WB Pilot] New to Release!
Theatrical Trailer
Amazon already is taking preorders for the Blu-ray, which you can grab right here.