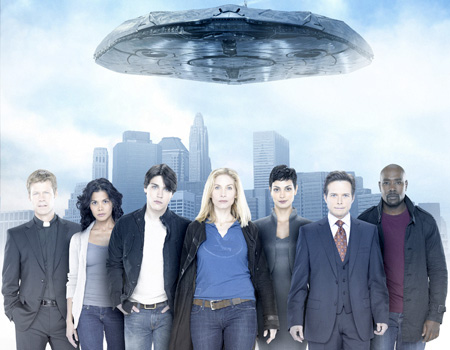 It's been 25 years since V was on TV. I'll be completely honest, I can't remember it very clearly anymore. I get it confused with Alien Nation (the aliens-as-detectives show starring James Caan and Mandy Patinkin). I remember red suits and operating rooms and lizard-like aliens. That was all I had going for me when I sat down to the first episode. I was happily surprised to find an interesting story and engaging characters throughout the show.
V is a story of alien invasion, starring Elizabeth Mitchell (Juliet from Lost), Morris Chestnut (Boyz n the Hood), and Morena Baccarin (Inara from Firefly; Adria from Stargate: SG 1). Alien ships show up over all of the major cities in the world and begin broadcasting a message of hope and peace to the people below through the person of their leader, Anna (Baccarin). Many people fall under the spell of the Vs (V is for Visitor, that's good enough for me) and believe that they are here to save mankind and help. A smaller number believe that the Vs have been here for years and that they are not here to be peaceful and friendly at all.
Agent Erica Evans (Mitchell) is on a terrorism task force for the FBI and along with her partner Dale Maddox (Alan Tudyk). She is tracking a group that has picked up in activity since the arrival of the Vs. At home she is a single mother raising a rebellious teenage boy named Tyler. Ryan Nichols (Chestnut) is getting engaged, but he is dogged by mysterious people from his past that show up asking him to rejoin "the movement." It is obvious that he has a past that he doesn't want his fiancée to know about or be a part of. Father Jack Landry (Joel Gretsch) is slow to trust the Vs and as such is recruited by one of his congregation to attend a meeting and bring along a folder of pictures that will prove in the end that the Vs have actually been on Earth for many years, blending in with us. Essentially, anyone could be a V.
Scott Wolf is reporter Chad Decker, an anchorman struggling to become more. After a chance encounter with Anna, she decides that she wants him to be the one and only reporter to interview her and to present the Vs to the world. Decker has some qualms about being used as a tool but is still thrilled to be able to increase his exposure through the Vs.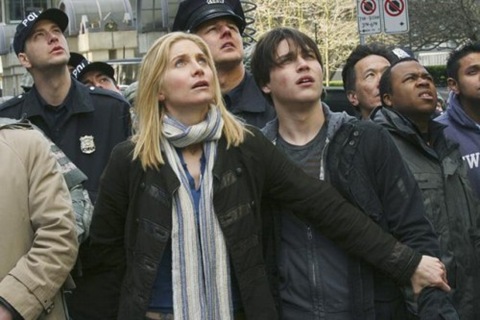 After the meeting in the warehouse is busted up by a V strike force, we come to understand a few other things. First, Nichols is actually a V himself although he has been a member of a group called "The Fifth Column" whose goal is to fight back against the V invasion. The group has splintered and is spread out, but Nichols comes to realize that he needs to help put this group back together as the Vs are gaining more rights and more trust in the world. Erica's partner Dale Maddox is actually a V as well and he's not one of the nice ones. During the raid on the warehouse he attempts to kill Erica, but she slaps him down with a metal rod, cutting open his head and allowing her to see the reptilian eye behind the human skin. She and Father Landry keep in touch and are working to rebuild a resistance, but it's a tough road as the Vs have far superior technology and numbers.
Erica's son Tyler meanwhile has been making nice with the Vs, joining their ambassador program mostly for the fabulous eye candy that is Lisa (Smallville's Laura Vandervoort), a pretty blonde V who has taken an interest in Tyler and who looks very nice in her underwear. Erica has asked him to stay away from the Vs and thus far believes that he is doing so.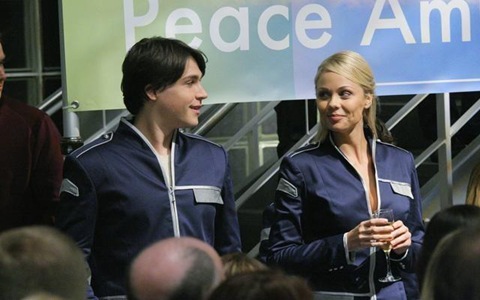 The story is moving quickly, which is why it's sad that after this week there will be a lengthy hiatus for V. It is well worth watching, and I encourage anyone that enjoys sci fi on TV to use this hiatus as a chance to catch up with the story and get on board. V airs on ABC Tuesdays at 8:00.