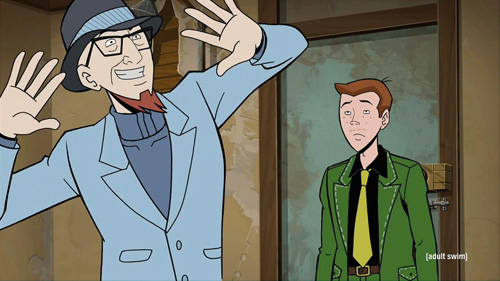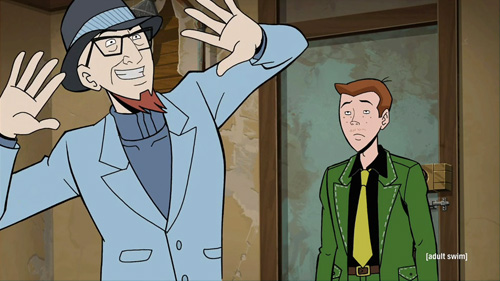 Episode: The Venture Bros. 4.13 – "Bright Lights, Dean City"
Original Air Date: October 10, 2010
Screencaps from The Mantis-Eye Experiment.
This week's episode of The Venture Bros. is titled "Bright Lights, Dean City," and it focuses on three related sub-storylines: new developments in the Revenge Society, Dean's summer internship at Impossible Industries, and Dr. Venture's new obsession with musical theater and the Big Apple.
Quick and Dirty: The Plot
Dean shows surprising aplomb in handling the ever-increasing demands of his internship at Impossible Industries. Dr. Venture is bitten by the musical theater bug and crashes at his son's crappy apartment, where he keeps Dean up all night as he bangs out a Broadway musical about his childhood as a boy adventurer. Phantom Limb, Prof. Impossible, and Baron Ünderbheit start accepting applications for new members of the Revenge Society. Dean decides that he would rather be a boy reporter than a super scientist when he confides in his friendly neighborhood spider, Brown Widow (guest appearance by Nathan Fillion).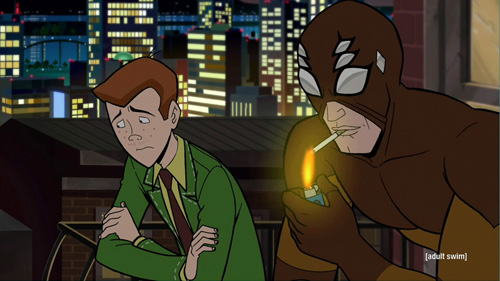 Thoughts
"Bright Lights, Dean City" is composed of three subplots, all of which eventually converge into a satisfying narrative whole to lend clarify and continuity to the show. The episode opens with imagined scenes of murder and mayhem as Phantom Limb explains his plan for revenge against his enemies to the other members of the Revenge Society. Predictably, Baron Ünderbheit is on board with the plan without a moment's hesitation (and would we expect any less from a man who attempted to murder all of his henchmen because he suspected them of treachery?), but Prof. Impossible, the Society's resident "good guy gone bad," isn't too keen on the amount of blood and death that the proposed plan entails.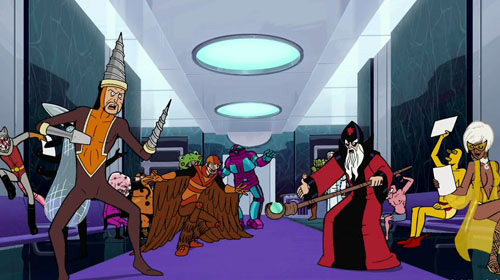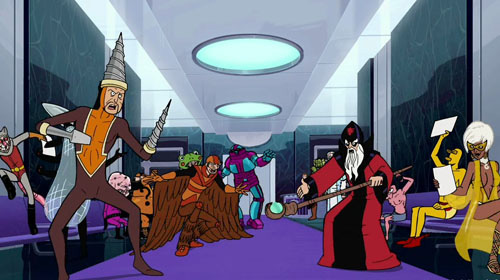 It isn't surprising that a bit of tension is beginning to form between Phantom Limb and Prof. Impossible; each is used to having his own way with those around him, and it appears that Prof. Impossible isn't going to step down and be second-in-command for Phantom Limb so easily (even though the former antagonist knows nothing about being a supervillain). Of course, it's hard to tell whether the professor is being difficult on purpose; as we've seen in the past, his superhuman abilities alone don't make his moniker so appropriate, and despite being of above average intelligence the professor often fails to see the arrogance and overbearing nature of his actions.
Dean arrives at Impossible Industries during a very strange time for the company: unbeknownst to him, the Revenge Society has moved its headquarters to Impossible Industries' NYC building, causing most of the staff working there to resign. As a result, Dean is responsible for virtually all office and administrative activities and is promoted to Executive Assistant within his first week. When he walks in on a Revenge Society meeting and discovers Ünderbheit and Phantom Limb, the professor concocts a story about giving reformed supervillains a second chance to put Dean at ease. Fortunately for the Revenge Society, Dr. Venture pushed Prof. Impossible to take on the more naïve of his sons for the summer.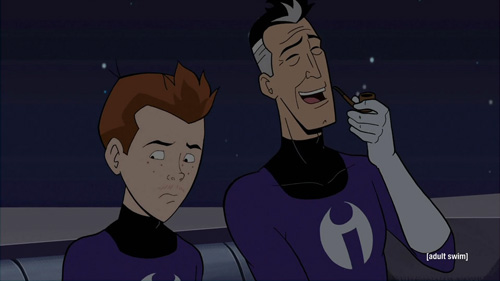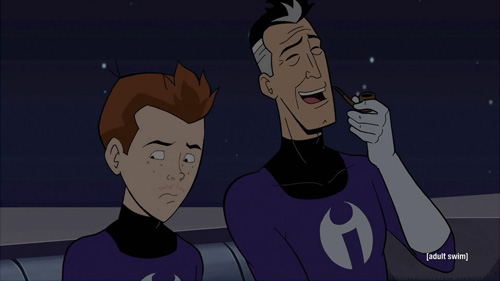 Dean's summer internship at Impossible Industries offers him an opportunity to get out from under his father's increasingly stifling attempts to force him into super science. In the brief time that Dean has alone in the Big Apple (before Rusty crashes in his apartment to write a musical about his childhood) he regains some of the self-confidence and conviction that we saw earlier this season in episodes like "Perchance to Dean," "The Revenge Society," and "The Better Man."
In addition, Dean displays renewed interest in writing the newsletter we've seen him working on in several past episodes, and his return to writing acts as a clever expository device that explains a great deal of what is going on at Impossible Industries to viewers through Dean's eyes. Between working for Prof. Impossible, writing his newsletter, and opening up to his friendly neighborhood spider, Brown Widow (the hotly anticipated guest appearance by Nathan Fillion of Castle, Firefly and Dr. Horrible's Sing-Along Blog), Dean realizes that a life of super science isn't for him. Of course, just when he's getting comfortable and opening up to someone outside of his family, Dr. Venture butts in and a fantastic Rusty Venture/Brown Widow duet ensues that serves as the only validation Dr. Venture will get from his musical theater writing while also alienating Dean once more.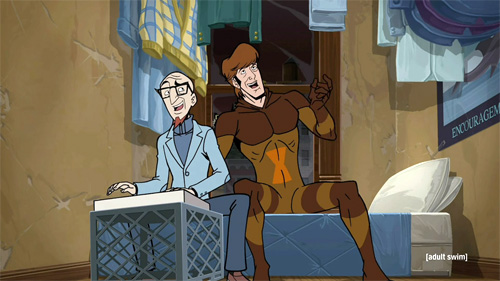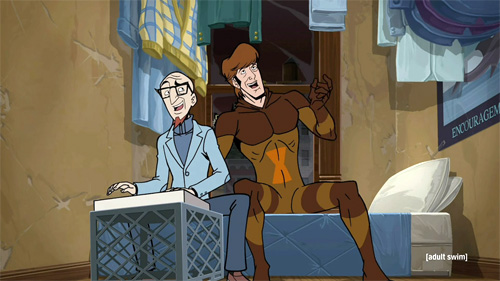 Although Dr. Venture's obsession with writing a hit Broadway musical about his childhood as a boy adventurer is characteristically misguided, self-centered, and ultimately destined for failure, the creativity it represents is yet another milestone on Rusty's journey towards self-actualization. Rusty has spent his entire life living in the shadow of his famous, super-scientist father, Dr. Jonas Venture, Sr., and despite some baby steps towards establishing some semblance of self-esteem taken in previous seasons (referring mainly to his brief affair with Dr. Girlfriend in season one's "Mid-Life Chrysalis"), Rusty's character is developed more in this season than any other to date. The Venture Bros. is well known for its ability to return to previously established notions from its own storyline, and Dr. Venture's foray into musical theater smacks of the same burgeoning self-confidence that we saw in episode 4.06, "Self-Medication," when the former boy adventurer realizes that he doesn't need therapy; what he needs is to stop focusing on his father's actions and go home to his family and career.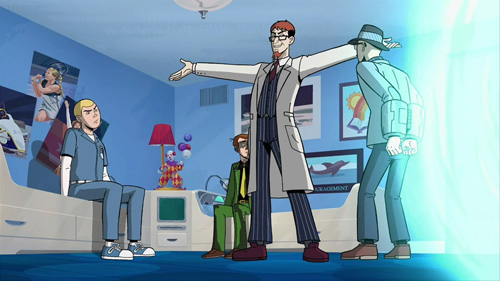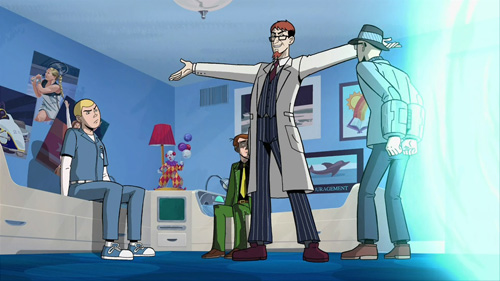 "Bright Lights, Dean City" takes place during the same time period that Hank is selling his dad's old junk, playing detective, and making woo with Dermott's "sister" in last week's "Everybody Comes to Hank's", and the two episodes are boxed together neatly at the end of this week's episode with an explanation of the mysterious Dr. Venture lookalike that appears in the boys' room in last week's cliffhanger ending.
The next new episode of The Venture Bros., "Attempted Suicide," will air on [adult swim] this Sunday at 11:30 p.m. (EST). When Dr. Venture is possessed by an entity intent on "helping" him to commit suicide, Dr. Orpheus must try to save his landlord and battle the unknown spirit that controls Dr. Venture's body. Suggested preparation for "Attempted Suicide" is rewatching episode 2.10, "I Know Why the Caged Bird Kills," in which the necromancer attempts to exorcise a Japanese demon from Dr. Venture.
Best Quote: "I thought Manhattan was the epicenter of supervillainy. It's more like the Island of Misfit Toys." – Phantom Limb
Rating: 3.5 / 5 Stars