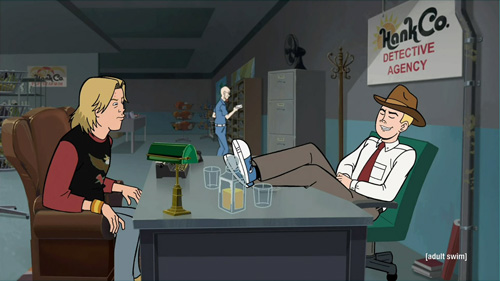 Episode: The Venture Bros. 4.12 – "Everybody Comes to Hank's"
Original Air Date: October 3, 2010
Screencaps from The Mantis-Eye Experiment.
Although I hate to post spoilers, it is impossible to discuss last week's episode of The Venture Bros. without revealing some of the more shocking details of its plot. Consider yourselves warned, and please note that these are huge reveals, so you shouldn't take this warning lightly if you don't want the episode to be spoiled.
Quick and Dirty: The Plot
Dr. Venture and Sgt. Hatred take Dean to New York for a summer internship, leaving Hank at home to find a job. Viewers finally meet Dermott's infamous sister, Nikki. A newly single Alchemist joins forces with Hank to investigate whether Brock is Dermott's father. Hank continues to channel dead crazy people. Brock is unfazed by Hank's accusation of paternity. Some of Shore Leave's sexual history is revealed. Hank becomes a man and something crazy happens to Dr. Venture.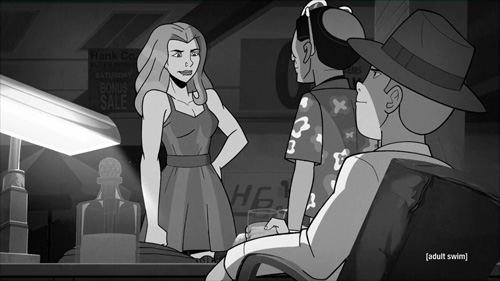 Thoughts
When The Venture Bros. goes for the "big reveal," Doc Hammer and Jackson Publick don't mess around. Last Sunday night's new episode of The Venture Bros., 4.12 "Everybody Comes to Hank's," is packed full of exciting new details about a number of characters, including Hank, Dr. Venture, Shore Leave, the Alchemist, and Hank's friend Dermott. The universal reaction to "Everybody Comes to Hank's" among Venture Bros. fans has been one of extreme excitement, awe, and even disbelief. Not since the second season of the show have Doc and Jackson released an episode of such epic proportions, and the fact that this is the "unofficial first half" of an "unofficial two-part episode" that will conclude with this Sunday's 4.13, "Bright Lights, Dean City," bodes extremely well for the remainder of the season. With only four episodes left, The Venture Bros. is ramping up for a big finish, and it's sure to be a game-changer.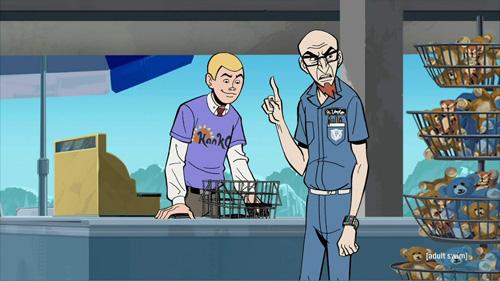 True to form, Dr. Venture has set up his future super scientist son, Dean, with a summer internship in New York City working for Professor Impossible. When he and Sgt. Hatred leave to drop Dean off in the Big Apple, Hank is charged with finding a job to keep him busy for the summer. Hank's solution? A one-stop Mecca of American consumerism and customer service featuring a café, a store that sells items pilfered from the Venture Compound, a notary (where Hank got his notary license is beyond me), and a detective's office, among other things. "Everybody Comes to Hank's" is an episode that focuses on Hank and works to develop his character, but the one-stop-shop that Hank sets up at the Venture Compound testifies to the fact that he will probably always remain somewhat out of touch with normalcy.
The Alchemist moves in with Orpheus (who has extra space after Triana moved in with her mother earlier this season) and realizes that there's nothing to do on the Venture Compound, so he teams up with Hank to play dress-up and "investigate" Dermott's claim that Brock is his father. When Dermott's sister, Nikki, becomes involved, things get really complicated and we discover that Nikki is Dermott's mother (the woman he believes to be his mother is his grandmother), and that Hank and Dean are Dermott's half-brothers.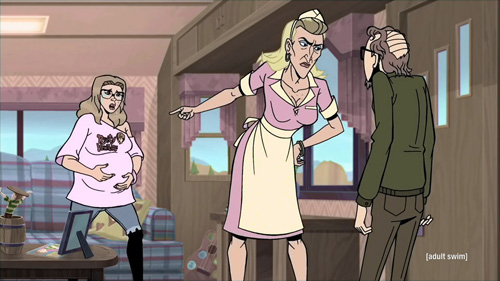 That's right, Dr. Venture has had sex at least three times in his life (the first and second being when the original Hank and Dean were conceived and Rusty's tryst with Dr. Mrs. The Monarch when she went undercover in season one). Seventeen years ago a balding Dr. Venture slept with the fifteen-year-old head of the Rusty Venture: Boy Adventurer Fan Club (a.k.a. Nikki), producing a freakishly large son who looks more like Brock than he does his real father.
In telling the story of Nikki Fictel (Ficktel?), Dermott, Hank and Dr. Venture, "Everybody Comes to Hank's" borrows from the classic film noir movie genre with hard-boiled dialogue, the introduction of a "femme fatale," and the use of a black and white filter for Hank and Al's detective scenes (the episode was created in full color and the grainy black and white was applied to portions of the story during post-production to give "Everybody Comes to Hank's" a Raymond Chandler feel). Interestingly, Hank continues to "channel dead crazy people" as Brock has characterized the boy's penchant for using 1940s-era dialogue, but this time he also has the hat, suspenders, and smooth way with the ladies to match. And like all film noir detectives, Hank's smooth way with the ladies gets him into some trouble; Nikki isn't a modern-day femme fatale by chance, and Hank must pay dearly for his involvement with Dermott's "sister."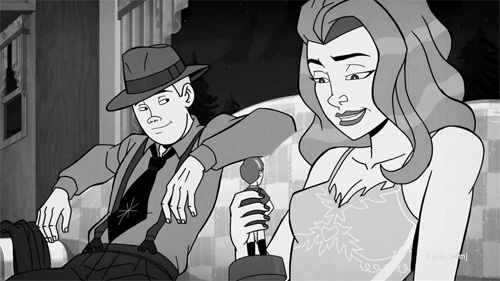 "Everybody Comes to Hank's" is the first half of a two-part storyline that follows Dean and Hank's exploits over the summer. Rather than cross-cutting the boys' adventures into a single episode, Jackson and Doc chose to give Hank and Dean each their own episode, so this week's new Venture Bros. will focus on Dean's internship with Professor Impossible in New York. Based on the preview that aired at the end of "Everybody Comes to Dean's," it looks like 4.13: "Bright Lights, Dean City" has a lot of potential, especially since it will be the first time that Dean and Baron Ünderbheit have met since the latter tried to marry and kill the former.
The Venture Bros. airs on [adult swim] on Sunday nights at 11:30 p.m. (EST). For more information on the show, visit [adult swim] online and check out the Venture Bros. official webpage.
Rating: 4.5 / 5 Stars