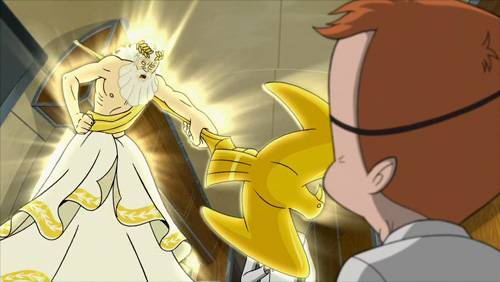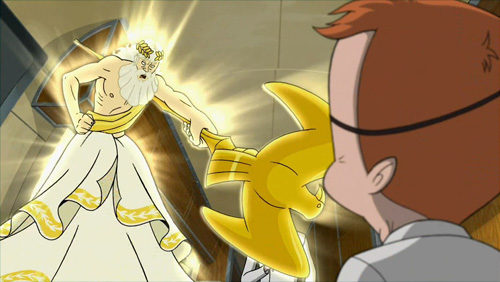 Episode: The Venture Bros. 4.11 – "Every Which Way But Zeus"
Original Air Date: September 26, 2010
Screencaps from The Mantis-Eye Experiment.
Sunday, Sept. 26th saw the release of the latest episode of The Venture Bros. on [adult swim], and once again show creators Doc Hammer and Jackson Publick do not disappoint. In what may be the most character-heavy episode to date, "Every Which Way But Zeus" details a crisis in the world of organized heroism and villainy.
Quick and Dirty: The Plot
Billy Quizboy and Pete White have an identity crisis. Shore Leave's still gay. Dr. Venture is both delusional and far more astute than viewers tend to give him credit for. A mysterious Greek god is kidnapping henchmen, sidekicks, and retired heroes and forcing them to fight one another to the death. The OSI, the Peril Partnership, S.P.H.I.N.X., the Guild of Calamitous Intent, the Revenge Society and various other protagonist and antagonist organizations must join together to stop Zeus and find their missing members.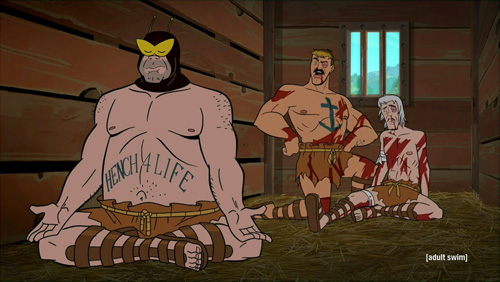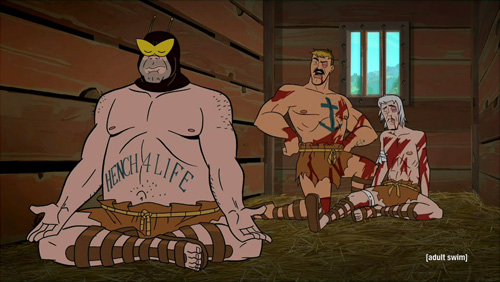 Thoughts
Episode 4.11, "Every Which Way But Zeus," is one of the best examples of Doc Hammer and Jackson Publick's dialogue-writing talent that we've seen thus far this season (and perhaps in quite some time). Although the episode revolves around a very simple main plot and only features one significant sub-plot, it is extremely character heavy, which provides the Venture Bros. writers with myriad opportunities to highlight their characters' witty and often offensive comments.
"Character heavy" barely begins to describe this episode of The Venture Bros., which includes appearances by all of the following: Dr. Venture, Hank and Dean Venture, Sergeant Hatred, Billy Quizboy, Pete White, Brock, Col. Gathers, Shore Leave, Henchman #21, Ghost Robot, U.S. Steel, Phantom Limb, Professor Impossible, Red Mantle, Dragoon, Captain Sunshine, Desmond (Captain Sunshine's butler), Mr. Doe, Mr. Cardholder, Tigershark, General Treister, Truckulese, Iron Anvil, Watch and Ward, Phineas Phage, and many more.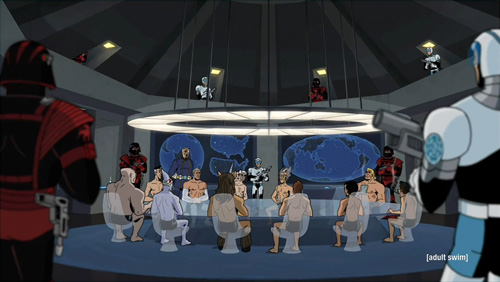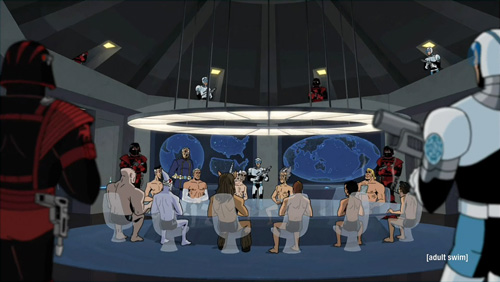 The episode's plot revolves around the mysterious kidnappings of various henchmen, sidekicks, servants, and other individuals involved in either organized villainy or heroism. In response, the OSI and the Guild of Calamitous Intent join forces to host a summit for the various protagonist and antagonist organizations in the area — including even the Peril Partnership of Canada. The purpose of the summit is to determine who is responsible for the abductions, what his or her motive might be, and how to solve the problem. The ever-grating General Treister oversees the meeting, giving out code names and forcing the attendees to work together, although little progress is made.
Fortunately for the abductees, Henchman #21 is among those captured by Zeus (the question of how they managed to apprehend #21 in the first place remains unanswered), and he certainly isn't one to sit around and wait for The Monarch to rescue him. #21 joins forces with S.P.H.I.N.X. member Shore Leave, Billy Quizboy, and Pete White to come up with a plan of escape.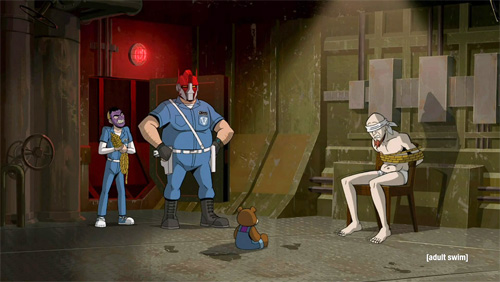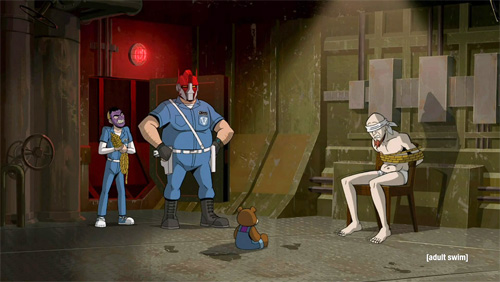 While all of this is going on, Sergeant Hatred and Hank have their hands full at the Venture Compound as they kidnap and "torture" Dr. Venture, who is convinced that he will be next among the abductees due to his notoriety as a superscientist and former boy adventurer. This particular subplot proves far more useful to the show's overall story arc than might be expected when Rusty and Hank — one blindfolded and the other in a Hulk mask — share an interesting father-son discussion about the former boy adventurer's feelings towards his sons. The interaction provides viewers with a look at a side of Dr. Venture that usually remains hidden beneath self-centered actions and delusions of grandeur. It's a very "human" moment for Rusty, and it will be interesting to see what comes of the knowledge Hank gains from this conversation — if anything — in the episodes to come.
"Every Which Way But Zeus" is a strong addition to an already excellent fourth season of The Venture Bros., although I can't help but feel that it isn't quite on par with the last two or three episodes that aired this season. Fans of The Venture Bros. should take that sentiment with a grain of salt, however, because it is virtually impossible that The Monarch and Dr. Mrs. The Monarch's conspicuous absence from this episode didn't have something to do with my feelings about "Every Which Way But Zeus."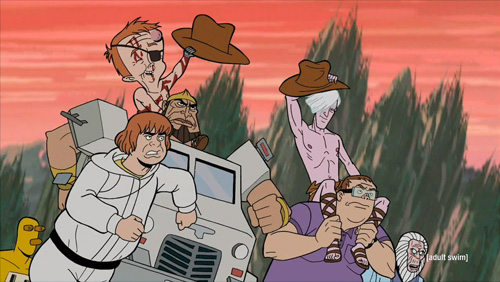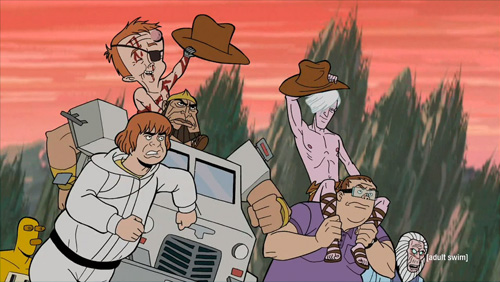 If you haven't watched the episode yet, head over to [adult swim]'s official website where you can watch it streaming (they usually post the last new episode after the newest one airs, so start looking for 4.12 on Monday, Oct. 4th). The next season four episode, 4.12, "Everybody Comes To Hank's," airs on Sunday, Oct. 3rd at 11:30 pm EST (with an encore at 4:00 am EST on Oct. 4th for those of you who miss the 11:30 pm). For more information on The Venture Bros., visit the [adult swim] website's Venture Bros. page or head over to the show's fan-created/maintained Venture Bros. Wiki site.
Best Quote: "Cavity search, my ass!" – Col. Hunter Gathers
Rating: 3.5 / 5 Stars