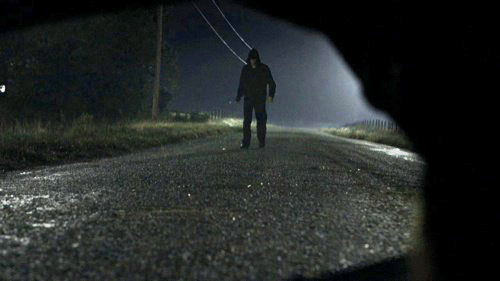 Episodes: The Vampire Diaries 1.11 – "Bloodlines"
Original Air Date: January 21, 2010
Screencaps by toxic_caps.
Oh Vampire Diaries, how we've missed you. The residents of Mystic Falls are back with a bite (pun totally intended) after a long holiday hiatus.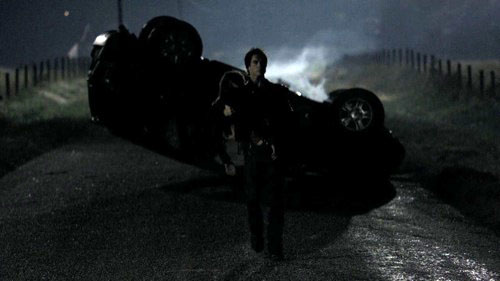 When we last left our favorite teenage vampires, all hell was about to break loose. Elena and Stefan had just consummated their relationship when Elena discovered her uncanny resemblance to Katherine. Jeremy Gilbert has renewed his scholarly ambitions, under the guidance of new history teacher (and part time vampire hunter) Alaric Saltzman, who just killed the new vampified Logan Fell. Damon is just generally pissed off, but still seeking a way into the tomb sealed by Bonnie's great-great-great-great-grand-something Emily that contains 27 hungry vampires, including the aforementioned Katherine. Elena is freaked out after discovering her resemblance to Katherine and flees Stefan, only to crash her car and hit some creepy guy WHO GETS UP AND WALKS TO HER WHILE SHE IS PINNED IN HER CAR.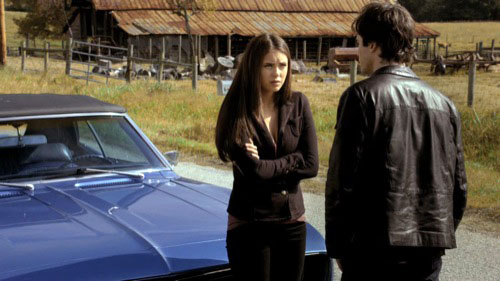 Okay. Got it?
This episode opens with Elena still pinned in her car, with the creepy guy walking up to her, who turns out to be a vampire. Fortunately, she is rescued by Damon, thus complicating her life even further. Elena promptly passes out, only to awake somewhere in Georgia, where she is clearly being kidnapped by Damon. To make matters worse, she left her vervain necklace with Stefan. Meanwhile, back in Mystic Falls, Stefan is desperately trying to find Elena. He finds Bonnie, and they both know the other's true nature. Unfortunately, Bonnie's lost her mojo, and she and Stefan must visit Grandma Tituba to get it back.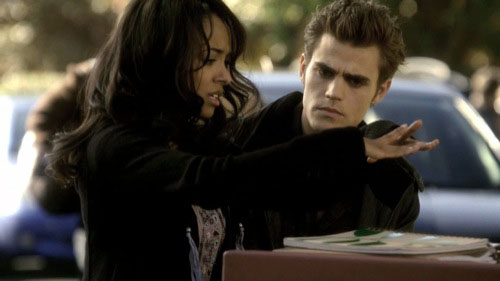 Ultimately, Bonnie goes down the rabbit hole with Stefan, only to discover more about Emily (and herself) than she thought possible. Turns out, Grandma and Stefan were already acquainted during the '60s. That previous friendship is what lets Tituba (Sheila to the normals) trust Stefan.
But enough about that. It's those crazy Gilbert kids that make this show so interesting. Instead of wasting plot time visiting each one of Elena's friends, this episode narrows its focus on the two sets of siblings at the heart of this show. While Stefan is in Mystic Falls trying to figure out a way to get Elena back (and not look like a total douche about Katherine), Elena is stuck in the middle of nowhere Georgia with Damon. He is on a mission to find a way to open the tomb Katherine is trapped in, and takes Elena to visit his friend Bree, played by the always welcome Gina Torres.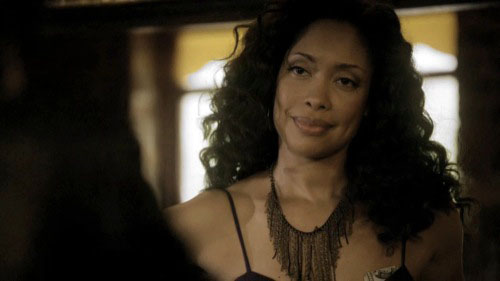 Unfortunately for Damon, Bree was good friends with the recently departed Lexi — recently departed at the hands of Damon to save his own ass. Bree isn't as helpful as she would appear to Damon, and she and Lexi's now-vampire boyfriend (who happens to be entirely creepy, hint hint) conspire. In fact, Elena has to save Damon's life. They're just about even, which does no good for their relationship, especially since it's starting to get really awkward and kind of exciting. We're finally starting to see this so-called love triangle between Elena and the Salvatore boys develop. But, there's nothing like ripping out the heart of an old friend who has crossed you to make you impressive to the ladies.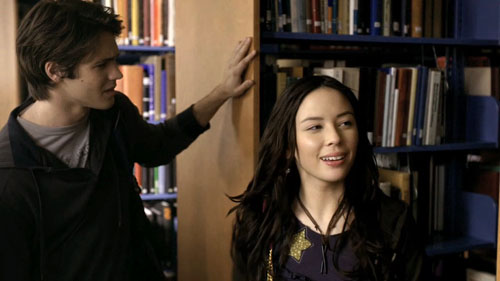 Meanwhile, back in Mystic Falls, Jeremy meets a cute new girl at the library while researching his family. Of course, this girl isn't entirely new; she's homeschooled, so she's technically new, but she's a descendant of one of the founding families in town — just like Jeremy and Elena. And she knows about the vampires.
After Damon safely returns Elena to Mystic Falls, she and Stefan find each other; her trip with Damon prepares her for Stefan's version of the truth about Katherine: that they are nothing alike but in looks. And Stefan has a couple of bombshells: he heard the accident that killed her folks and saved her, and she's not who she thinks she is.
Elena's adopted.
Rating: 5 / 5 Stars