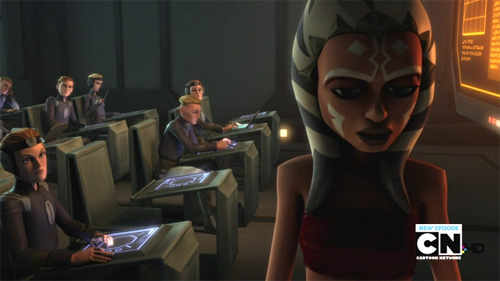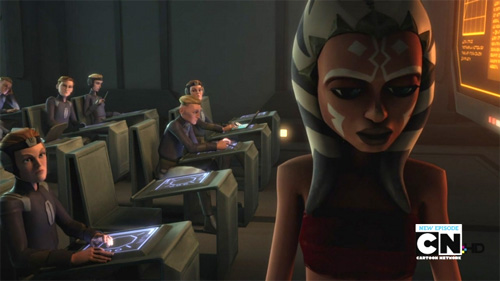 Episode: The Clone Wars 3.06 – "The Academy"
Original Air Date: October 15, 2010
Screencaps from The Clone Wars Screencap Gallery.
A traitor to Mandalore stands revealed.
The episode begins as Anakin drops Ahsoka on Mandalore to teach the cadets from the planet's public service academy. It is understood that these young men and women are being raised to be the bureaucrats of tomorrow, and Duchess Satine expects to use the troubles of the last episode to ensure corruption does not take root in the next generation.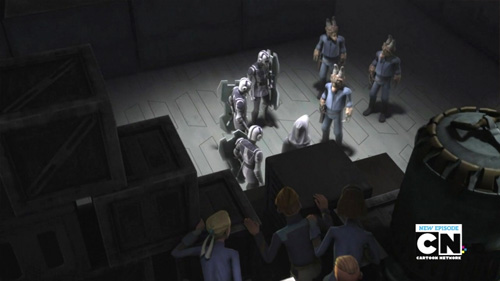 A lesson from Ahsoka has unintended consequences when she teaches her students that it is every citizen's duty to expose corruption in government. Instead of reading their assignments for the next day, her students take off to the docks to discover where all the food is going, and find a shadowy meeting between an unknown government official and smugglers.
When the students realize they're in over their heads, Korkie uses his connections to his "Aunt" Satine to report their findings to her. However, she proves to be of little help, and the students opt to go to the Prime Minister instead. Unfortunately, it becomes pretty obvious who's behind everything when a meeting with the PM turns into an ambush. Luckily, Ahsoka arrives to save the cadets, and after Satine is kidnapped, all of them create a plan to expose Mandalore's corruption once and for all.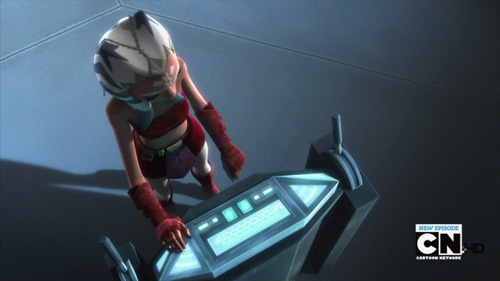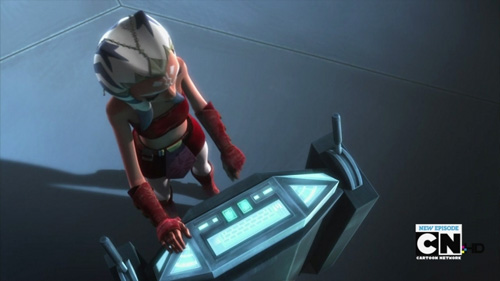 This was another good episode that mixed the mystery of Mandalore's corruption with action. Though the traitor is revealed halfway into the episode, the show does a good left turn into making sure that this person is stopped. We also get to see Ahsoka use her Jedi mind powers some more as well as watching her kick ass with her martial arts prowess. Oftentimes if feels like there are more lightsabers thrown than punches, and this episode did a good job of reminding the audience that Jedi can use more than that weapon to fight.
No real complaints about this episode. It didn't stand out as totally amazing, but it did a good job with the story and I can't really think of anything bad to say about it. It was typical, but this show raises the bar for typical and turns it into something that is always fun to watch.
Rating: 4 / 5 Stars