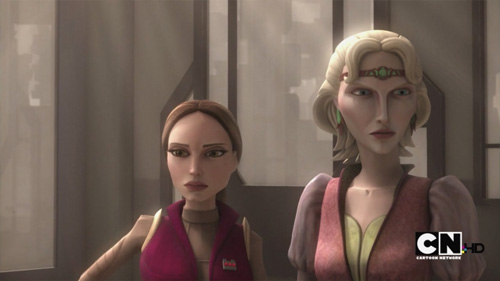 Episode: The Clone Wars 3.05 – "Corruption"
Original Air Date: October 8, 2010
Screencaps from The Clone Wars Screencap Gallery.
Duchess Satine has more problems than Death Watch now. The blockade surrounding Mandalore has forced many on the planet to engage the black market for their basic needs, and with that comes (you guessed it) corruption.
The particular corruption here manifests in an epidemic of poisoned children just as Padme visits the planet to offer the Republic's help. At the root of the epidemic is a group of smugglers willing to introduce a dangerous thinning agent into the children's tea in order to double their profits. With various officials looking the other way in exchange for payment, their negligence and greed results in the near-fatal poisoning.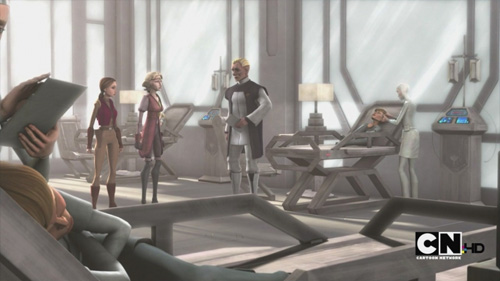 Of course, the onset of the epidemic brings Satine and Padme together to investigate its cause. The two make quite an interesting pair. At the core of it, they are essentially the same woman. They are both leaders of their people, they both love a Jedi, and they are both committed to peace. However, their lives have taken different paths. Padme has permitted herself to be in a relationship with Anakin while Satine and Obi-Wan could not work past their duties. Padme chooses to be involved in the war against the Separatists, while Satine maintains her pacifism.
However, in this episode, Satine's pacifism wanes with the poisoning of the children, which reminds me of the old adage about a mama grizzly. She threatens suspects with violence and imprisonment, surprising Padme at times. When her planet's children are threatened, she quickly becomes the "bad cop" in the investigation. As for Padme, it's clear at certain points in the episode that she wishes she could take Satine's path of neutrality, but she knows that she cannot stand by or else she risks the Separatists winning and breaking apart the Republic.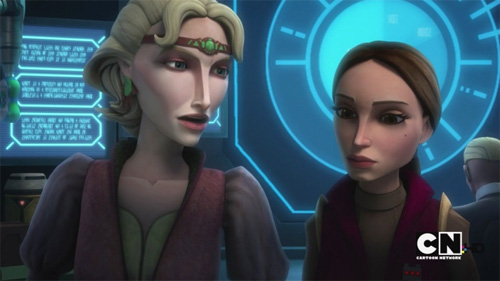 Ultimately, the focus in this episode is the effect of war on neutral parties. When times get tough on Mandalore, ethics take a backseat to survival and greed. The corruption hits Satine to core, and while the investigation continues, the seeds of mistrust have been sown in Mandalore's government. Satine's request for a Jedi to conduct an undercover investigation then set up the events for next week's show.
Good episode, not as much action except for one scene, but certainly a lot of intrigue. The social dynamics are nice, and it's good to see how Satine and Padme play off of each other.
Rating: 4 / 5 Stars