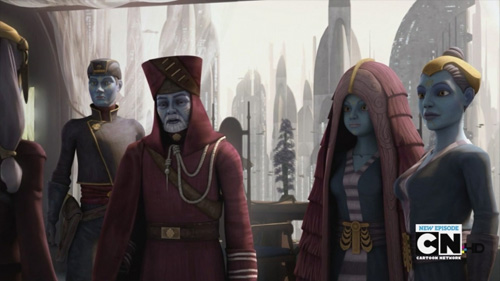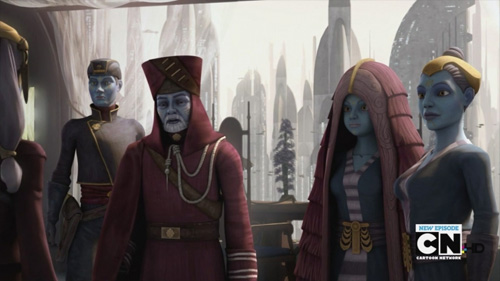 Episode: The Clone Wars 3.04 – "Sphere of Influence"
Original Air Date: October 1, 2010
Screencaps from The Clone Wars Screencap Gallery.
Han shot first. There, I said it.
This week's episode sees the first appearance of the not-so-quick-draw Greedo as he's hired to kidnap the new Chairman of Pantora's daughters. The masterminds behind this plot are Nute Gunray and Count Dooku, hoping to use the kidnapping and a blockade of the planet to force Pantora to join the Separatists.
Since the Jedi cannot get involved officially in the search, Anakin won't go search for the daughters himself, but gives Ahsoka permission to go with Senator Chuchi to the Separatist ship. Meanwhile, Chairman Papanoida and his son choose to track down Greedo on Tatooine.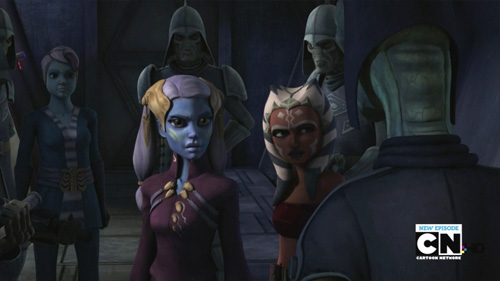 Each pair's mission helps to save the day. For Ahsoka and Chuchi, diplomacy and manipulation win as they make Gunray realize being caught with a hostage won't make him look good with the Senate. Papanoida and his son prove to be just as cunning as our doomed Rodian friend, forcing him to take them to the other daughter's hiding place.
This episode is rife with film references. Other than Greedo, Papanoida previously appeared in Revenge of the Sith played by none other than George Lucas himself. His daughter Katie also appeared in the film as Papanoida's daughter Chi, and the character is back in this episode too. The Mos Eisley Cantina makes an appearance as well as the spot where the kidnappers are holding the younger daughter.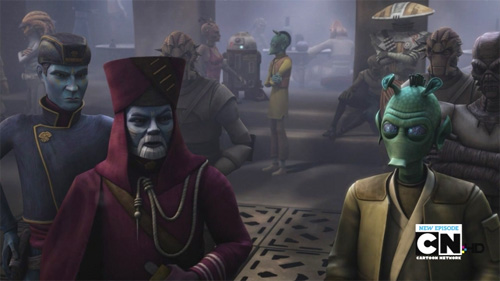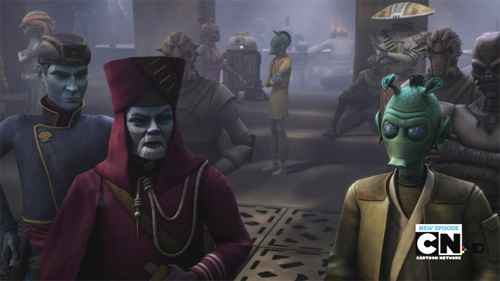 I like Papanoida better than previous Chairman Chi Cho, the idiot whose arrogance and prejudice got him killed in "Trespass" from Season 1. Just as take-charge as Chi Cho, Papanoida shows he has more guile and brains than his predecessor. Greedo is the same sniveling lackey that he was in A New Hope.
It was a good episode, but the pacing was rather fast. I also find it hard to believe the Senate continues to accept the Trade Federation's lie that they aren't part of the Separatists and Gunray is just some rogue Neimoidian. It's just a little too convenient that every Federation blockade is supported by the droids. Other than that, there's a good amount of action and you get to see Ahsoka's first attempt at a Jedi mind trick. Another fine addition to the new season.
Rating: 4 / 5 Stars