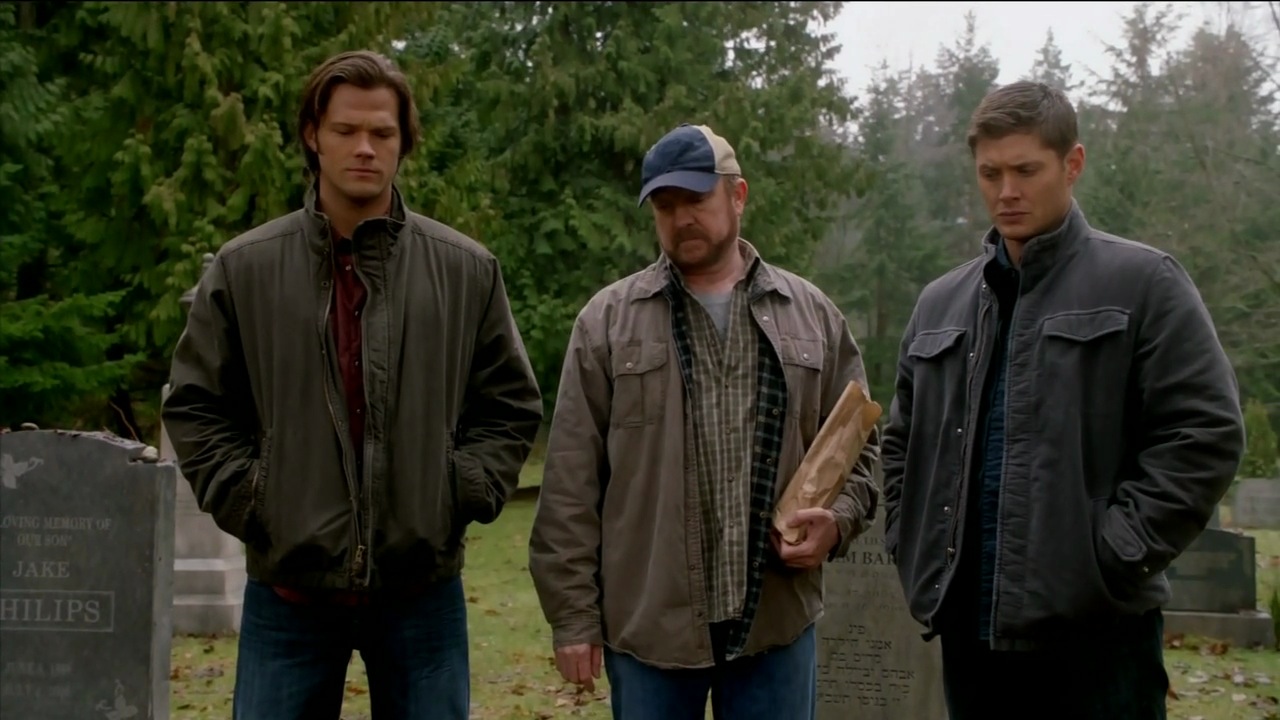 Episode: Supernatural 6.16 – "…And Then There Were None"
Original Air Date: March 4, 2011
Screencaps by rawr_caps.
Going into this episode, fans may have taken the ominous title to mean that we'd be seeing a dead character by the end. And we got that… times three. One of the deaths was expected, one was wanted, and the other was the shocking start to this whole scenario. When Supernatural cleans house, they mean it. And it does make you fear for everyone because, at this point, nobody's safe.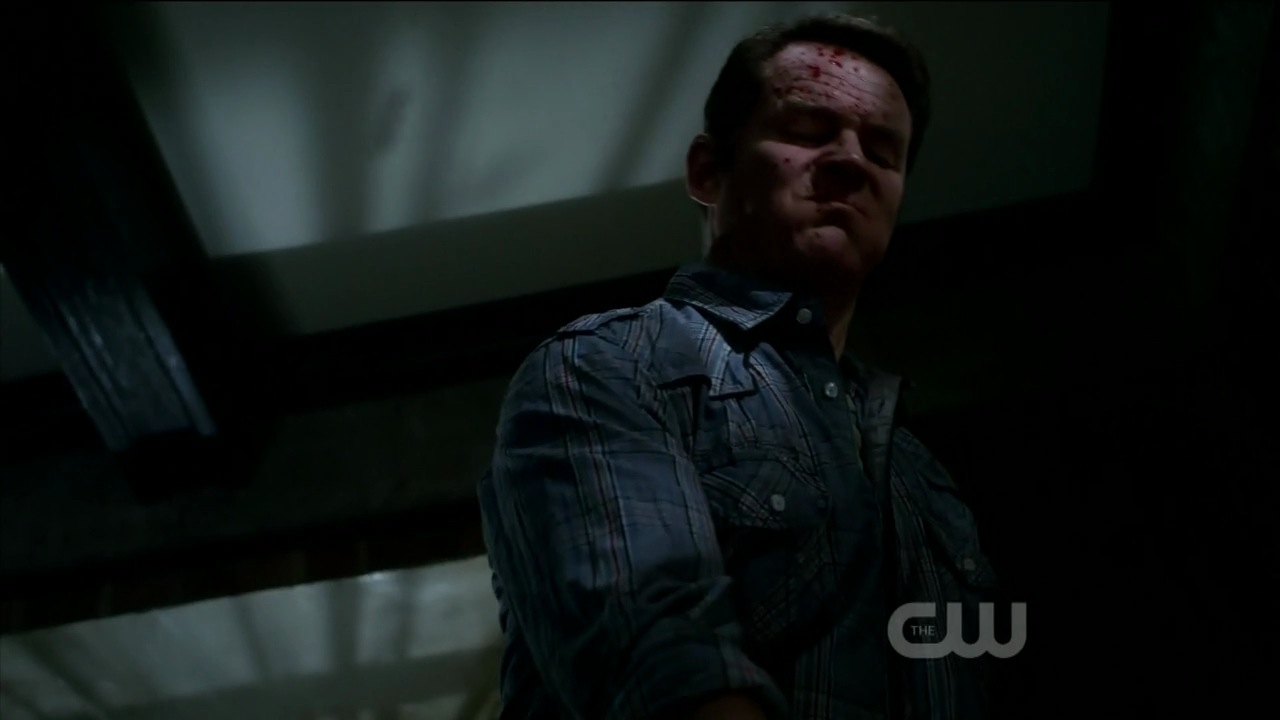 So we kicked off the episode with something that the show does best and that's the creative, yet bloody death scene. A claw hammer was this week's deadly tool. Just the reaction that you get seeing a guy holding a hammer beside his wife's bed, knowing what's about to come, and then seeing the blood spray back on him when he swings the deadly blow; it's what you've come to expect from Supernatural. This was also the indication that we were going to get an old school, solidly-written episode this week. The writer, Brett Matthews, should definitely stay on board as a permanent writing staff member because he's given us "Live Free or Twihard," "Caged Heat," and this episode during the sixth season and I think they were all strong examples of what this show is all about. Fantastic job!
And I have to say that I give massive kudos for calling the creepy creature exactly what it is, a Khan worm, because that's what every Star Trek fan was calling it in their heads. We all remember Star Trek II: The Wrath of Khan and some of us still have flashbacks of the terror that we felt going to bed and wondering if creatures were going to tunnel into our brains at night and drive us crazy. This time, they really did. And the way the episode was set up, the claustrophobia of knowing that whatever bad things were about to transpire would be at the hands of each other, made it much darker. Sure the ear-worms were causing them to kill each other, but it was their hands doing the deed. To see Gwen, the only Campbell I actually liked, die at the hands of her cousin straight off was shocking. And that just set off the chain of events that was to follow, as the crowd of six dwindled down to only three.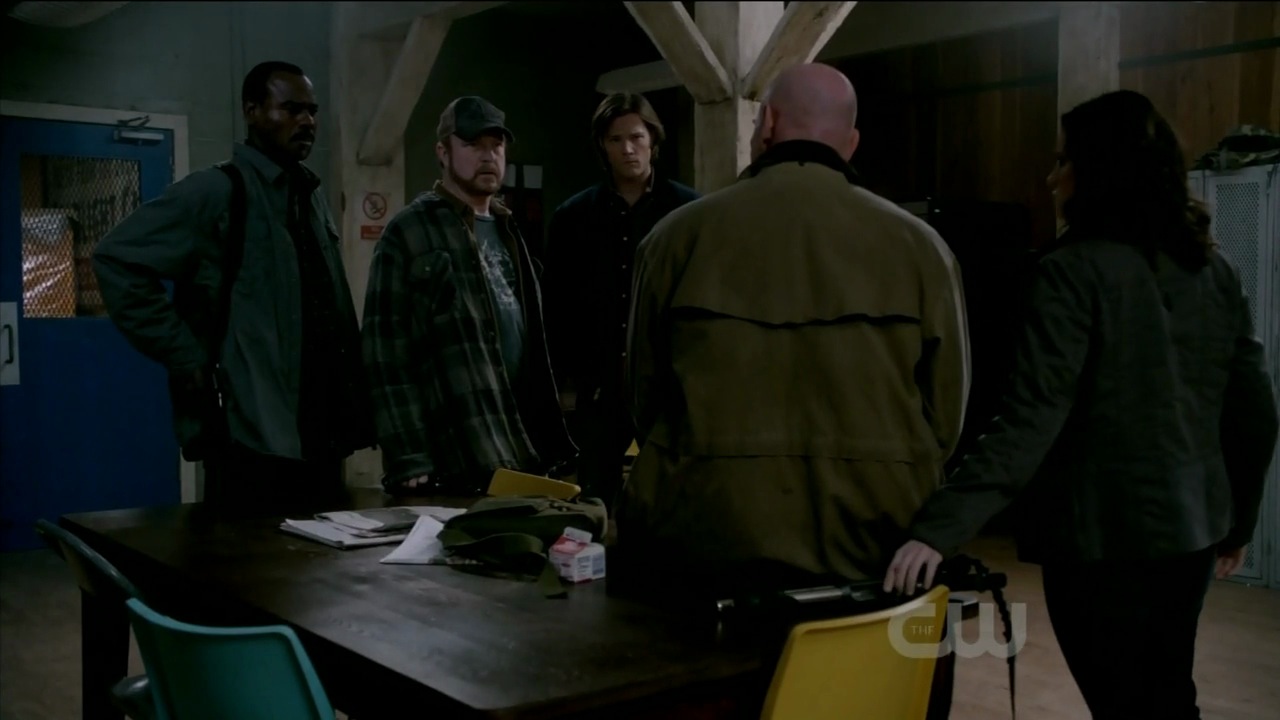 I was unsure how Sam and Samuel's interactions would go, since this was the first time they'd seen each other since Sammy got re-souled. Sure, they spent a year together being cold-blooded killers in the name of hunting, but that wasn't 100% real Sam Winchester. And despite Samuel being blood, despite Sammy being named after him, their Grandpa sold them out and that's not forgiven. Dean continues to want to make good on his earlier promise of offing the old guy and Sammy isn't feeling that much love either. While Samuel could care less about his grandsons, they care a whole lot more about each other. I loved Sam's warning, as they were going out to search for Dean, that Samuel either brings Dean back alive or Sam's going to do some killing of his own. In the end, as always has been true, if you hurt one of the Winchester boys you're going to end up dead one way or another.
It's not like I had any love for the guy either. I liked him well enough when we saw him in the episode "In the Beginning" before he got possessed and got his incest vibe on. But ever since he returned from the dead this season, he's been working on a darker plan and was just not likeable at all. I could understand his intentions, since he longed for his daughter to be brought back, but in doing so he abandoned his own flesh and blood. The more he showed how much he didn't care about his grandsons, the more I didn't care for him. I've always thought he was untrustworthy and a bit evil, but darkness doesn't have to be rooted in possession. It can be rooted in the fact that he's just not that nice of a person. What sealed his fate, for me, was his slur towards Bobby in this episode. You don't say things like that and expect to make it out of there alive. Bobby's been a more positive influence on the Winchester boys than Grandpa Campbell or even John Winchester ever was. When you're fighting against the entire world, it's nice to know there's someone out that who will love you no matter what and will always be there for you.
The boys got some great interaction in this episode, too. They are stronger together than apart, as we've seen time and time again. And they were not divided in their mission, as they had been at times before. Dean wanted to kill Grandpa, Sam isn't saying no as much as "save it for later," and then Sam's the one that completed the task. Sam told him to stop moving, but Samuel wouldn't listen, so Sam had to put a bullet in his head. Makes logical sense to me. And of course Sammy's got eventual guilt over killing their Grandpa because, despite all the betrayal he forced upon them, he was still Mary's father. But thankfully Dean did the big-brother thing and assured Sammy that their mom would not be disappointed in their choices. Family means something, not by blood but in the way you treat one another. And that's what we see between Dean and Sam, that even though they are bonded by blood, they choose each other time and time again because they're family and that's what family does. They take you with all your traits, both good and bad, and stick by you. And the boys were in top form to show that in this episode. We were almost getting callbacks to their Season One characterizations with the brotherly love, the solidarity, and the joking taunts. You're got to love their taunts.
Then we have Rufus — lovely, funny, snarky Rufus. I've always adored his character, ever since the first time we met him, because he was a no-nonsense hunter who actually made it to old age. It's not like you live long in this line of work, so the fact that he survived tells you something about him. And what I loved even more was the relationship he and Bobby shared. You could tell there was some long, complicated history there because they both loved and hated each other.
In this episode we got hints at how it all transpired and I'm grateful to learn it. We now know that Rufus cleaned up the mess after Bobby was forced to kill his possessed wife. He also taught Bobby about hunting, which makes me ever so happy to know. And we also got a nod towards the event that marred their relationship forever. It was pretty clear that Rufus lost a woman very near and dear to his heart in Omaha and it was because of Bobby, so he may get along with the guy and hunt with him when the need arises, but he would never forgive Bobby for what he had done. It's a sad fact, but an understandable one. I knew Rufus was probably going to die in this one, but what made it all the more heart-breaking was that he died at Bobby's blade. True, Bobby was possessed at the time, but for the rest of his life he's got to live with the knowledge that he did it. I loved the final tribute of Johnnie Walker Blue at the graveside and the assertion that, in the end, they were family and that's all that mattered.
I'm still trying to figure out Mother's ultimate plan. Her ominous words to the trucker, before she ear-wormed him, showed the comparison between an absent father and an overly-involved mother. Neither is preferable, but we've seen the former and now we're going to be threatened with the latter. I don't think the world will benefit from it in the least. And then we have Evil!Bobby's taunting of how the monsters will soon outnumber the humans, making them into slaves and pets. It is indeed an ominous warning, but I'm hoping the show can follow through on it in a way that both makes sense and gives us a big pay-off. Hey, I'd be happy if we got to see the evil side of Bobby again, too, but hopefully without a death scene at the end. It's nice to see relatively good guys take a turn towards the bad side now and again.
Rating: 5 / 5 Stars