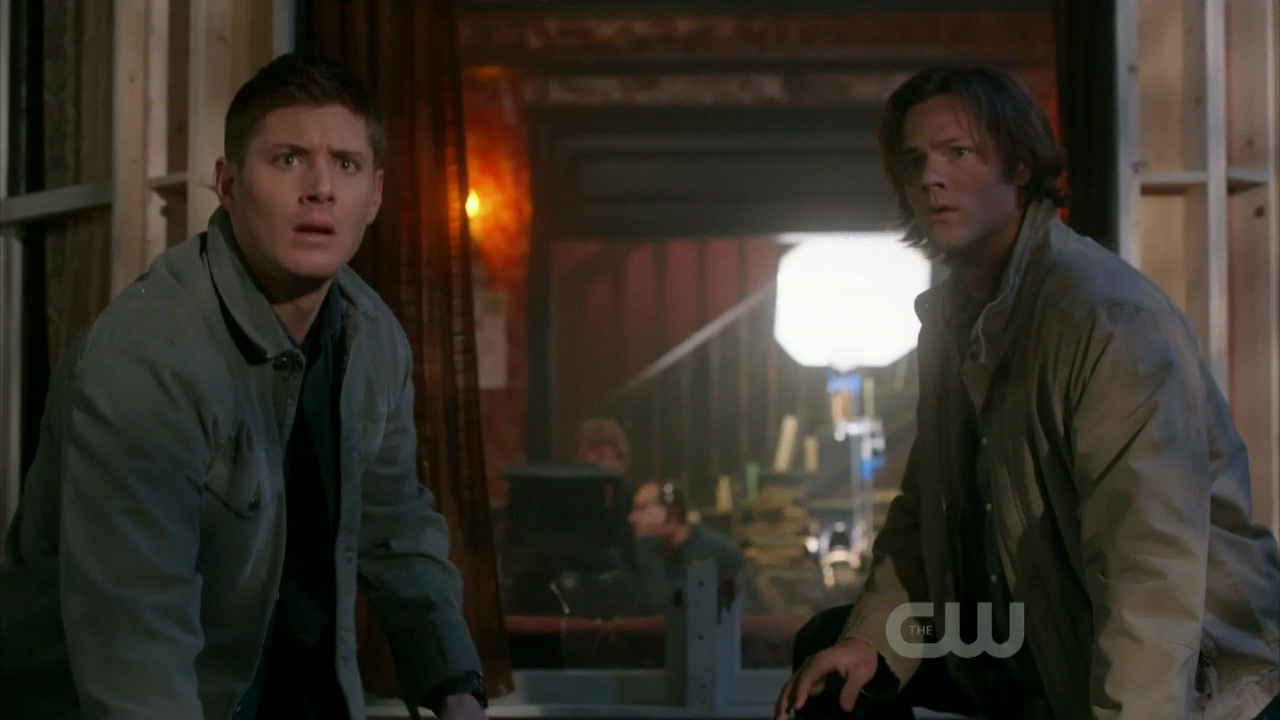 Episode: Supernatural 6.15 – "The French Mistake"
Original Air Date: February 25, 2011
Screencaps by rawr_caps.
Despite the concerns some fans have had for this season, "The French Mistake" erased all doubts that the writers have still got it, specifically the genius that is Ben Edlund. This show has always had to ability to make fun of itself and tap at the fourth wall in a knowing way. This episode broke down that fourth wall and raised the stakes even higher. There was so much win in this that my glee can hardly be contained.
So, when Dean and Sam get thrown into this bizarre actor!world, they have to learn to deal with pretty much everything being crazy. Everyone around them thinks they're these actors named Jensen Ackles and Jared Padalecki, so they must play their parts until they can return to their own reality. In this world, like our own, Ackles got his start on soaps. I grew up with Jensen on Days of Our Lives and he will forever be Eric Brady to me, so seeing a clip on Supernatural of Eric Brady is like all my dreams coming true. But actor!world's version of J2 is unlike our own because these guys are divas who hate each other. With the way they're acting the crew assumes they're having a psychotic break, which is just par for the course. And when they literally try to beat an extra to death, the crew deal with it like it's just another day in the life of Jensen and Jared. I want to know more about the guys in that reality because it's got to suck on the actor!world's set having to deal with those egos on a daily basis. Oh, but we're not done yet because Sam and Dean also go off-set to Jared's house.
Or should I say the Padalecki mansion, since that's what it is. He's got narcissistic artwork, a tanning bed in the front parlor, an alpaca out back, and he's married to the actress who plays Ruby. That's right, reality meets fantasy because the real Mrs. Jared Padalecki, Genevieve Cortese, returned to the show as an exaggerated version of herself. She's hilarious playing this up. Also, props to the set designer for using one of Jared and Genevieve's real wedding shots because it's always been one of my favorites. So, yes, there was some mind-bending on Sam and Dean's parts to come to terms with Sam/Jared being married to fake!Ruby. Apparently it didn't weird Sam out for too long since he and Genevieve later went upstairs to quite clearly have sex. This would be after Sam and Dean discover the joys of being rich because actor!world's J2 are loaded. Limitless credit cards have their advantages and Jared has a black American Express card. The Winchesters don't need to go steal the exotic ingredients for their spell, they can just buy them.
I find it funny that Sam and Dean cannot act. I mean, these are guys who have taken on fake identities for as long as they've been able to talk, but you stick them in front of a camera and try to get them to remember lines from a script and they fail. Sam was so overly dramatic in delivering all of his lines and Dean kept pulling out the gravelly voice because "that's how he talks." Yes, he does! And fans have mocked it quite a few times as we witness Dean's voice getting lower and lower over the past six years. And the addition of the caricature of Misha Collins was just the icing on the cake. You can definitely tell a difference in demeanor between dark Castiel and sparkly Misha with his Twitter obsession. To blow the fans' meta minds even more, the real Misha made it a live-action event. The first line that he tweeted on the show was also tweeted in real-time from his official Twitter account for East coast viewers. The second line was done for West coast viewers. How is this man even real? Tell me!
And the writers didn't go without some mocking either. Most notably was the mention that the character of Bobby Singer seems to be named for Executive Producer Bob Singer. In Singer's defense, it wasn't his request to have a namesake, but it's still hilarious nonetheless because he does get flak over it in real life. Then we have recently-promoted showrunner Sera Gamble as being simply a voice on the phone, making fun of her physical absence from the Supernatural set since she's usually down in Los Angeles writing and they film up in Vancouver. I also adore that she's comfortable enough to make fun of the changing of the guard situation that happened when Eric Kripke turned show runner control over to her this season. You can't help but love Sera when her fake counterpart utters the words "How's that make me look? I'm supposed to be running this thing." And we even get treated to the ultimate man himself, Eric Kripke, or at least actor!world's version of him. Everything from his crappy writing projects to his overly-dramatic death scene was so much fun. Also, I am not alone in thinking that Kripke should get on this Octocobra project. It could be Syfy gold! And when you're wondering where to lay the blame for everything on this show being insane, simply say "Season Six" because it's all the explanation you need.
There were some non-meta moments with the plot at the beginning and end, concerning the angels themselves. Balthazar is back! Always a pleasure to see him, especially now that Crowley and Gabriel aren't around, because the show needs snark. I love that he explained Raphael's vengeance plot n terms of the plot from Godfather. Also, Raphael has found a new vessel; this time a woman. She's bound to be back again and she's going to be mad. I can't wait for that showdown, especially now that Cas is supercharged. We saw his wings! It makes me so happy to see those make an appearance. Now if he'd just clue in the Winchesters a bit more on what exactly is going down in Heaven, then maybe they could help rather than being mere pawns. Come on, Cas, the Winchesters did save the world after all.
Despite how good J2 had it in actor!world, without the threat of demons or angels or death around the next corner, Sam wouldn't choose it. He would rather have a hunter's life than a superstar one because at least in that reality Dean's still his brother. They can take on anything as long as they're together. And Supernatural can take on anything as long as they continue this fantastic writing. This is the show I fell in love with and I thank Ben Edlund for reminding us of that.
Rating: 5 / 5 Stars