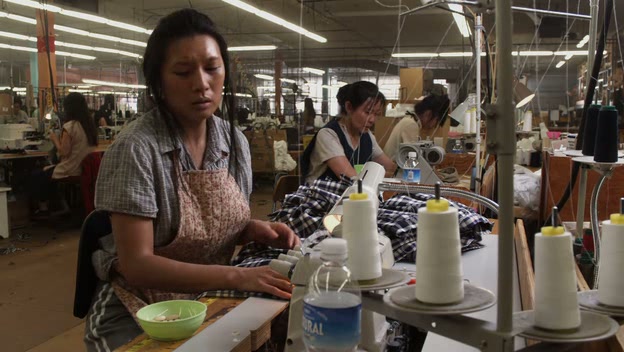 Episode: Leverage 2.10 – "The Runway Job"
Original Air Date: January 13, 2010
(Reviewer's Note: I will get caught up on the previous episodes of this season, but I wanted to keep current since it's now airing. For the purposes of this and subsequent reviews, I'll assume the reader is caught up to the episode prior to the one being reviewed. If not, then consider this a spoiler warning for some of the events that happen in Season Two before this episode. And of course you can assume there will be spoilers for this episode as well.)
In this episode, a Chinese immigrant hires the Leverage team to help her get away from a sweat shop as well as to raise enough money to bring her family to America. The sweat shop is owned by the Pans, a husband and wife who make sure that their employees are working legally, but also force them to work to pay off the debt accrued by bringing them over.
As it happens, Gloria Pan fancies herself a clothing designer, so that's going to be the con. Nate and the team will convince her that they can help her achieve her dream in order to take her money and, in the process, get justice for their client. Nate's idea is to create Caprina, an Italian fashion designer in town for Fashion Week. Tara Cole, Sophie's temporary replacement as grifter (Gina Bellman, the actress who plays Sophie, is on maternity leave, although she does get some face time in this episode), gets made over with Parker taking pictures so that Hardison can create a magazine that Parker will sneak into Pan's home to make her think Caprina is an actual designer (Hardison also hacks into Pan's DVR and substitutes a model's answer to a question with Parker saying Caprina's name — a bit farfetched, perhaps, but kinda cool). Of course, Mrs. Pan is taken in, and of course the con is eventually successful, although there are some loose ends and confusing plot points.
There are the usual funny situations and conversations that make this show so great. Eliot poses as "Caprina's" assistant which means he needs to be fashionable (or "fashion-y" as he puts it). I'll just let the picture speak for itself.
Parker also gets to have some great dialogue. Stick with me for a moment while I set up Parker's lines. At one point, Nate enters the Leverage HQ and remarks on Tara's presence since he had left her there and wasn't sure she'd stay. "Just where you left me since I couldn't join in any reindeer games," she replies. Nate then continues talking about the con. But then Parker says, "How would they even keep score, the reindeer?" No one's really listening, but apparently it stays on her mind because a few minutes later she is out with Nate to scout of the Pan's house and says, "Reindeer. I mean I guess they could make marks in the snow, but what kind of math would they use?" "On task, Parker," Nate reminds her. Classic Parker.
I definitely enjoyed the first official job with Tara (played by Jeri Ryan, aka Seven of Nine). The previous episode introduced her character, but the audience and the Leverage team didn't actually know she was working with them until the end so it didn't quite count. Of course no one quite trusts her yet, especially not Nate, and that definitely sets up tension in the episode. She also has problems with Nate's style of leading, pointing out that he speaks in "cryptic clues, slogans, and code" (or, as she also puts it when he first introduces the idea of Caprina, "So he just says things and then walks away." To which Parker matter-of-factly replies, "Yeah, you're gonna have to get used to that."). The tension comes to a head when she reveals to Pan's husband (who, it turns out, is involved with the Triads in running a knock-off designer clothing ring) that Nate is actually a con man. But of course this itself is part of the con — which she managed to communicate to Nate through the use of code. She seems to be fitting in well, but her final line of the episode leaves me wondering what she meant: "But no one in the world is as good as you think you are," she says regarding Nate and the Leverage team's supposed greatness. It'll be interesting to see if anything comes of that.
Rating: 4 / 5 Stars