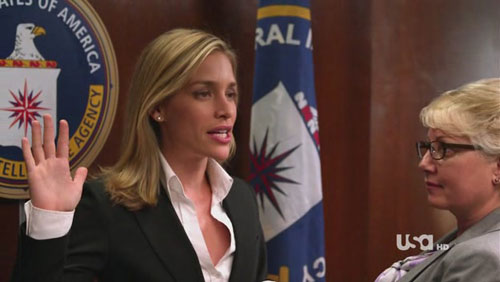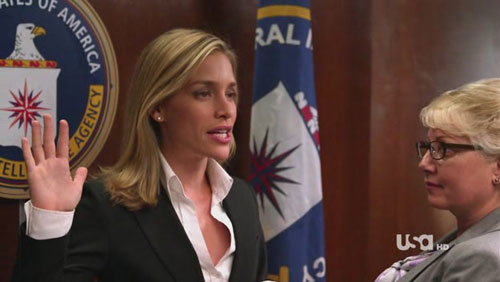 Episode: Covert Affairs 1.01 – "Pilot"
Original Air Date: July 13, 2010
Screencaps by puchre.
If you were a fan of Alias and have befben longing for some more twisty and crazy girl spy action on your TV, USA's new Covert Affairs just might fit the bill. In fact, some of the similarities between J.J. Abrams's pre-LOST drama and Covert Affairs are so startling that it would be impossible to describe the latter without frequently referencing the former. That's not to say that Covert Affairs is a ripoff of Alias, although many probably will pigeonhole it as such. Rather, it feels like a thematic continuation of Alias that very well could have been a sixth, Jennifer Garner-less season. Covert Affairs never attempts to hide the genre foundations upon which it is built, and at times it almost feels like an homage to its predecessors.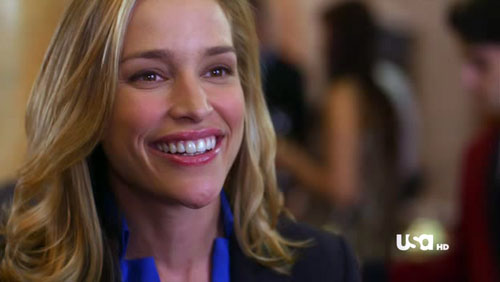 The USA Network's recent slogan has been "Characters welcome," so it makes sense to start there. Piper Perabo (Coyote Ugly, The Prestige) is the lead, playing newly trained CIA agent Annie Walker. By my count, that makes at least three female Agent Walkers on recent TV (the other two being on Chuck and 24). Walker is a linguistics expert who recently traveled the world, returning home to live with her sister after having her heart broken in Sri Lanka. Sometime between then and now, she secretly signed on with the CIA and is not quite done with her training when she's summoned to field duty to put her language skills to use. Walker is immediately relatable and likable, likely due in part to Piper Perabo's uncanny resemblance to Jennifer Garner as Sydney Bristow. From her frequently furrowed brow to her doppelgänger smile, Perabo hits all the Garner elements. Perabo is blonde here, but that doesn't detract from her Bristow-ness, given that Jennifer Garner wore different wigs in nearly every episode of Alias. Annie Walker undeniably is Sydney Bristow 2.0.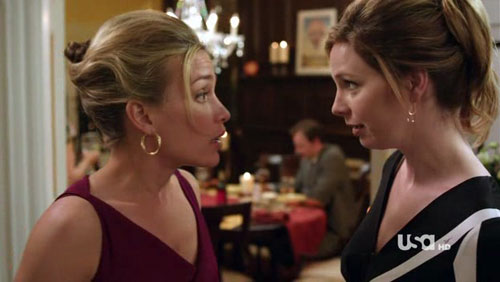 Continuing the likeness to her forerunner, Annie Walker lives with someone who has no idea about her work with the CIA. On Alias, Sydney had her friend and roomie Francie believing she was a banker at Credit Dauphine, while Annie has her sister Danielle believing that she works at the Smithsonian. Undoubtedly we'll be in store for many a close call where Annie and her sister end up at the same place at the same time while Annie's on duty and in a super secret life-or-death situation.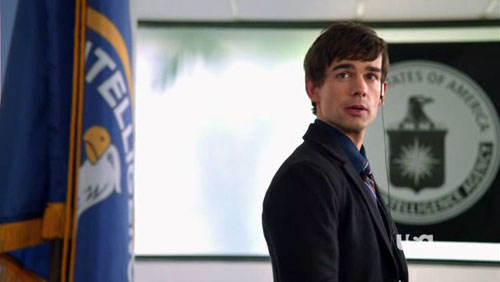 Every spy show has to have its tech guy (or gal), and this show's Q is Auggie Anderson, played by Christopher Gorham (Ugly Betty, Harper's Island). Auggie is one of the best characters in the pilot, bucking the socially awkward traditions of Alias's Marshall Flinkman and 24's Chloe O'Brien. He's a young former soldier who lost his sight in the Middle East but has learned to live with — and even thrive on — his blindness through a combination of clever gadgets and a near-Holmesian penchant for social deduction. He walks with a laser-rigged device instead of a cane, and he's able to discern enough details about a girl in a bar based solely on her accent, scent, and footsteps that he's never without a ride home.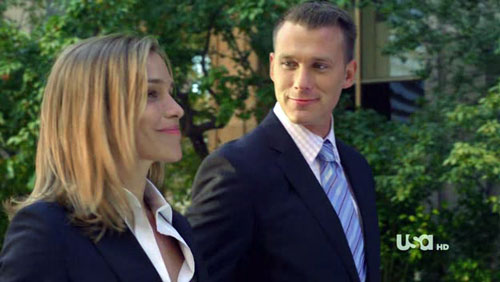 Walker's other main coworker is Conrad Sheehan (The L Word's Eric Lively), a smooth talker who doesn't have much depth in this first episode. Conrad might develop into a deeper character in the future, but the first outing of Covert Affairs leaves him solidly pegged as "that other guy."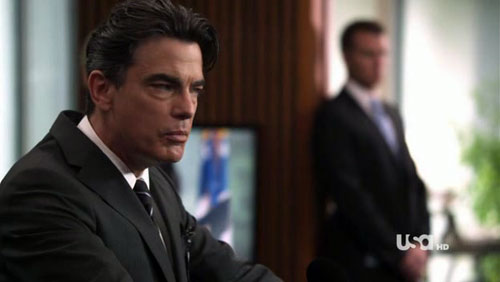 Also on the crew is Peter Gallagher (The O.C. and a million other shows and movies), power eyebrows on full alert. Gallagher plays the boss of the operation, Arthur Campbell. Campbell's wife Joan also is a supervisor at the Agency (as Auggie tells Walker, the CIA encourages relationships within the office), played by Kari Matchett (24, Invasion). Joan is Walker's direct superior, while Arthur is a bit higher up the bureaucratic ladder. Having the two bosses linked in this way and seeing them occasionally conspiring behind their agents' backs hearkens back to Madeline and Operations in secret meetings on La Femme Nikita, another obvious inspiration for much of Covert Affairs.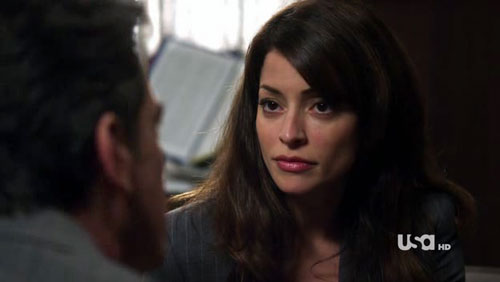 Rounding out the pilot cast is Emmanuelle Vaugier, fresh off her role as Agent Barnes on Human Target. Here she is a reporter publishing articles based on sensitive information leaked from within the CIA. She doesn't have a lot to do in the pilot episode, but her meeting with Gallagher's Arthur is enough to establish her as a strong and intriguing character.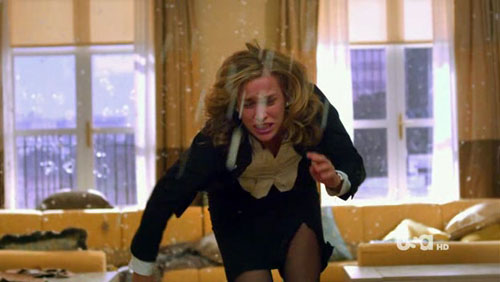 All the characters come together for this first episode, which plays something like a superhero origin story. We have new recruit Walker plucked by circumstance from her training and thrust into the action before she really knows what she's in for. Her first mission has her picking up intel from a defecting Russian agent, but of course everything goes wrong in the middle of the exchange. The story about the Russian seems like it won't have a lot of importance in the big scheme of things, but it's a suitable vehicle for getting Annie up and running with the CIA. Some of the plot elements — most notably a late episode reveal about the Russian and another about Annie's past — are a bit predictable, but the writing is mostly entertaining and strong.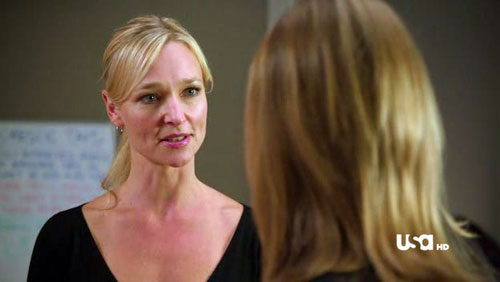 Behind all the Russian action are a couple of plot points that will develop into bigger, arc-type threads. One involves Annie's past and likely the real reason she was selected for CIA duty, and the other is the question of who might be leaking information to the news. Any show involving agencies and intrigue has to do the "mole" story at some point. Covert Affairs is hitting it straight out of the gate, so we'll have to see whether they pull it off with 24 Season 1 suspense or drop the ball with FlashForward ineptness. I'm hoping for 24-style developments.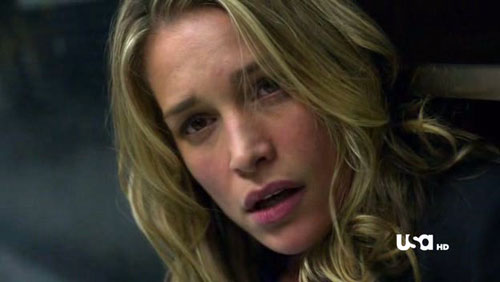 As I said before, it's very easy to call Covert Affairs a ripoff of Alias, but it really is a collage of elements from Alias, La Femme Nikita, and a number of other works of espionage fiction with a female central character. It carries a good balance of humor, action, and drama, and enough of the characters are immediately likable and engaging that I'm fully on board for this show. I personally think Alias is one of the best TV shows of the past decade, and I have no problem with Covert Affairs shadowing it so closely.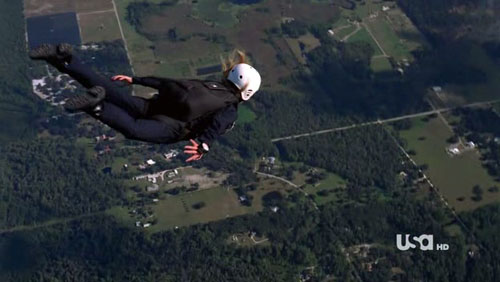 If your favorite candy stopped being made but then was brought back into production by a different company a few years later, you'd give it a try again, wouldn't you? It might be in a different wrapping and maybe not quite as tasty, but it still has enough of the same ingredients to have the same sweet taste you remember from years ago.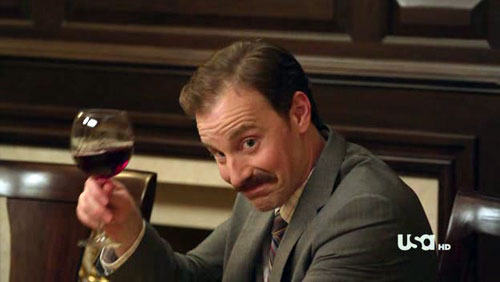 Rating: 4 / 5 Stars