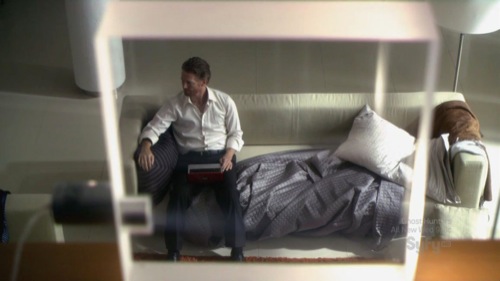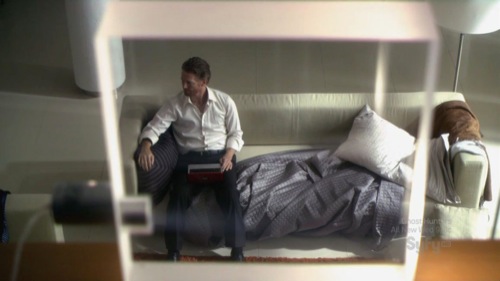 Episode: Caprica 1.10 – "Unvanquished"
Original Air Date: October 5, 2010
Screencaps from eyescubed.
It's funny… I've really enjoyed Caprica since it started, and most of the people I know (mostly BSG fans) are either neutral to it or don't like it. I watched just about every episode from the first half of the season and was excited to have the new episodes begin to see where they are going to take this show.
I do plan to write a season 1.0 recap, but since I haven't done so yet, I'll present a link to the Syfy Caprica website for folks to read the episode summaries. Until my full recap is completed, the Syfy website has good, concise summaries of all the episodes to date. A few critical things to know: Zoe Graystone is/was the daughter of Daniel and Amanda Graystone, Daniel being a tech mogul who basically invents the Cylons; Zoe died in an STO (Soldiers of The One) bombing, but exists as a virtual reality avatar and was inside a prototype Cylon for a time. Clarice Willow spearheads the STO group Zoe was involved with, and is in a power struggle with another terrorist named Barnabas to control wider STO activities on Caprica. The Soldiers of The One are monotheists, contrary to the prevalent polytheistic beliefs throughout the Twelve Colonies. Joseph Adama, father of young William Adama, lost his wife and his daughter Tamara in the bombing that killed Zoe. His daughter Tamara exists as an avatar, like Zoe does, in the virtual world of New Cap City.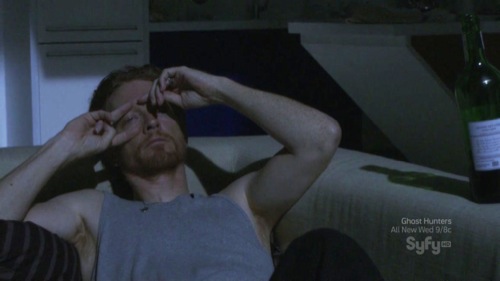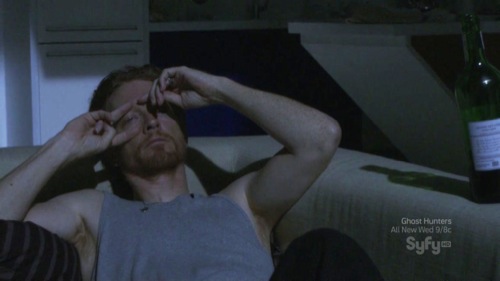 This new episode, "Unvanquished," picks up after episode 1.09, "End of the Line," where the big events were 1) Cylon-Zoe Graystone crashing a van after accidentally killing one of her father's scientists and 2) Daniel Graystone's wife (and Zoe Graystone's mother) Amanda Graystone getting ready to jump off a bridge because she has been seeing her dead brother. Daniel's life has been falling apart since Zoe died in the bombing carried out by the STO (Soldiers of The One, "the one" being the one true God). The leader of the STO group Zoe had gotten involved with, Clarice Willow, knew about Zoe's avatar and the virtual reality she'd created, New Cap City, and wanted to propose to the monotheist leadership on Gemenon that this virtual world could offer eternal life to believers in the one true God.
Clarice, on Gemenon, pitches her idea to the Conclave of religious leaders, claiming that the promise of eternal life could unite the colonies and make people see that there was only one true God. She calls this "Apotheosis." They are doubtful of her methods, namely the killing of 30,000 people in the stadium bombing she was proposing, and think it will simply push people further away from their cause. Her objective is to have the leadership give her full control of STO activities on Caprica, unseating Barnabas. The leader of the Conclave, Obal, ends up asking the Mother, their highest leader, for permission to kill Clarice and gets her blessing for it. They decide she has become a zealot with a Messiah complex, and things could get ugly if she is allowed to have her way.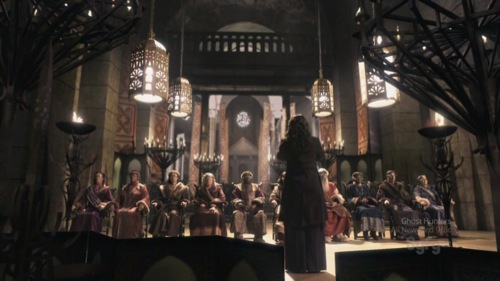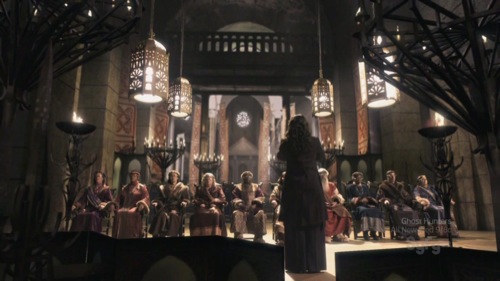 Meanwhile Daniel Graystone, who appears to have been on a massive bender after everything that's happened, goes to meet with Joseph and Sam Adama and their (for lack of a better word) gang leader to see if a partnership with them might be able to help him regain/retain his business and life. He proposes getting into the business of reuniting people with their deceased loved ones via virtual reality avatars. The leader tells Joseph to take charge of the operation, and he hesitates because of the bad blood between him and Daniel, but accepts in the end.
Joseph and Sam visit Daniel to discuss the terms of their business deal. To test his faith and commitment, the Adamas tell Daniel they've rigged his mother's car with a bomb, and present him a switch to flip. Daniel refuses, saying they're bluffing. Joseph tells him they were bluffing, and that it is important to know your partners' limits. He tells Daniel their life isn't the life for him, and that he should walk away.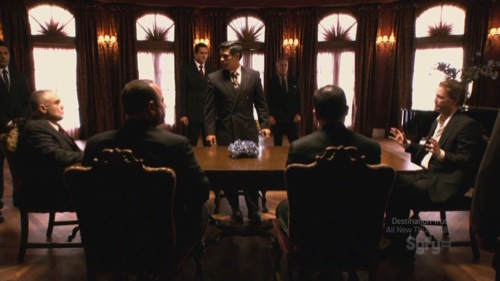 There is a brief scene with Lacy, Zoe's friend from school, who was drawn into the STO group, performing a ritual with the group and Barnabas, Clarice's rival. It is clear that she is doubtful about what's happening, and even fearful, but she goes along with it anyway. I don't know where they're going to go with her. She was Zoe's confidante and helper and I don't know how loyal she really is to the STO.
Back on Gemenon, Clarice has a conversation with another member of the Conclave, who tells her Obal has planned to have her killed. Later, Obal comes to her and they take a walk, with his intention being to kill her. As it turns out, Clarice had managed to turn the others against Obal, and they all kill him. She goes to the Mother, who makes it clear that she does not agree with Clarice's plan and vision of "heaven," but feels it's best for God to let things play out as He sees fit. She asks Clarice what she needs to complete her "little science project," and Clarice tells her she needs control of all STO activities on Caprica, which the Mother grants her.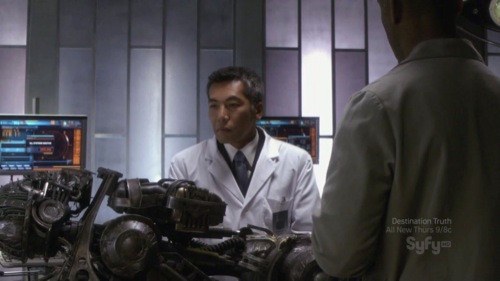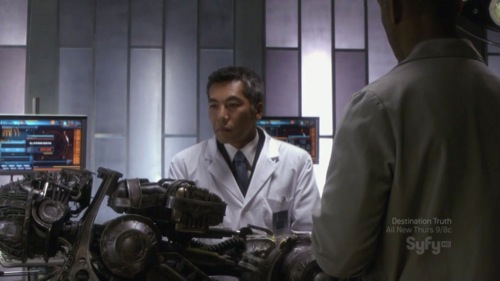 There is a scene in Daniel's old lab with the banged up body of the Cylon Zoe's avatar was in and crashed the car in. Cyrus Xander, Daniel's right hand man at his company, is told by Daniel's arch rival Tomas Vergis, who has been given the military contract to manufacture the Cylons, to destroy the burned up body of the Cylon (this part is a little unclear to me, so someone please correct me if any of my facts are wrong!). Cyrus talks to Daniel and does not melt it down, but packs it away in storage. This will probably be significant later. Daniels in the end does go back to the Adama's gang boss and tells him he wants to go ahead with their partnership.
Meanwhile, in New Cap City, a hooded figure is walking through a tough part of the city. (Remember — New Cap City is the virtual world where Zoe and Tamara Adama's avatars live. Real people can plug in via the holoband and if they are killed in the city, they are booted out.) Some street toughs stop and hassle the hooded figure, asking if she is a "Deadwalker" and challenging that she can't be killed. The cloak comes off, and it's Zoe — a very cool-and-slightly-gothy-looking Zoe — and she proceeds to kill all of them, down to the last one (this scene is set to some really pretty piano music, and is kind of awesome). She is able to take control (mentally) of the last one and prevent him from moving his arm to shoot her or take his holoband off. She notices he has the mark of the other Deadwalker in New Cap City (Tamara), and asks where she is. The kid doesn't tell her, and she lets him go, then kills him. I'm looking forward to seeing what happens when Zoe and Tamara find each other… some serious crap will go down!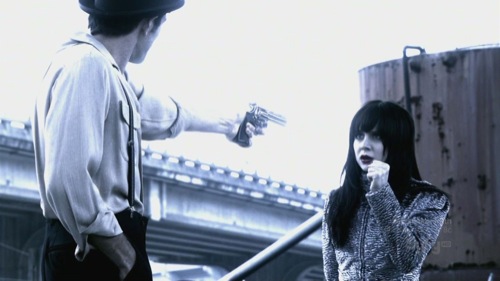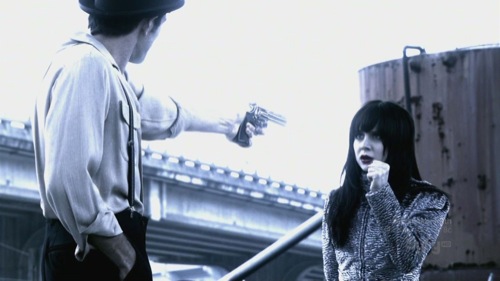 The episode ends with Daniel recording a message to his wife, Amanda, who we last saw about to jump from a bridge, telling her he misses her and how hard it's been. We then see Amanda watching his message (she is at what looks like a cabin somewhere) and beginning to record a response — until Clarice comes in and says something to the effect of how it's good to be back. Apparently they are hiding out together. Intrigue!
To close, I thought it was a good, solid episode and I'm excited to have the show back. Again, I know a lot of the people I know don't love the show, but I really enjoy it! (I'm actually liking it more than Stargate Universe, but that's for a different post. Sigh.) My dad also loves the show and texts me during it ("Caprica tonight!? Season premiere or did I miss it??") I also have to add that I LOVE the music in this show and have to download some. Looking forward to next week and I hope the action picks up soon!
Rating: 4.5 / 5 Stars