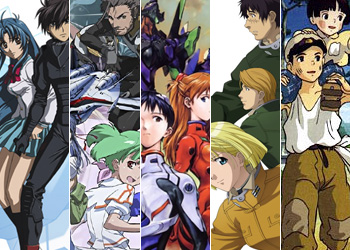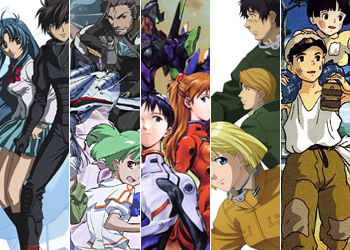 For every anime featuring samurai warriors or over-powered magical heroines, there has been an equal, if not greater, number of shows that have militaristic themes. These shows usually have epic battles between differing ideologies or factions, set in a time of great conflict, and fought with exaggerated weaponry or, as is the iconic of the medium itself, complex, mechanical juggernauts ubiquitously known as "mecha" that usually dwarf the rest of the world around them. Seeing as it is Memorial Day today, a day dedicated to remembering those who have served in the United States military service and a three day weekend, I thought it would be thematically appropriate to compile a short list of anime that adhere to militaristic themes so associated with this day.
Although I am not the first one to explore military fiction on this site, for the purposes of this post I will only harp on the anime that fit this particular genre, and the various flavors that they come in. Just because the genre deals with war and conflict does not necessarily mean that it has to tackle too serious a subject matter, although some might do just that. Here's my list of the top five anime to watch this Memorial Day.
1. Full Metal Panic!
This series is set in a world where the Cold War has not yet finished and mechas nine feet high are piloted by the specially trained soldier in the military. Sergeant Sosuke Sagara is an agent from an anti-terrorist, mercenary organization Mithril, whose mission it is to go under cover as a high-school student in order to protect the blue-haired Kaname Chidori from the enemy who want to use the special knowledge in her head for their nefarious purposes. The problem is that Sosuke has known only the military, and nothing of the social nuances of high school, and hilarity ensues. There's enough action here to satisfy an action fan, but it's mostly an odd couple comedy between the student and the sergeant.
2. Macross: Frontier
I wanted to include a mecha anime that sufficiently adhered to the theme of this post, but I found out that I was rather spoiled for choice when it came right down to it. There are several series from the Gundam franchise that would have fit the bill rather appropriately, like Gundam 0080: War in the Pocket, any of the Code Geass series, and many other militaristic mecha anime. Instead, I decided to stick with the extremes within the subgenre, choosing the latest installment of the Macross franchise, Macross: Frontier, for those who like their mecha with a heavy dose of love triangles, empowering J-pop songs, and mechs that could transform into different versions of itself while fighting giant alien bugs in space.
3. Neon Genesis Evangelion
The opposite of this particular type of anime would be the classic Neon Genesis Evangelion, iconic in its themes, characters, and story. It takes place in a world at war with alien beings, held at bay by huge mechas piloted and surrounded by a cast psychologically broken characters, marching in a fatal drumbeat to the orders of NERV, the militaristic organization that controls the mechas in question. Initially there are a few jokes and gags tossed around in this series, but it soon gets awfully dark and serious by the end, as it delves deeper in the minds of people affected by a world torn by invasion and conflict.
4. Pumpkin Scissors
For the more historically inclined, or those who like their wars fought with gunpowder and lead rather than titanium and circuitry, this series is a must-see. It is set in a world that very closely resembles Europe post-WWII, where a ragtag team of soldiers work in the Imperial Army State Section III, the office of War Relief Effort. The show, however, focuses on one member of this particular team, a new Corporal named Randel Oland, who seems to have the distinct ability to wield a gigantic gun capable of firing armor-piercing rounds through the exteriors of tanks… at point blank range. While Section III, also known as Pumpkin Scissors, run about helping with the war effort, military conspiracy and dark secrets left over from the war continue to crop up, and ridiculous man vs. tank fight scenes ensue, along with some silliness and comedy that help pace the series.
5. Grave of the Fireflies
While not exactly a militaristic anime or one of the better known anime titles out there, Grave of the Fireflies is one of the most effective anti-war films out there. A poignant and heart-breaking film about how far the consequences of war go, as told through the lives of pre-teen Seita and his young sister Setsuko as they try to get by in the world that they are left in. It's quite literally one of the hardest films, animated or not, to get through, as the films goes through both brutal images of a war-torn country, and the beautiful idyllic life that childhood seems to bring. I couldn't find a better work of art to watch for such a day of remembrance such as this, as it brings the hammer down hard on the brutality of war and how it affects people miles and miles away from the battlefield.
---
Well, fans, this is my short list of anime I'd watch this Memorial Day. Let me know in the comments about what you think, and which anime you feel should or could be added to this list. Otherwise, enjoy your holiday!