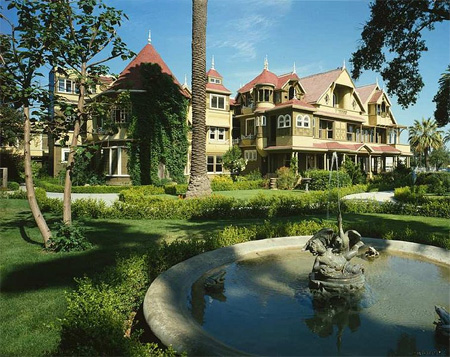 America may not be that "old" of a nation, but it has plenty of haunted houses rich with their own history. Recently, I visited one of the more famous haunted houses in the country: the Winchester Mystery House in San Jose, California. It's a strange mansion that sits right next to to the flashy Santana Row shopping center in downtown San Jose. A quick Google search on the mansion and you'll find out it was once home to Sarah Winchester, heir to the Winchester Rifle Company fortune. You may also learn that it has over one-hundred-and-sixty rooms and almost no architectural planning. What does that mean? It means the interior of the house is a labyrinth of hallways, rooms, and doors that lead to nowhere, and windows used for spying on the help.
The Flashlight Tour
Before I go into any detail about my tour, here's a brief history of the property according to the official website. Sarah Winchester married into the Winchester family in 1862. Her husband, William, was the son Oliver Winchester, maker of the Winchester repeating rifle. Some years later, their infant daughter died due to an illness, followed by her husband. Depressed and distraught over the death of her family, Sarah consulted a spirit medium who told her that the souls of the deceased killed by the Winchester rifle were taking their revenge upon her and her family. In order to avoid a fate similar to her husband's and daughter's, she must build a house. Easy, right? Here's the catch: she must never stop building.
Unfortunately, I was forbidden from any type of photography, and for legal reasons I can't just use the images from the official website. And before you say, "But Jobert, you could've just snapped some quick pictures with your cell phone!", please note that this was a flashlight tour. My companion, the group I toured with, and myself were aided only by our flashlights provided to us and by our tour guide (whose name escapes me). It would've been impossible to get any usable images without the use of a flash, which would've given away the fact that I was taking pictures when explicitly told not to. We were also not able to tour the entire property. For one thing, we would've gotten lost if we separated from our group. And it would've taken us longer than the allotted seventy-five minutes given for each tour.
The rooms that we did see were furnished with as much of the original furniture as was possible to keep. Much of the flooring, ceiling, and walls were also "originals," restored or currently undergoing restoration. Most of the rooms seemed "normal," save for a few that stood out. Sarah Winchester's closet/storage room (probably one of many) looked like a dancer's studio. There were mirrors everywhere except the ceiling. Apparently that part of the house used to be a barn, and the high ceiling clearly gives that away. I found that particular room to be a little unnerving. Mirrors weird me out, especially in the dark. Standing in a room lined with body-length mirrors with just flashlights for illumination definitely made me a little uncomfortable.
We also walked through the séance room, where Mrs. Winchester liked to commune with spirits. According to our guide, she would invite a spirit medium over and they would hold the séances in this particular room. The room as I saw it was pretty bare. The only standout feature was the fact that once you exit, there's no way to go in from where you came. You must find your way back to the entrance door of the séance room to get inside. The room wasn't as visually striking as one full of mirrors, but there is something unsettling about being in a room where spirits may or may not have been called forth. If you believe in ghosts, it probably wouldn't be hard to image a few of them lingering around in that room.
One room worth mentioning was the bathroom. While there were a few rooms that accommodated toilets, this was the only one that had a shower. Yep, over a hundred rooms and only one shower. It was also Sarah Winchester's own private bathroom. And if memory serves me correctly, next to this room was another room where Winchester would spy on her workers. This "spy room" had windows that looked down onto the lower level and Sarah had apparently spent quite a bit of time watching her employees.
During the tour, our guide pointed out odd little facts here and there, and strange architectural oddities, like the "door to nowhere." This door — and I'm sure there are probably a few of them in the house — would open up into nothing. It was cordoned off when we saw it, but the tour guide assured us that the only thing on the other side was a view of the front lawn of the property and a three-story drop directly to the ground. To get up and down the different levels of the house, special stairs, called "easy risers," were built to accommodate Sarah's arthritis. Each step of these stairs rises from the next in tiny increments. It makes each staircase quite long and for those used to "normal" stairs, it was a little annoying trying to walk over.
The tour itself was . . . alright. I guess I was expecting a little more from a house as famous as the Winchester Mystery House. Sure, it was educational, but almost everything detailed to us by our tour guide could be learned via Wikipedia or some other paranormal-centric website. I was more interested by the anecdotes told to us by our guide, the strange occurrences and happenings experienced by the staff and guests. Going through a supposedly haunted house is way less scary when there's more than a dozen people with you. I understand that, for safety reasons, we couldn't walk the house alone (don't want to open the wrong door and fall several stories), I just wish that I was given the opportunity to experience some, I don't know . . . paranormal activity by ourselves.
And a huge part of my disappointment, or rather my annoyance, came from the crowd I was part of. To single out one person in particular, there was this one woman who was obviously not taking the whole thing seriously. She was cracking wise for a much of the early portion of the tour, and most of the group was wary of her by the time we walked through the fifth room. Her daughter clearly looked embarrassed and maybe she picked up on that, quieting down for the rest of the tour.
Despite all that, I did get that strange "eyes-watching-you" sensation in some parts of the house. In particular, any area we walked into that was more "open," where it was hard to see what was on the other side of the room. Having my back turned to very dark, open spaces always makes me uneasy, like there's something lurking back there just beyond my sight. While I won't attribute this as evidence of a haunting, it did make me anxious to get parts of the tour over with. Oh, and there was this tiny matter of me thinking I saw someone in a feathery hat just ahead of my tour group as we walked through a dark passage — probably just a trick of the eyes, right?
"The Curse of Sarah Winchester" Maze
Arguably the best part of my time at the Winchester Mystery House was the "Curse of Sarah Winchester" maze that's set up every year in the fall. I've spent some time in cornfield mazes while growing up in Virginia, so I was kind of expecting something akin to those. I was only partially correct. While it wasn't so much a "maze" you could get lost in — like the house itself — the staff packed every inch of the maze with atmosphere and "Gotcha!" scares.
Right after leaving the photo booth (you're forced to take a picture you can purchase later) we were directed toward the house itself. The entrance was not lit at all and took me a second to figure out where to go. As we approached, I noticed something moving ahead of us: a zombie girl shambling aimlessly until we got closer. She then turned her attention to us and shuffled closer and closer — no noise, no zombie groaning. Just a quiet, unsettling shuffle. We ignored her and kept going and as soon as we passed through a doorway, I turned just to see where the zombie girl was. She was right behind us. Like, inches away from us. That certainly gave me a fright. We quickly continued on through the rest of the maze.
Much of the trip through the maze involved waiting for some staffer dressed as some kind of ghoul or serial killer to jump out from behind something. Those types of scares can certainly make me jump, but it wasn't like I was scared for my life. It's the ones that are just plain creepy that get to me, like the aforementioned Shuffling Zombie Girl. There was another girl dressed in turn-of-the-century clothing who asked if we wanted to play with her. When we refused, she followed us for a little bit. Apparently I don't like being followed, so we quickened our pace.
About midway through the maze, we came to what appeared to be a hallway that was pitch black. The blackness was caused by these two sheets of vinyl that were puffed up on either side of the hall. In order to get through, we had to squeeze ourselves between them. It was so tight that you had to go through single-file, or there just wouldn't be enough room to move. All the way through the hall there was loud music and sound effects blaring from speakers; loud enough that I couldn't even hear myself talk. While it wasn't scary to go through that, it was a little nerve-wracking as the person behind you kept bumping into you, causing you to bump into the person in front. When we finally pushed through to the end of the passage, my companion compared it to "squeezing out of a birth canal."
At the end of the maze was a chainsaw-wielding serial killer. We assumed it was a fake chainsaw with some sound effects. Nope. It was a real gas-powered chainsaw with real gas smell. Now THAT scared me. It was only a little while later that we learned the chainsaw had been stripped of the actual 'chain' so there was nothing about it that cold hurt anyone (unless you got clubbed with it or something).
And that was my little adventure through the Winchester Mystery House. If you ever find yourself in San Jose, I'd recommend checking it out. There's a lot of history within those walls and much of it is fascinating. Keep your expectations in check; if you're an aspiring ghost hunter looking for some poltergeist-like activity during your visit, you may be disappointed. That's not to say you won't feel eyes staring at you as you wander the halls, however.