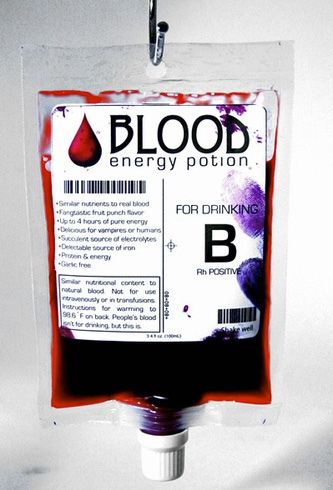 What would you think if you were walking by the local middle or high school and caught a glimpse of a group of teenagers sucking what appeared to be blood out of what appeared to be hospital IV bags? Would you be freaked out? Because I'd probably be freaked out…
That scenario may soon be a reality when Harcos, LLC, the company behind the RPG-styled energy drinks Mana Energy Potion and Health Energy Potion (see the company's official web site for a full description), releases its latest product: Blood Energy Potion.
That's right, American commercialism sinks to a startling new low with the release of the first ever synthetic blood beverage. Designed to tap into the vast consumer market created by books and television shows like The Twilight Saga, True Blood, and The Vampire Diaries, Blood Energy Drink will be sold in re-sealable transfusion-style pouches. While Blood Energy Potion, currently available for pre-order from Urban Collector, supposedly will taste like fruit punch, it is designed to emulate the color, look and consistency of human blood. Similar to other energy-shot style drinks, Blood Energy potion gives the drinker — whether vampire or human — four hours of energy along with iron, protein, and electrolytes (a combination that emulates the makeup of real blood).
I can just see it now: some poor mother is going to find her 14-year-old emo-vamp daughter convulsing in a pool of Blood Energy Potion, black velvet diary still clutched in a shaking hand, after attempting to subsist on nothing more than the synthetic blood beverage for weeks at a time. Awesome.
Since Blood Energy Potion won't be released until January 2010, I haven't been able to find any detailed nutritional information or a list of ingredients. Rest assured, however, that I will continue to investigate and will keep you updated on anything that I am able to find. What I really want to know is how much caffeine Blood Energy Potion will contain and why, if Harcos is so interested in emulating the look and consistency of real blood, the energy drink won't taste like real blood.