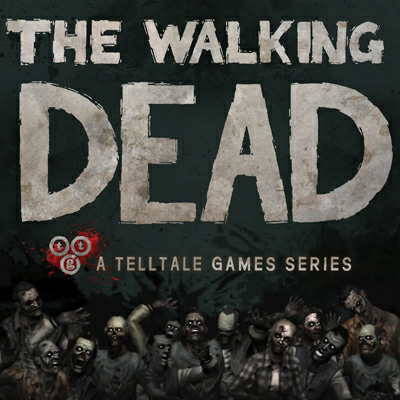 From their new antics for Sam & Max to their recent Monkey Island outings, Telltale Games has established themselves as a company that is keeping the adventure gaming genre alive. Indeed, it's not a stretch to say that they have reinvigorated and perhaps even resurrected it with their constantly enjoyable and immensely playable modern take on a beloved game style. Gamers have come to expect strong storytelling and a good dose of humor from Telltale. The company's newest release showcases their writing chops as much as any of their games have, but gone is the zany humor, replaced by a dark and intense tale that both broadens Telltale's market and solidifies them as quality producers.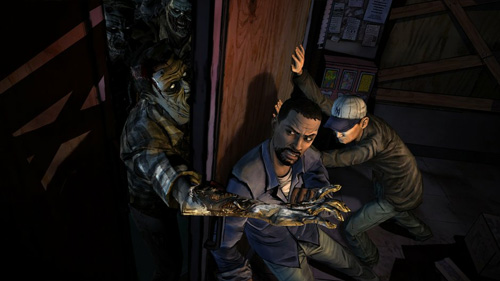 The Walking Dead is a franchise that seems ripe for a video game adaptation, but nobody expected it to come from the folks who released adventure games of Back to the Future and Wallace & Gromit. Like their other recent releases, The Walking Dead would be serialized, with bits of the story coming out in frequent episodic releases. As the first episode's debut neared, word started to spread that Telltale not only managed to tackle a zombie story but that they did it with an awesome game that maintains suspense, as well as pays suitable homage to Robert Kirkman's post-apocalyptic world. I'm happy to report that The Walking Dead: Episode 1 really is that good.
Before it was a hit show on AMC, The Walking Dead was a hit comic book published by Image Comics. The TV show and comic universes begin around the same story point and feature many of the same characters, but as time has progressed, the gulf between comic and TV has continually widened. By now, each is its own discrete entity with its own fanbase. For my part, I'm a comic book purist and don't like many of the changes that have been made in the TV show. The original comic story is my official Walking Dead canon, so I was excited to find out that the new game is set in the comic book continuity.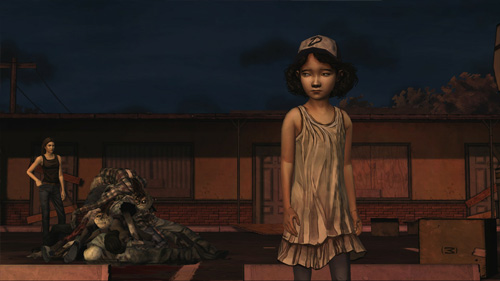 You don't really need to be well versed in either previous incarnation of The Walking Dead in order to enjoy the game, though. While the game does take place in the comic's world, it is a prequel to the events of the series, beginning while lawman Rick Grimes still lies in a coma in the hospital. The start of the game coincides with the initial zombie outbreak, and you play as a new character named Lee Everett. When we first meet Lee, he's in the back of a police car, headed out of Atlanta to prison, having been accused of murder. Law and order don't work the same way in the world of the undead, so it's not long before Lee survives a zombie induced car crash and finds himself adrift in an increasingly terrifying landscape.
As Lee makes his way through the newly zombified world, he crosses paths with many other survivors, some friendly and others not so much. A few faces and locations Lee encounters on his journey will be fun and familiar callbacks to the comic books, but you don't need to already know any of these details before playing. Having read the comics does give some of the story beats and set pieces added depth and impact, though. As Lee struggles to make sense of his life in a world gone mad, he must work with and against some of his companions. There are many decisions, mostly dialogue-based, that will guide Lee in his adventure, and you'll pick his responses through a familiar multiple choice interface.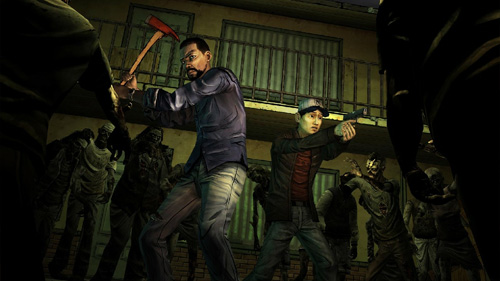 The decisions you make for Lee will impact his overall story. In fact, the very first screen in the game is a stark text card that warns you that the game will form itself around your actions and decisions. Ostensibly, things you do in Episode 1 will have consequences down the line in upcoming episodes, which should release later this year. Some of the decisions are simple matters of whether you lie or tell the truth to certain characters. Other choices involve greater stakes, like choosing which one of two characters you think should be saved from a zombie attack. It's too early in the overall game's lifespan to know how much impact these choices really make, but this first episode certainly implies that ramifications will be significant and far reaching.
The Walking Dead looks distinctly different from Telltale's other games, both in visual style and in gameplay. There's still a "point and click" interface, but the camera shots are more artistic and dynamic than we're used to seeing. Similarly, the usually bright and crisp visuals are replaced with muddier colors and a more bleakly realistic world. The character models still look appropriately cartoony, but any shred of goofiness is gone. These are cell shaded, animated people who desperately need your help in dire circumstances, and they aren't supposed to be endearingly funny. This sets the tone for a gripping start to what promises to be one of the best adventure games released in a long time.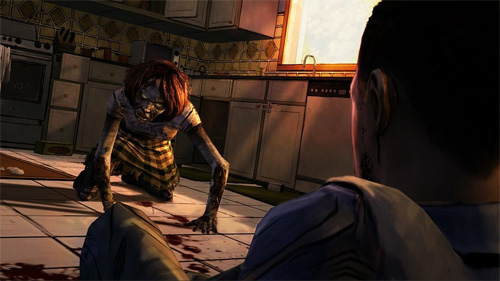 The game is releasing on the Xbox Live Arcade, PlayStation Network, and PC. I played the XBLA version, priced at a very reasonable 400 Microsoft Points (around $5). It looks like this first episode will serve as a portal through which you can play the future episodes, which will arrive as purchasable DLC. In other words, it seems that you'll need to have the first episode purchased before you can play any of the subsequent ones. Everything looks great on the XBLA version, and the gameplay is tight and accurate, dodging the expected awkwardness that usually comes with having a point and click cursor controlled by a Xbox thumbstick. The only trouble the game gave me has been via an especially frustrating save game bug. For some reason, the game completely lost my save files twice, forcing me to start the whole episode over a couple of times.
As long as the save glitch doesn't plague you, The Walking Dead is a fantastic game to check out. If you're a fan of the TV show or of the comic, the world will feel familiar, and it's a lot of fun to feel some agency in the horrific situation you already know from the source material. If you're a newcomer to The Walking Dead, the experience should be no less intense as you help Lee and his fellow survivors through post-apocalyptic Georgia. The Walking Dead: Episode 1 released on April 25, 2012, and the second episode is slated for a June release.