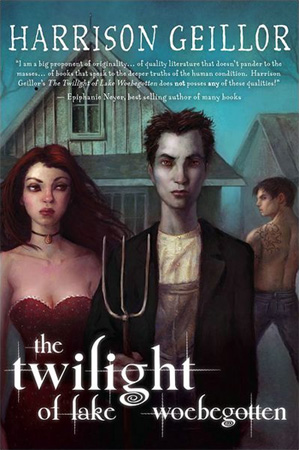 Title: The Zombies of Lake Woebegotten
Author: Harrison Geillor
Publisher: Night Shade Books
Release Date: October 4, 2011
Instead of being clumsy, she's a predator. Instead of sparkling, he smells. Instead of the Pacific Northwest, it's Minnesota. In The Twilight of Lake Woebegotten, a parody of the Twilight saga, Harrison Geillor takes the popular story and inserts new twists.
In the beginning we meet Bonnie Grayduck, the town's newest resident and daughter of the sheriff, who's hiding dark secrets of her own. Following the script laid out in Twilight, Bonnie meets her fellow high school students but only has eyes for the dark and mysterious Edwin Scullen. Edwin lives with his adopted parents and siblings. Although his father is a valued member of the community, the teenage Scullens keep to themselves. Bonnie can't resist a challenge though and uses all her wiles and skill to get to know Edwin. Of course, there's a rival for her affection in once childhood playmate Joachim Noir. Joachim lives on the nearby Ojibwe reservation and turns out to have secrets of his own.
Readers of the Twilight series will enjoy seeing the differences author has created and how it affects the storytelling. For all the changes, however, there's still a sense that things could have been pushed further. One of the criticisms of the original Twilight is that the characters are bland. If Bella Swan was written so that anyone could be imagined in her place, Bonnie is written so that the viewer wants to stay as far away as possible. In addition, Edwin's stalker habits are magnified and continued despite Bonnie calling him on his actions. Fan favorites like Alice, or Pleasance in this case, aren't given a lot of attention or ability to differ from their other book counterparts.
If interested in Twilight, or wanting a sardonic look at the whole teen vampire craze, The Twilight of Lake Woebegotten is a good bet.