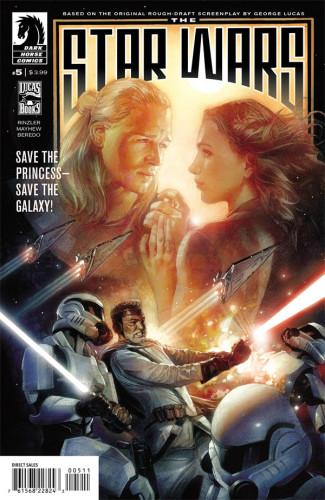 The Star Wars #5 starts off with a semi-familiar scene: a group of travelers trying get past the guards. General Skywalker doesn't have to use any Force powers to get to his destination, but he does sense a disturbance. So does Annikin. Skywalker and Han find Prince Valorum, a Sith, who has a breathing mask on over his lower face, at the center of the disturbance. Unfortunately, the whole group is captured, except R2 and C-3PO, and threatened with Jai Gas, which only Sith are invulnerable to.
Note: This recap may contain spoilers!
Skywalker and Han manage to break away and find the rest. However, Leia's brothers, Biggs and Windy, were placed somewhere else. Their disguises work very well, but one of the canisters is failing faster than expected. Annikin and Whitsun go off to find the twins while Leia, Han, and Skywalker go to find a way off the base. Each group runs into trouble in the form of Storm Troopers, but manages to escape thanks to quick thinking.
The two groups meet up again and find a ship that they can use, which they do in spectacular style. Leia and Annikin have a moment where she confesses her love, but Annikin dismisses her. Later, however, Annikin tells Whitsun that he does love Leia as well, and he doesn't care if she's a queen. The ship comes under attack before Annikin can say much more. Whitsun and Annikin race to the turret guns, much like in A New Hope, but wait for Skywalker's orders to fire.
You can see where a lot of the background for Anikin Skywalker and Padmé Amidala come from; however, the pronouncement of love from both Leia and Annikin seems a bit quick since I can't seem to recall them having a moment of not fighting. Their relationship is also a bit of a lead into Leia and Han in the original trilogy. You can also see why this was edited down, because there are just so many characters to keep track off, and it's just started. For example, Anikin/Darth Vader comes from General Darth Vader and Prince Valorum, while Han comes from the alien Han Solo and Whitsun. I'm excited for the next issue when Wookiees appear!