Gallifrey One is chock full of interesting news this past week. First was David Tennant's appearance on The Sarah Jane Adventures, and now they have just announced the actress who will be playing the 11th Doctor's companion.
The new companion will be played by Scottish actress Karen Gillan.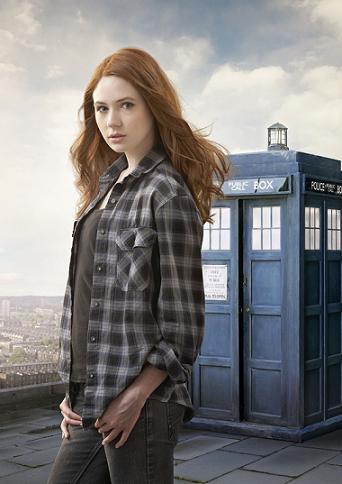 Gillan, like her future co-star Matt Smith, is a relative newcomer to British television screens, though she is NOT unfamiliar to Doctor Who fans. She was seen playing the eavesdropping soothsayer during the fourth series masterpiece, "The Fires of Pompeii."
"I am absolutely over the moon at being chosen to play the Doctor's new companion. The show is such a massive phenomenon that I can't quite believe I am going to be a part of it. Matt Smith is an incredible actor and it is going to be so much fun to act alongside him – I just can't wait to get started!" – Karen Gillan.
The circumstances of Gillan's casting have become commonplace, appearing to be a tradition spanning back to the classic series, starting with Colin Baker. He had played a supporting role in the Fifth Doctor story "Arc of Infinity" and subsequently assumed the role of The Sixth Doctor between 1984 to 1986. The tradition carried over into the new series when Freema Agyeman was cast as Martha Jones after making a brief appearance in the series two episode "Army of Ghosts." Then there was Catherine Tate who appeared as Donna Noble in the Christmas special "The Runaway Bride" and then returned to the role full time for the fourth series.
David Tennant is concluding his run on the show with "The Waters of Mars" which is expected to air in November, and then he will finish it all with a two part finale involving a menace from the darkness who will knock four times.